All The Aww-Inducing Details About Mandy Moore & Taylor Goldsmith's Love Story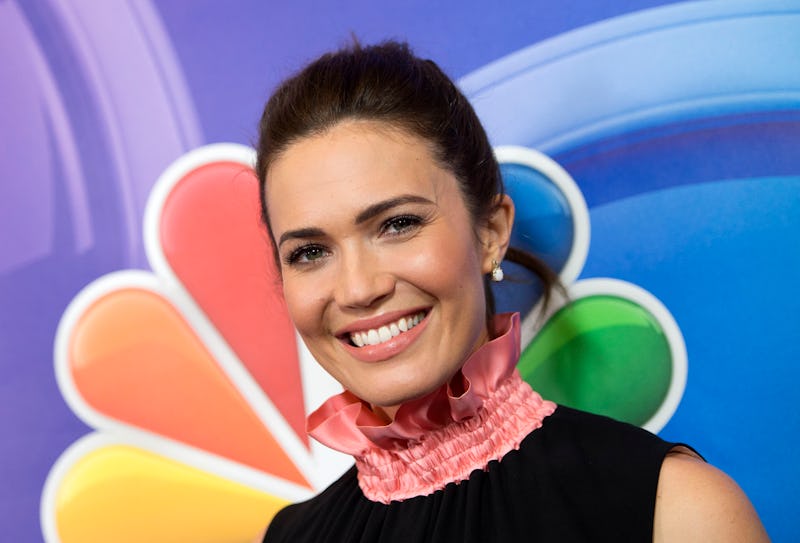 VALERIE MACON/AFP/Getty Images
This Is Us fans may get a look into exactly why Rebecca and Jack Pearson's marriage ended this fall, but for one of the show's stars, the journey down the aisle is just beginning. Mandy Moore and Taylor Goldsmith reportedly got engaged recently, according to E!, proving that everyone is deserving of a second chance at love. But just how long have Moore and Goldsmith been dating, you ask? An official date has not been confirmed, but Moore's sweet Instagram posts will totally help to piece together their relationship timeline. (Bustle reached out to the couple's reps about the engagement reports, but did not receive an immediate response.)
Thanks to Moore's epic chronicling skills, all signs are pointing to the summer of 2015 for being the moment when flames started sparking between the two. In July 2015, Moore shared an adorable photo of her spending time over Scrabble with Dawes band member Goldsmith for flashback Friday — leading everyone to believe that the two were venturing off into romantic territory.
Since then, Moore and Goldsmith have been spotted on multiple trips together, and the "Candy" singer has even spent time with her rumored fiancé on tour with his folk-rock band. And two years and a plethora love posts later, and it's looking like July 12, 2015 just may be the couple's actual anniversary. In a sweet note dedicated to Goldsmith on July 12, Moore wrote, "The best 2 years. Never not smiling with you, T."
Fast forward a few months, and entertainment journalist Marc Malkin exclusively announced on his Facebook page that Goldsmith popped the question to Moore at their home Monday, Sept. 11. Malkin wrote,
'"He was petrified,' a source tells me. 'Mandy said yes and is so happy.' I'm told the ring is 'understated' and 'very Mandy.'"
This isn't the first time Moore donned a ring on that finger, however. The A Walk To Remember star married musician Ryan Adams in 2009, but announced their divorce in January 2015, just six years after tying the knot. Moore revealed in a 2016 interview with People that the decision to split from her former spouse wasn't an easy one to make, but was extremely necessary for her own happiness. She said,
"My story deviated in a different direction than I expected. But ultimately, life is about being happy and fulfilled and sometimes that means making hard choices."
Thankfully for Moore, joy was resting right on the other end of that painful breakup. According to Malkin's Facebook post, after speaking to the singer about her relationship, it's more than clear that she's extremely in love. Not that there were really any doubts looming. All of the cute moments that Moore shares of the happy couple definitely prove that to be true.
As for what's next for Moore and Goldsmith, the sky is literally the limit for these two lovebirds. A future of cute musically inclined babies could be on the horizon, but for now, the pair are putting their energy into renovating their mid-century home in Los Angeles — which, of course, Moore has totally been documenting for her fans on Instagram. All that's needed now is an epic picture of Moore, her potential fiancé, and that adorable ring, because, who else is dying to get a look at that "understated" but "so Mandy" rock?
Kids are certainly on her radar, as well, but not for quite some time. While speaking to Entertainment Tonight about the future, Moore said,
"I want to have kids in the next couple of years. I always said that I want to take care of myself to the best of my ability before I venture into that phase of my life."
And it looks like she's well on her way to having it all. Here's to wishing that the two have a very happy forever together.