This One Photo Will Open Your Eyes To What Trans Military Members Sacrifice For Their Country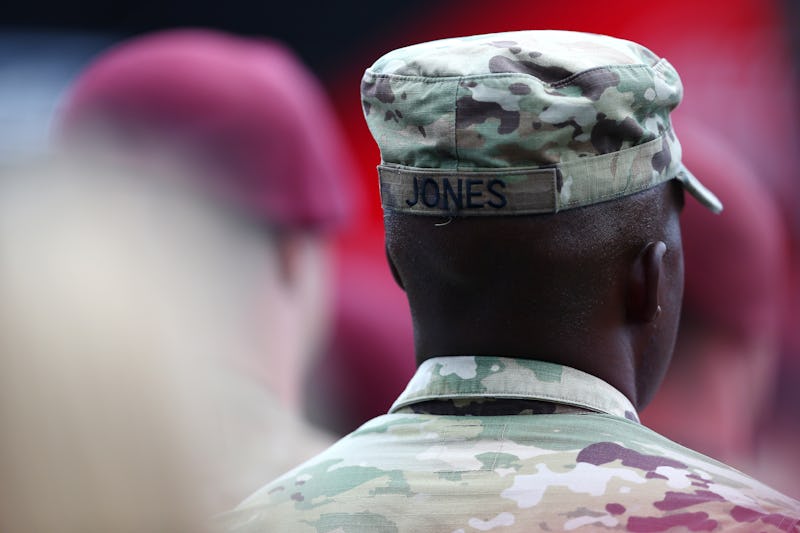 Sarah Crabill/Getty Images Sport/Getty Images
Donald Trump announced in a series of tweets on Wednesday that transgender Americans will no longer be allowed to serve in the U.S. military "in any capacity." This decision has been met with outrage from both sides of the aisle, and most vocally from many veteran and LGBTQ advocacy groups. Transgender individuals have been serving in the American armed forces for centuries, and one photo poignantly depicts exactly how much they have sacrificed for their country.
The photo, shared on Twitter by Vote Vets, a progressive veteran advocacy group that claims to represent over 500,000 veteran families, features a sprawling memorial graveyard filled with hundreds of pure white headstones that represent those who have died while serving the nation. The caption reads, "@POTUS, can you spot the transgender troops in this photo? They're there, I promise."
Although transgender individuals were not allowed to serve in the armed forces openly until last year, they have been secretly serving our country, with their biological identities concealed, in some of our nation's most important wars. They have fought and died to protect the values of the United States, even as they were routinely denied their own basic freedoms, and this image is an emotional visual reminder of that.
The veteran advocacy group that shared the photo has since been blocked on Twitter by President Trump.
Since transgender individuals were not allowed to serve openly until former Defense Secretary Ash Carter signed legislation allowing them to do so in June 2016, it's impossible to know exactly how many have been involved in the armed services, or how many have died as a result. A 2016 study estimated that between 1,320 and 6,630 transgender service members are registered in active duty, while between 830 and 4,160 members are in reserves duty.
Still, these numbers far from capture the total scope of how many transgender service members have served the country throughout history, or the enormity of the danger they put themselves in while doing so.
Elizabeth Leonard, a professor of history at Colby College, told the Washington Post that the sacrifices of transgender service members have long been overlooked.
They wouldn't know what in the world you meant by the world transgender, but there have women serving in men's dress in armies since the beginning of wars. It's a story that we keep losing sight of.
President Trump's unexpected, and highly controversial, ban on transgender service members has now brought their stories to the forefront of American discourse. While it's unclear what the future of Trump's ban will be, the passion with which so many across the country are fighting against it is evident.