Here's Why You Shouldn't Wait To Try Starbucks' New Christmas Tree Frappuccino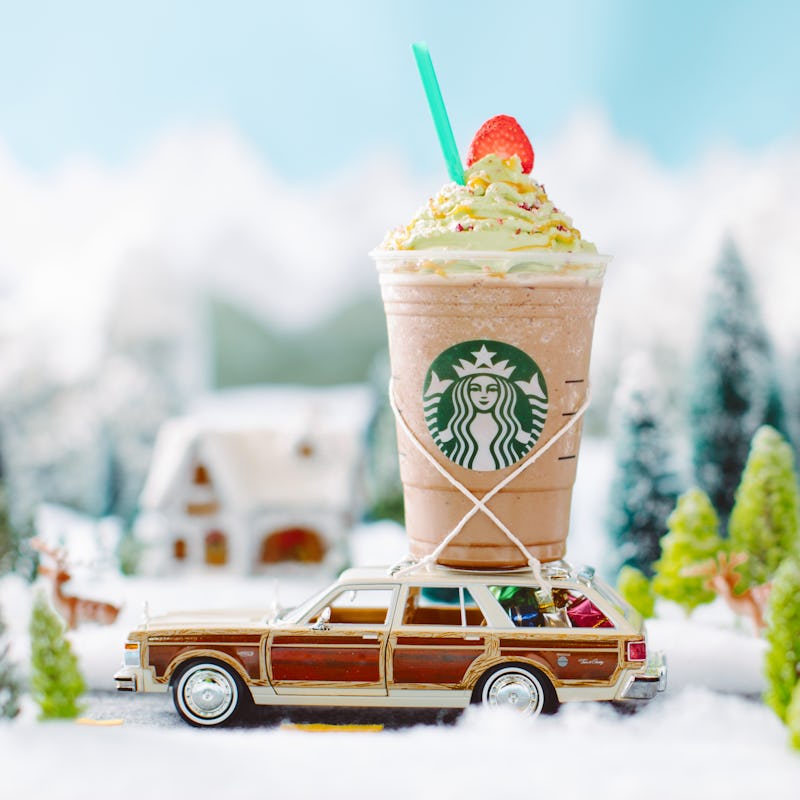 Starbucks
If you've been concerned that you're having trouble reaching peak festivity this holiday season, fret not — we're all there with you. The truth is, there's a bit of an excitement dip that occurs in early December just after the Thanksgiving buzz wears off. That said, hope isn't lost: Starbucks is adding a new holiday drink to the menu that's going to put the season back in your step and save the day. Yes, you're going to want to know how long the Christmas Tree Frappuccino is available at Starbucks, because like most good things, it's not sticking around forever. I mean literally, this drink is going to be on and off the menu before you know it — it's simply stopping by to stir up some holiday cheer and then slip out in the night, never to be seen again in 2017. But that's OK! Because it's better to get a chance to love the Christmas Tree Frappuccino, than to never love it at all.
Starting on Thursday, Dec. 7, the CTF will be available on the menu at participating Starbucks nationwide. To be extra sure that you're heading to a participating store, you might want to call your local Starbucks and make sure that they're in on the Christmas Tree Frappuccino — though it'll be likely that they'll already be halfway through their supply by the time you even call. But if not, just keep calling around, there's bound to be a local Sbux that's prepared to make the seasonal beverage. Yes, this Frapp is only around for a super limited time, so expect lines, expect holly jolly mayhem, expect to patiently wait your turn to get your hands on an icy, creamy, minty, sweet cup of blended Christmas goodness. After being released on Dec. 7, the drink will leave the menu on Dec. 11 and fully disappear into Christmas obscurity, or potentially the Upside Down.
The multi-colored drink is also a multi-flavored, complex drink that's going to seriously excite your eyes and your tastebuds. Its base is made with Peppermint Mocha Crème Frappuccino. Then, it's topped with a majestic Matcha whipped cream swirl that looks exactly like a Christmas tree and is oh-so-Instagrammable. Then, it's decorated with caramel drizzle garland, candied cranberry toppings that look exactly like ornaments. And lastly, it's finished with a strawberry tree topper. It's literally a combination of all your favorite holiday flavors in one cup. And for some reason, the flavors work perfectly together. The mint and the mocha feel both warming and refreshing. The Matcha whip is grounding and energizing at the same time, and the sweet toppings create a texture and a bite that makes drinking this Frapp feel like a full dessert experience.
And while the drink isn't even officially out until tomorrow, the people have already spoken: it's Christmas in cup and it's exactly what we didn't know we needed.
And while it's hard not to be unfazed by Starbucks Frapp creations, especially after a year that included both a Unicorn Frapp and a Zombie Frapp, try to take a moment and appreciate the creativity and the novelty of the CTF. It's exactly the kind of thing we need during the holiday season, and the fact that it combines all of our favorite holiday flavors as well just makes the whole thing a home run. So get up a little earlier than usual tomorrow and prepare to wait a little longer than usual for your morning coffee. And make sure you have enough storage on your phone to have a full-on Frapp photoshoot, because let's be real, you're excited about tasting the Frapp, but you're more excited about 'gramming the Frapp. And with only a few days to get the perfect shot, you've got no time to waste. Seasons greetings and happy 'gramming!