You Only Have A Short Time To Try The Unicorn Frappuccino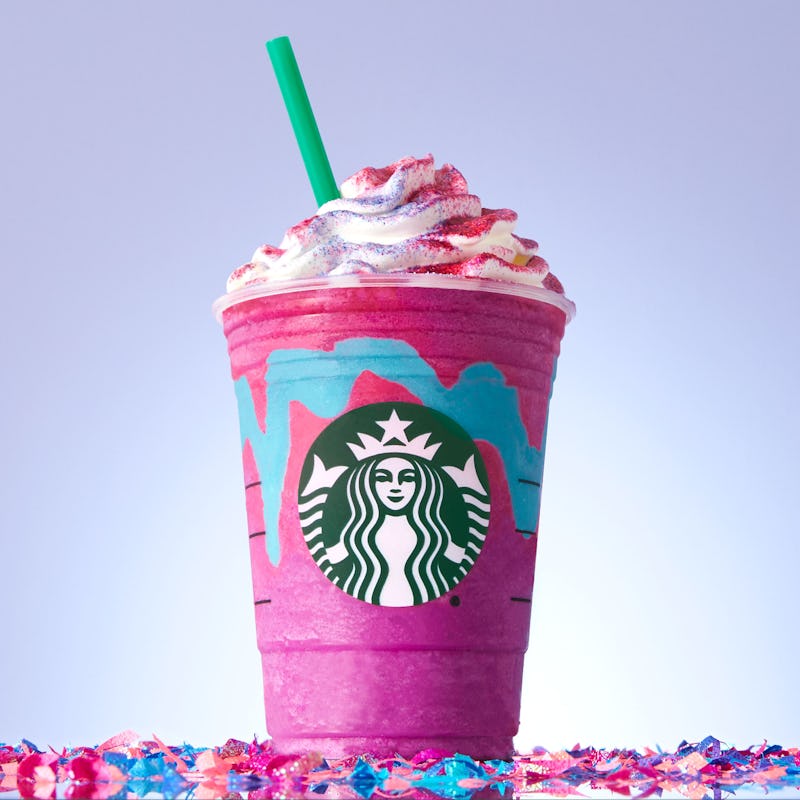 Courtesy of Starbucks
It's finally here! The hottest drink of the season, the Starbucks Unicorn Frappuccino, is gracing us with its magical presence. But you'll have to move fast to try one of these technicolor beverages. Just how long is the Starbucks Unicorn Frappuccino available, you ask? Well, like the mythical creature for which it is named, the blended drink is as elusive as it is beautiful. Starting Wednesday, April 19, this color-changing beverage can be all yours at participating Starbucks locations in the United States, Canada, and Mexico. Its run is brief, however, ending Sunday, April 23 — meaning unicorn fans have just five short days to try the drink before is disappears back over the rainbow.
The frosty beverage comes with magical powers, changing both its color and flavor as you drink it. Starting with a base of blended crème mixed with mango syrup and a sweet pink powder, your first sips will be sweet and fruit-forward. The Frapp is also laced with electric blue swirls of sour drizzle and topped with airy vanilla whipped cream and sweet pink and sour blue powders, giving it a sparkling fairy-like appearance.
Seems like all this would be magical enough, right? But to live up to the mythic horse, Starbucks went one step further with its new addition. As you mix the blue swirl and purple Frapp together with your straw, the color transforms to a light pink and the taste goes from sweet to "tangy and tart." The more you slurp and stir, the more the color and flavor changes, so you really need to taste it to believe it.
Oh, and since the drink falls in the blended crème category, there is no caffeine in the Unicorn Frappuccino. This is great news for those searching for a tropical, fun drink perfect for warm weather that won't keep them up all night. Could there be a unicorn cold brew in the future? One can only hope.
How much is this cup full of magic going to run you? Yet another boon of the Unicorn Frappuccino is that it isn't ridiculously pricey, either. In fact, you can get your hands on a 12-ounce Frapp for under $5! Prices vary depending on the market you're in, so expect to shell out between $4.25 and $4.95 for a tall size of the specialty drink.
After several days of excited rumors of the drink's existence circulating throughout Reddit and social media, we may have a full-scale Frappmagedon on our hands, so head to your local 'Bucks through Sunday, April 23, while supplies lasts. To skip the line, the Unicorn Frapp can be ordered ahead of time using the Sbux app. While the sweet beverage probably won't replace your morning coffee, it just might bring back your childlike sense of wonder — and love of color-changing products. Now if only they could make a Hypercolor unicorn shirt to go along with this magic drink...