Ulta's Big Sale Means 50% Off Benefit & Anastasia Beverly Hills — & Here's When The Deals End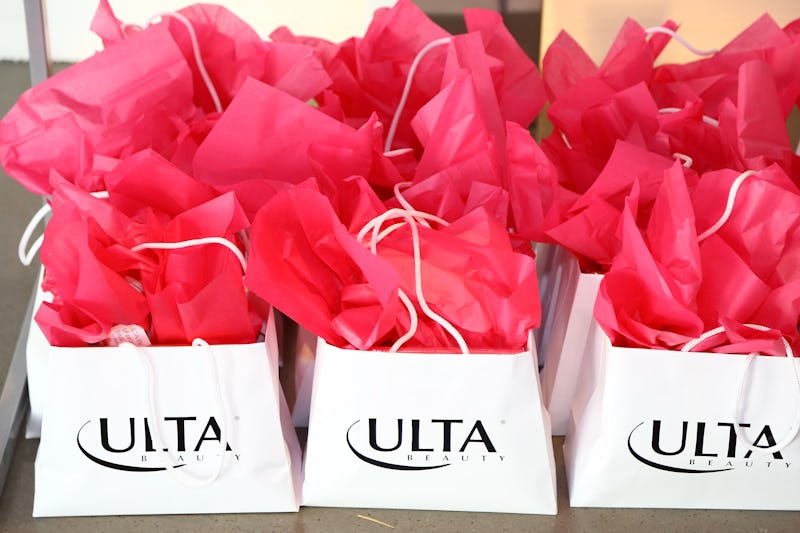 Astrid Stawiarz/Getty Images Entertainment/Getty Images
If it wasn't already clear by now, Ulta Beauty is no stranger to weeks long sales events. Here to ease your shopping woes, the massive retailer is celebrating the season of giving with Ulta's Holiday Beauty Blitz sale. It's basically the retailer's 21 Days of Beauty and Gorgeous Hair Events all over again. Shoppers can expect highly-coveted palettes, lippies, and foundations to have their prices slashed in half.
After hearing that, you're probably wondering how long the winter flash sales will last. Unlike Ulta's typical three-week events, the holiday beauty blitzes will span nearly the entire month of December. For 25 days, the savings will be too good to true, as if there's a never-ending Black Friday sale in the air.
The first five days of the event saw a Smashbox eyeshadow, contour, and blush palette sold for 50 percent off, Tarte kits at a serious markdown, and Bare Minerals foundations at just $19. To take advantage of future deals like these, you'll have to stay tuned on Ulta's Beauty Blitz portal — the cosmetics mecca is only revealing its sales in five day increments.
If you weren't on your A-game to catch the first set of savings, no need to fret. Ulta is announcing each of the deals five days in advance, so you have time to prepare. and the next five days of deals to come are worth drooling over, so spend your money wisely.
It Brushes Your Beauty Basics Airbrush 101 Travel Set, $38, Ulta
An Ulta Beauty exclusive, this IT Cosmetics brush set featuring makeup application essentials will be on sale for a whopping 50 percent off come Dec. 6. The trio of brushes includes plush tools for dusting on shadow, blush, loose powders, and bronzers. Travel-friendly and encased inside a sleek, patent-leather case, this set can be your on-the-go life saver.
For such a reduced price on luxury tools, it's so worth the splurge.
Laura Geller Hollywood Lights Beauty Collection, $59, Ulta
The Dec. 7 deal is just as good. A full-sized, six-piece Laura Gellar collection kit will be half off. Picking up a set valued at $175 for only $30 is practically robbery.
The kit includes essentials for a full face. There's a color-correcting foundation, blush, makeup primer, eyeshadow palette, lip gloss, and a dual-ended face brush packed into the set for the ultimate savings. What more could you ask for?
PUR 4-n-1 Pressed Mineral Powder Foundation SPF 15, $29, Ulta
Get ready to try a new high-end foundation for less than $20. After PUR's best-selling base gets a half off markdown on Dec. 8, it'll tote an incredible price tag. A mineral foundation packed with built-in skincare, it's a compact that can smooth, plump, balance tone, and correct.
Benefit The POREfessional Face Primer, $31, Ulta
Erase your pores for practically no money when you snag Benefit's high-in-demand primer for 50 percent off on Dec. 9. With a formula that minimizes the appearance of pores and smoothes fine lines to leave skin silky before foundation application, this primer is a go-to for a reason.
Snagging it at a reduced rate makes it all the more appealing.
Anastasia Beverly Hills Contour Kits, $40, Ulta
If there's one product that's a total fan-favorite, it's the Anastasia Beverly Hills contour kits, miracle workers for sculpting and enhancing your natural features. On Dec. 10, Ulta will be selling both the cream and powder versions for only $20, a deal you really can't beat.
Mark your calendars, plan accordingly, and get your Beauty Blitz on for the next 20 days.