Antonio D'Amico Says He'll Always "Be Connected" To Gianni Versace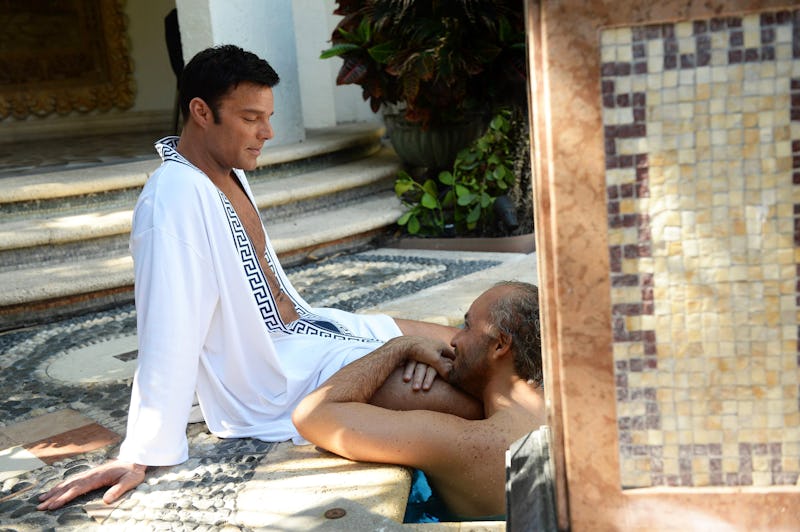 Jeff Daly/FX
The premiere of The Assassination of Gianni Versace: American Crime Story (executive producer: Nina Jacobson) has inevitably renewed questions surrounding the designer's 1997 murder, but it's also restored interest in his personal life. It's common knowledge that he had a longtime partner, but it's perhaps less known exactly how long Gianni Versace and Antonio D'Amico were together. And, as their romance unfolds on-screen, it's worth revisiting.
According to In Touch Weekly, Versace met D'Amico in 1982, while the now-model and designer was working as a part-time office executive. Things blossomed from there, and they stayed together until Versace was shot and killed, marking a 15-year-long relationship. While speaking with The Observer last July, D'Amico said that though they were an out couple during a time in which it was not widely accepted, he and Versace never tried to hide their love. "We lived like a natural couple, there was never a problem," he told the outlet. "It was the right moment for him to come out in public [in the late '80s], but everyone involved in our world knew. He never tried to hide who he was."
In the decades since Versace's death, D'Amico has retreated from the spotlight, but broke his silence in the same Observer interview to address American Crime Story, saying that he wasn't consulted for the show and that the scene of his character (played by Ricky Martin) finding Versace's body is "ridiculous."
According to Deadline, FX stands by the veracity of the story, per this released statement:
"Like the original American Crime Story series The People Vs OJ Simpson, which was based on Jeffrey Toobin's non-fiction bestseller The Run of His Life, FX's follow-up The Assassination Of Gianni Versace is based on Maureen Orth's heavily researched and authenticated non-fiction best seller Vulgar Favors which examined the true life crime spree of Andrew Cunanan. We stand by the meticulous reporting of Ms. Orth."
D'Amico went on to explain to the Observer, on the day of the murder, Versace had gone out to buy the paper from a local café. D'Amico was drinking coffee on the porch of their shared mansion when he heard gunshots. He and Versace's butler went outside to investigate. As he told the publication:
"I felt as if my blood had turned to ice ... The house had stained glass windows so we couldn't see what had happened from inside, so we had to open the gate. I saw Gianni lying on the steps, with blood around him. At that point, everything went dark. I was pulled away, I didn't see any more."
Afterward, D'Amico found himself embroiled in a public feud with Versace's family. As reported by The Guardian, Versace left him a monthly inheritance of $30,000 and the right to live in the designer's homes. However, as the properties belonged to the Versace fashion house, they came under control of Versace's sister, Donatella, his brother, Santo, and his niece, Allegra. It sparked a headline-stirring back-and-forth, and in the end, he walked away with only a fraction of the pension. That, coupled with the devastation of losing his partner, left him depressed for several years. He continued to The Observer:
"I had never been through a depression and never saw a therapist as I was advised to: Why did I need to tell someone else what had happened when I knew I was this way because Gianni's death had torn me in two? I was in a nightmare, I felt nothing and gave no importance to anything … the house, the money … because it felt false to have expectations of life."
Eventually, though, he was able to pick up the pieces. While Versace was alive, he'd worked as a designer for the brand's sport line, and in 1999 launched his own collection with business partner Massimo Lotti. There's not a lot of information available about D'Amico's fashion endeavors, but he has continued working, and per The Observer, now lives a simple life in the Italian countryside after finding love again in 2005.
Still, Versace remains close to his heart. "Sincerely, after two decades, I will always be connected to Gianni as a person I loved for more than 15 years," D'Amico told The Observer. "But today, I am a different person … the world continues to go around … You can look back at the past until a certain point, [but] then you need to look ahead to the future."
After two tumultuous decades, D'Amico has finally found peace, but it seems Versace will always be a part of him.