Why The Versace Family Isn't Happy About FX's 'American Crime Story'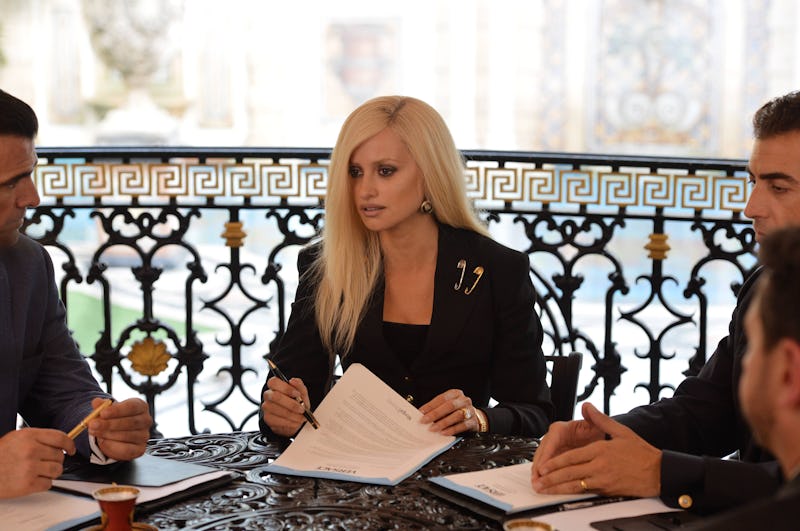 Jeff Daly/FX
Unless you're recounting events that took place hundreds of years ago, tackling a true story is always a thorny issue when it comes to the feelings and the recollections of the real people involved. What does the Versace family think of American Crime Story (executive producer: Nina Jacobson)? Fans of Ryan Murphy's anthology series may be asking this very question as Season 2's The Assassination Of Gianni Versace gets underway on Jan. 17. Bustle reached out to the network for comment but has not received a reply as of time of publication.
The issue gets even thornier when the actual subject of the biopic is still living, such as with this year's Oscar contender I, Tonya. Obviously, the title of ACS Season 2 (executive producer: Alexis Martin Woodall) itself should serve as a massive spoiler alert that Gianni Versace is no longer living; he was murdered in 1997 by alleged serial killer Andrew Cunanan. But many of those close to Versace — including his sister Donatella and his partner Antonio d'Amico, portrayed on ACS by Penélope Cruz and Ricky Martin — are still alive… and they have plenty of opinions about Murphy's version of the tragedy they lived through.
The source for Murphy's retelling comes not from the Versace family itself, but rather from the 1999 non-fiction book Vulgar Favors: Andrew Cunanan, Gianni Versace, And The Largest Failed Manhunt in U.S. History, written by Vanity Fair journalist Maureen Orth. However, both Cruz and Martin have spoken to their real-life counterparts, to varying levels of approval.
Last July, d'Amico spoke out against the show in The Guardian after paparazzi photos of the production showed Martin cradling a bloody Édgar Ramírez (who plays Versace) moments after his assassination. "The picture of Ricky Martin holding the body in his arms is ridiculous," he told the publication. "Maybe it's the director's poetic license, but that is not how I reacted." He remembers the tragic moment much differently: "I saw Gianni lying on the steps, with blood around him. At that point, everything went dark. I was pulled away, I didn't see any more."
d'Amico was also bothered by reports that ACS would depict Versace attempting to keep his relationship under wraps, as well as make the claim that the fashion designer had met his killer, Andrew Cunanan, years before his death. "We lived like a natural couple, there was never a problem," he told The Guardian of his romance with Versace. "Everyone involved in our world knew. He never tried to hide who he was." As for Cunanan, "They never knew each other," d'Amico insisted. "So much has been fictionalized. Unfortunately Gianni died, unfortunately this guy killed him, unfortunately it happened: but now, let it drop."
After hearing d'Amico's statements, Martin felt compelled to reach out to his character's real-life counterpart, he told Ocean Drive magazine. "I had the opportunity to speak to Antonio a few months ago," he said. "And I said, 'Antonio, listen, maybe you've seen a couple of paparazzi shots of the actual scenes that we're shooting, but please don't judge the quality of it just by one picture because it could easily be taken out of context. You have to see what we're doing, and you're going to be so pleased with everything.'" Martin didn't elaborate on d'Amico's reaction to the phone call.
For her part, Versace's sister Donatella seemed more open to the idea of the series than her brother's partner. In January, Cruz revealed on Ellen that she called the fashion legend as soon as Murphy broached the idea of her playing Donatella. "When Ryan called me I said, 'I need to make a phone call and talk to Donatella about this' before taking the job," she told the magazine. "She told me if somebody was going to do it, she was really happy that it was me, because I think she knows what I feel for her and Gianni." According to Cruz, Donatella sent her a bouquet of flowers ahead of the Golden Globes ceremony on Jan. 7, where she presented the Best Actor in a Limited Series award alongside her fellow ACS cast members.
Despite what Donatella might have said to Cruz in private conversation, the Versace family's official reaction to the upcoming show has been quite different. On Jan. 8, the day after the Globes, the fashion house released the following statement:
"The Versace family has neither authorized nor had any involvement whatsoever in the forthcoming TV series about the death of Mr. Gianni Versace. Since Versace did not authorize the book on which it is partly based nor has it taken part in the writing of the screenplay, this TV series should only be considered as a work of fiction."
The network responded the same day. FX's statement reads:
"Like the original American Crime Story series The People Vs OJ Simpson, which was based on Jeffrey Toobin's non-fiction bestseller The Run of His Life, FX's follow-up The Assassination Of Gianni Versace is based on Maureen Orth's heavily researched and authenticated non-fiction best seller Vulgar Favors which examined the true life crime spree of Andrew Cunanan. We stand by the meticulous reporting of Ms. Orth."
Murphy also responded to that the family statement in an interview with Entertainment Weekly. The creator said:
"The Versace family has said it's a work of fiction — it is not a work of fiction. [The People vs. O.J. Simpson: American Crime Story] was based on a non-fiction book by Jeffrey Toobin. Versace is based on a non-fiction book by Maureen Orth that has been discussed and dissected and vetted for close to 20 years. She worked for Vanity Fair. Maureen Orth is an impeccable reporter and we stand by her reporting. Our show is based on her reporting so, in that way, it is not a work of fiction, it's a work of non-fiction obviously with docudrama elements. We're not making a documentary."
Murphy also insisted to the outlet that his show does nothing but paint the Versace family in a positive light, particularly the slain designer's sister. "What the show does, like it did for Marcia Clark on O.J., it shows Donatella in a true feminist light as a feminist hero," he said. "She out of the blue was put in one of the worst situations a person can endure and she did endure. Not only did she keep her family together but she kept this billion dollar business together and still has."
The family released a new statement on Jan. 10 that focuses primarily on the series' source material. The statement also seems to refer to Orth's contention that Versace was HIV-positive. The writer recently told The Hollywood Reporter, "I was told on the record by the lead detective on Miami Beach that he had heard from the medical examiner who did the blood work that [Versace] was [HIV-positive]," Orth said. However, Versace's family has never affirmed this report and condemns the series for portraying the designer as having the virus. The full statement reads:
"As we have said, the Versace family has neither authorized nor had any involvement whatsoever in the forthcoming TV series about the death of Mr. Gianni Versace, which should only be considered as a work of fiction. The company producing the series claims it is relying on a book by Maureen Orth, but the Orth book itself is full of gossip and speculation. Orth never received any information from the Versace family and she has no basis to make claims about the intimate personal life of Gianni Versace or other family members. Instead, in her effort to create a sensational story, she presents second-hand hearsay that is full of contradictions.
As just one example, Orth makes assertions about Gianni Versace's medical condition based on a person who claims he reviewed a post-mortem test result, but she admits it would have been illegal for the person to have reviewed the report in the first place (if it existed at all). In making her lurid claims, she ignores contrary information provided by members of Mr. Versace's family, who lived and worked closely with him and were in the best position to know the facts of his life.
Gianni Versace was a brave and honest man, who engaged in humanitarian work for the benefit of others. Of all the possible portrayals of his life and legacy, it is sad and reprehensible that the producers have chosen to present the distorted and bogus version created by Maureen Orth.
The Versace family will issue no further comment on the matter."
The show will go on, without the blessing of the Versace family, as American Crime Story Season 2 premieres on Wednesday, Jan. 17.