Here's A Guide To Exactly How Many Abortion Clinics Are Open In Every State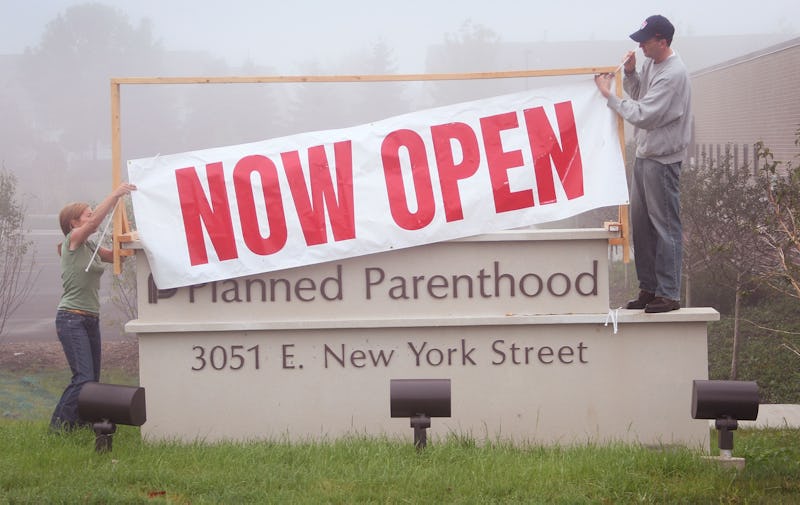 Scott Olson/Getty Images News/Getty Images
On Tuesday, Planned Parenthood said that it feared the only abortion clinic in Missouri may shut down if the state didn't renew its license. If that happens, Missouri may become the first state without a functioning abortion clinic since the Roe v. Wade decision. Given such circumstances, you may be wondering how many abortion clinics there are in your state.
Over the years, researchers have shown how crucial these clinics are to women's health care. On Wednesday, physician Colleen McNicholas, who performs abortions, told Elle about the dangers of shutting abortion clinics down. Without proper clinics available, pregnant people turn to self-induced abortions that can cause extreme physical trauma, McNicholas warned.
Furthermore, The Guttmacher Institute, a reproductive health care research organization, detailed the negative effects various abortion clinic regulations can have on pregnant people seeking care. Waiting periods spanning 24 to 72 hours, for instance, can end up causing severe mental and financial stress on them.
To be clear, no federal finances go toward paying for abortions in such centers. The Hyde Amendment prohibits any sort of federal funding for abortions. If you're interested, you can learn more about the 1976 federal provision and how it impacts women across the country.
It's important to note that at this moment, abortion is legal in all 50 states in America. However, in many cases, the issue is related to actually finding a clinic that can facilitate an abortion. Over the years, the number of abortion clinics in America has dwindled, CNN reported. In 1996, America had 452 abortion clinics. By 2005, the country had 381 facilities. In 2014, which is the latest year of available research from Guttmacher, the number of abortion clinics came down to 272.
The list below can give you a clear picture on where your state stands when it comes to abortion access.