How Many Cabinet Nominees Have Been Rejected?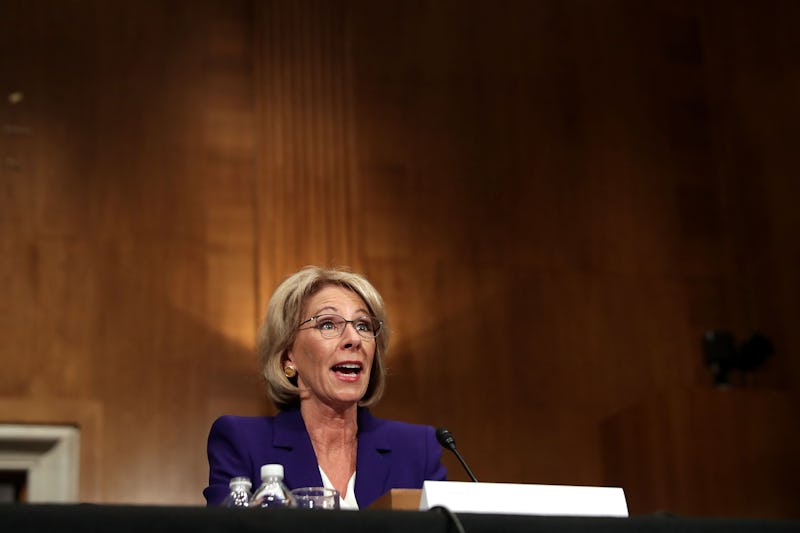 Chip Somodevilla/Getty Images News/Getty Images
President Donald Trump's just-confirmed nominee for Secretary of Education, Betsy DeVos, faced intense opposition from Democrats. DeVos raised enough concerns that they were even joined by two Republican senators, putting her confirmation to the cabinet post in jeopardy. On Tuesday, the confirmation vote count in the Senate ended up being 50-50, forcing Vice President Mike Pence to make history by casting the first ever tie-breaker on a cabinet nominee. If the Democrats had been able to flip even one more Republican senator, DeVos' nomination would have been sunk.
DeVos going down would have been quite a blow to Trump's nascent administration. Presidents are usually given a level of deference from Congress' upper house. In all of American history, only nine cabinet nominees have ever been rejected by the Senate in a floor vote.
The most recent nominee to get the axe was John Tower. He was turned down from becoming Secretary of Defense by a 53-47 vote in the Senate in 1989, after being nominated by President George H.W. Bush. Tower landed in hot water after allegations about his personal misconduct. It was the first ever time in American history that one of a president's initial nominees was rejected. The times before that had been for replacement nominees later on in their administrations.
But Tower went down against a Democratic-led Senate that may have been disinclined to help out a Republican president. If DeVos or another nominee went down (still quite unlikely), it would be the first time in quite a while that a nominee was rejected not by a Senate controlled by the opposing party, but by the president's own. The last time that happened was in 1925, when President Calvin Coolidge's nominee for Attorney General, Charles B. Warren, went down after some Republicans joined the Democratic minority in rejecting him for being too close to the sugar industry and potentially corrupt.
One of the reasons outright rejection of cabinet nominees is so rare is that usually, a president will withdraw a nomination if it looks to be in jeopardy. That has happened 12 times in the history of the republic. The most recent was Tom Daschle, President Obama's nominee for Secretary of Health and Human Services, who withdrew himself from consideration after it was revealed he owed $140,000 in back taxes.
President Trump has shown himself to be notably averse to backing down. Even as his relatively-unvetted nominees have faced fierce opposition and scandals that may have sunk nominees in the past, he has stood by them, and thus far, he doesn't seem likely to drop one of them.
President Trump still has several cabinet nominees to get confirmed. The process has been slower than usual as Democrats have jumped on numerous potential issues with nominees. But even after the cabinet is finished, the administration will have to keep fighting these difficult battles. There are still 686 executive branch nominees that will require Senate confirmation, and 658 of them don't even have a nominee.