You Won't Believe How Many People In The World Actually Own A Copy Of Harry Potter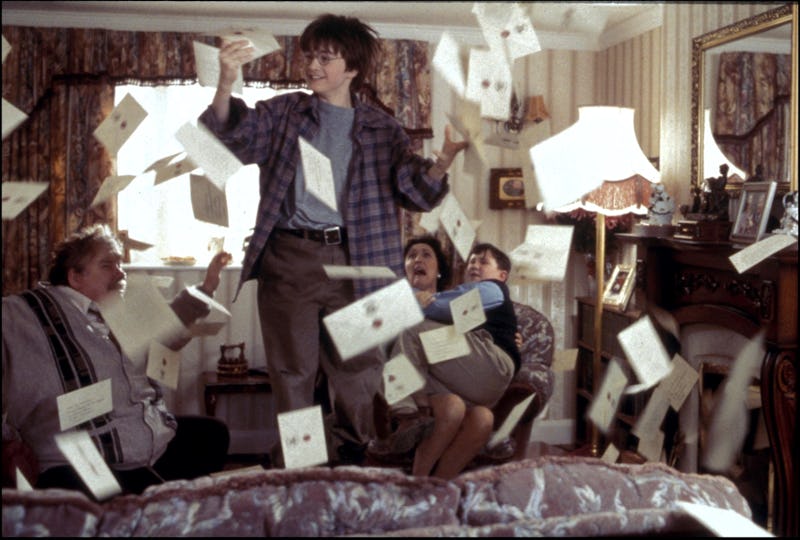 Warner Bros. Pictures
I remember the very first Harry Potter book I ever owned - and I have a feeling the same can be said for the majority of millennials (and Gen Xers, for that matter). When The Boy Who Lived swept through our imaginations, a whole new world — quite literally — of possibilities spread before us. It's difficult to imagine what growing up would have been like without Harry, Ron and Hermione alongside us, and it's rare, at this point, to have met someone who hasn't read a single Harry Potter book. So how many copies of Harry Potter have been sold? J.K. Rowling just hit a huge milestone. Like, a really, really, so-big-it's-kind-of-unfathomable one.
In an post published today on Pottermore, the "digital heart of the Wizarding World," Rowling and her team announced that 500 million Harry Potter books have been sold in over 80 languages since the first in the series, Harry Potter and the Sorcerer's Stone, hit shelves 20 years ago. 500 million. That's half a billion. By that count, on average, one in 15 people on earth own a Harry Potter tome. If you've ever wondered what the common thread of humanity is, uh, this might be it.
So how did the story of one boy, with poor eyesight and a mysterious scar, entrance the entire world? The story of J.K. Rowling, a struggling single mother in Scotland, and her creation of the Wizarding World, has been endlessly told, but let's just review it again because it's so incredibly inspirational.
J.K. Rowling, known IRL as Joanne Rowling, had been tossing around the idea for a book about a boy who attends a wizarding school (crazy how that idea seems so commonplace now) for several years before writing it down, in various cafes scattered across Edinburgh, Scotland, in the early 1990s. Rowling was a single mother on welfare, having escaped an unhappy marriage in Portugal with no money and no job prospects. After finding an agent for her first novel, Rowling's story was rejected by 12 publishing houses, before finally being picked up by British house Bloomsbury in 1997. Within a matter of years, it had become a phenomenon. And now it's sold half a billion copies. Like, remember when a new Harry Potter book would hit shelves? It felt like the whole world quieted down for several days, while children and adults alike retreated into the world of wizarding. That alone felt a bit like magic.
Sure, it's been around for two decades, but the Harry Potter franchise is going full steam ahead in 2018. Harry Potter and the Cursed Child will be hitting Broadway for a year beginning in March 2018, with pre-sale tickets going live next week. The second film in the Fantastic Beasts series, Fantastic Beasts: The Crimes of Grindelwald, will open in theaters Nov. 18, 2018, despite numerous controversies. And "Harry Potter: A History of Magic," an exhibition which debuted at the British Library last October featuring never-before-seen "artifacts" from Rowling and original illustrators Mary GrandPré and Jim Kay, as well as the real-life magic that inspired the books, will open at the New York Historical Society in October.