Basically Everyone Is Angry About J.K. Rowling's Response To The Dumbledore Controversy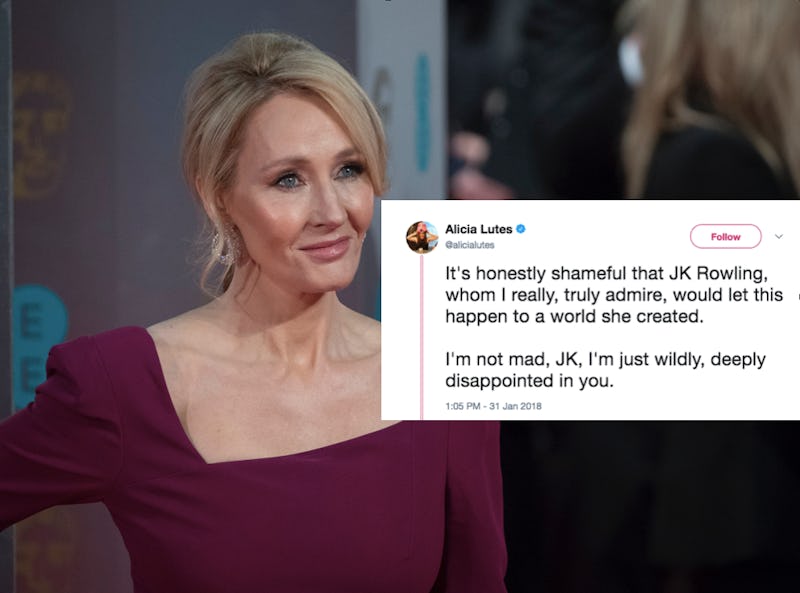 John Phillips/Getty Images Entertainment/Getty Images; Twitter/Alicia Lutes
As a massive Harry Potter fan, I have started to log on to social media with great trepidation, wondering what new controversy surrounding the series — and most especially the upcoming second film in the Fantastic Beasts series — has possibly been revealed. Unfortunately, on Jan. 31, the latest twist of the knife in the hearts of Potter fans everywhere came as the result of a new interview with director David Yates, in which he stated that Dumbledore would not be "explicitly gay" in the Fantastic Beasts sequel. Fans were understandably outraged, not in the least because this follows a controversy surrounding the casting of Johnny Depp.
Though the actor had long been beloved for his roles in such films as Edward Scissorhands and Pirates of the Carribbean, his ex-wife Amber Heard came forward in 2016 to share the physical and verbal abuse she allegedly endured throughout their relationship. Many fans feel that Depp should have been removed from the film considering the accusations. But Yates, and Rowling, have taken a different view of the situation. Yates said that it was "a dead issue," and Rowling said that she was "genuinely happy to have Johnny playing a major character in the movies."
Many fans had already expressed their plans to boycott the movie due to the Depp casting and the response from the movie's creators. But some had still hoped that Rowling would take this opportunity to finally write Dumbledore as a gay man. Rowling herself revealed that the headmaster was gay in an interview back in 2007. "My truthful answer to you… I always thought of Dumbledore as gay," she said. "Dumbledore fell in love with Grindelwald, and that that added to his horror when Grindelwald showed himself to be what he was." The lack of diversity in Rowling's seven book main series is a sore point for many fans, so the chance to finally see a beloved gay character brought to life on screen was an exciting prospect.
After Yates said Dumbledore would not be "explicitly gay," many hoped J.K. Rowling would chime in the conversation. However, when she finally did address the controversy, it was to address the "abuse" she has been sent:
Whether Rowling is being sent abuse, or is just being inundated with concerned fans' tweets is unknown, but her refusal to stand up for both her characters and the readers who love them is unbelievably disappointing. It is no secret that Harry Potter is a massive part of so many people's lives, and that the Boy Wizard's story has done so much to create a culture of bravery, resistance, and love among Potterheads.
Harry Potter means a lot to me. Rowling may have created the world and characters, and she and her team may have ultimate control with the way these characters are depicting in mainstream media. But it is up to the readers and the fans to ensure that the legacy of the wizarding world is protected.
Below are just a few of the many Twitter responses that have rolled in after the latest Fantastic Beasts news. Let's keep speaking out, Potter fans. The magic is in our hands now.