Here's How Many Days Trump Spent Golfing In 2017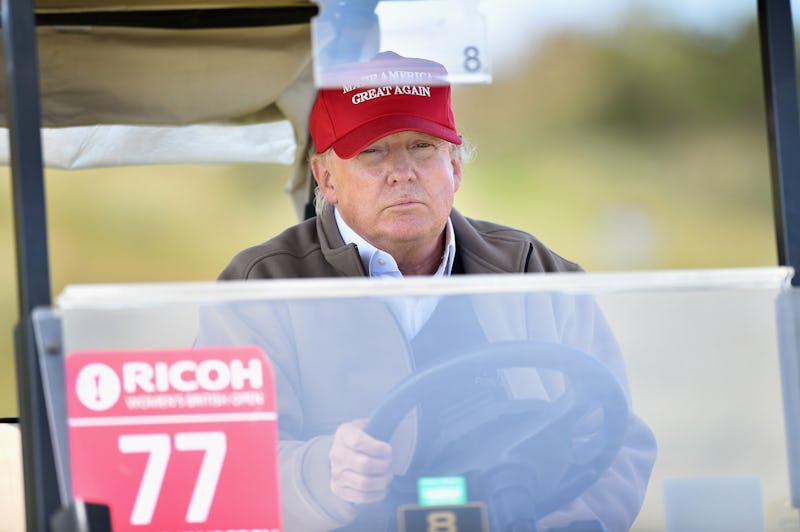 Jeff J Mitchell/Getty Images News/Getty Images
As 2017 comes to a close, many are taking the opportunity to assess the first year of Donald Trump's presidency. Where has he succeeded and failed? How does first year in office stack up to those of his predecessors? And how many days has Trump spent golfing since he became president?
It's a harder question to answer than you might think. The president's schedule is public for the most part, and he's certainly spent a lot of time on properties with golf courses on them. But the White House doesn't always say what exactly Trump did when he visited those properties, and at times, has suggested that Trump's "golf outings" are actually diplomatic meetings that happened to take place on a golf course. Moreover, Trump's golf club in Bedminster, New Jersey is closed to the press, making it impossible to determine whether he's hit the links during his visits there. The website Trump Golf Count — which does exactly what its name implies — has an entire section explaining why it's so hard to pinpoint the exact number of days Trump has played golf since assuming the presidency.
Nevertheless, there are some rough estimates, and they mostly fall in the same general range.
NBC News determined that Trump has spent 89 days of his presidency on Trump properties with golf courses on them. Trump Golf Count identified 87 distinct visits that Trump made to a property with a golf course; 42 of those have been labeled "confirmed golf outings," meaning that photographs, video or White House statements indicated that the president did actually played golf that day. Using his own slightly different criteria, Washington Post's Philip Bump estimated that there have been 73 days in which Trump "likely played golf" as president.
No matter how you slice it, this is a lot more golf than President Obama played during his Year One. According to the Obama Golf Counter website, former President Obama hit the links 28 times during his first year in office. Even the lowest estimates of Trump's 2017 golf expeditions are higher than Obama's tally by double-digits.
This ironic, given that as a private citizen, Trump frequently criticized Obama for spending too much time playing golf as president.
"Can you believe that, with all of the problems and difficulties facing the U.S., President Obama spent the day playing golf," Trump tweeted in 2013. "Worse than Carter."
"Obama ought to get off the golf course," Trump said three years later while campaign for president at a rally in Massachusetts.
"While our wonderful president was out playing golf all day, the TSA is falling apart, just like our government!," Trump screeched in a 2016 tweet. "Airports [sic] a total disaster!"
Likewise, although Trump has long been known to enjoy the sport, he pledged repeatedly during the campaign that he wouldn't spend much time on the links if elected president.
"I'm not gonna have time to play golf," he said at a Virginia campaign stop in 2016. "Believe me."
"I'm not gonna play much golf," then-candidate Trump declared in February in South Carolina. "Because there's a lot of work to be done."
In total, Trump has spent a total of 116 days of his presidency at properties that he owns, according to NBC News, 44 of which were at the Mar-a-lago resort in Florida. Trump Golf Count reports that the travel and security expenses of Trump's golf trips in his first year as president come to over $42 million, around $19 million of which was spent on flights to Mar-a-lago.
It may be harder to count Trump's golf games going forward, however: CNN reported on Sunday that Mar-a-lago groundskeepers recently planted trees that obscure the line of site that reporters once used to film Trump playing golf.