This Is How Many DREAMers Might Be Deported When Trump Ends DACA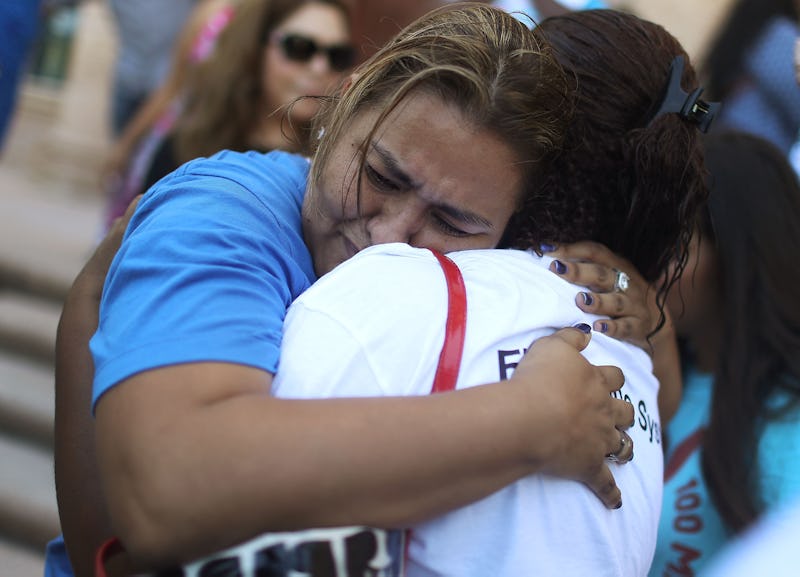 Joe Raedle/Getty Images News/Getty Images
President Donald Trump is set to announce this week that he is eliminating an Obama-era program designed to protect young undocumented immigrants from deportation, according to Politico. In ending the Deferred Action for Childhood Arrivals program, known more commonly as DACA, Trump has put the fate of hundreds of thousands of DREAMers at risk. But exactly how many DREAMers could face deportation with DACA ended?
Trump's decision to end DACA could ultimately subject all of the program's nearly 800,000 recipients to deportation. Moreover, the move also puts an estimated 500,000 DREAMers who have not yet applied to DACA but are believed to be eligible for the program's protection grants immediately at risk of deportation. However, how Trump moves to end DACA will likely have considerable impact over the future of DACA recipients' protections. In simply closing DACA to renewals and new applicants, Trump enables the hundreds of thousands of recipients currently participating in the program to retain their temporary protection grants and, or work permits until their date of expiration.
But deportation could cause significant chaos for DREAMers, the majority of whom grew up culturally American. In fact, a 2017 Center for American Progress survey of 3,063 DACA recipients, found respondents were, on average, 6-and-a-half years old when they were brought into the country by their parents. DACA supporters argue that because the majority of DREAMers were brought into the country as young children, the United States is the only home they know and deporting them could cause the significant havoc for those with no connections or ties to their country of origin.
Obama created DACA in 2012 as a means of providing DREAMers temporary protection from deportation as well as the ability to obtain a work permit or pursue higher education goals. Through DACA, DREAMers could apply for renewable two-year protection grants.
There are, however, some restrictions on who qualified for DACA protections. DACA recipients must have entered the United States prior to 2007 and have been age 15 or younger at the time of their entry. They also must have been under the age of 31 in 2012, DACA's inaugural year. Other requirements include a nearly spotless criminal record and possession of a high school diploma or its equivalent or enrollment in high school.
It's also important to note that while DACA enabled some undocumented immigrants to be what is known as "lawfully present" – meaning they're given documentation that enables them to obtain work permits or driver's licenses – it does not provide legal status or a pathway to citizenship.
Earlier this year the Trump administration decided to revoke Obama's Deferred Action for Parents of Americans and Lawful Permanent Residents program, which sought to offer protection to undocumented immigrant whose children are U.S. citizens or residents. Although it's impossible to predict the full implications Trump's decision to end DACA will have on DREAMers, the lives of hundreds of thousands of people stand to be significantly impacted.