'AHS: Cult' Will Pack Familiar Scares Into Its Election-Inspired Story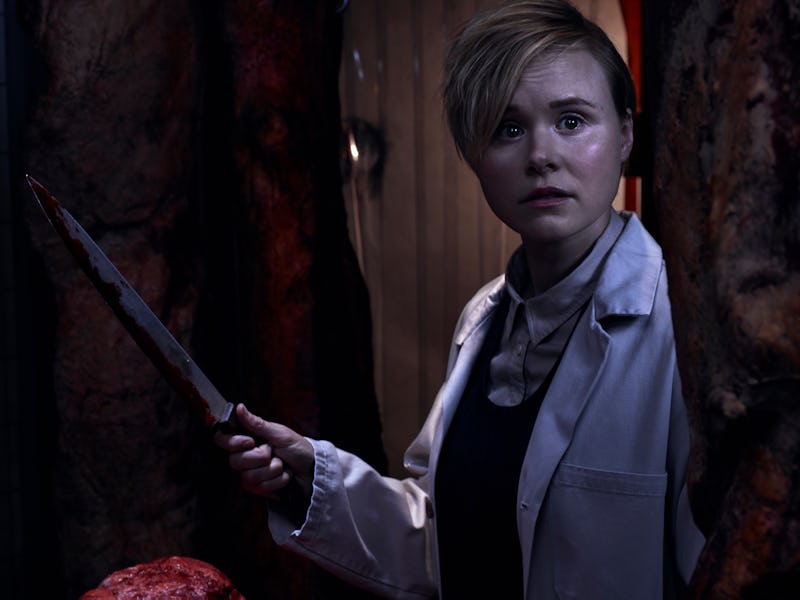 Frank Ockenfels/FX
For a lot of people, the 2016 election straight-up felt like a horror story, so it's no wonder that showrunner Ryan Murphy has chosen to make it the backdrop of his latest season of American Horror Story. In Cult, premiering Sept. 5, Sarah Paulson will star as a Midwestern lesbian woman whose life turns completely upside down after Trump is elected president, and Evan Peters seems to be playing a popular (and blue-haired) alt-right personality excited by the news. But how long will Murphy get to play around in this cycle? How many episodes is AHS: Cult?
Although all of American Horror Story's seasons feature different characters and settings (although it's all a shared universe if you look close enough!), there's one fairly standard unifying element — other than the actors, of course. For the first five seasons, each season ran for 12 to 13 episodes, which is a pretty standard length for cable.
However, last season, Roanoke, was a little different: it only lasted for 10 episodes, which was the fewest number of episodes in American Horror Story's history. It's unclear why the season was so much shorter than previous cycles, although at the time, Romper theorized that it would have been too difficult to keep a longer season under wraps the way Murphy did for Season 6. Honestly, it's so strange looking back and remembering how secretive the lead-up to that season was — good thing fans don't have to deal with all that misdirection this year.
Speaking of more good news for AHS fans: Cult will be longer than Roanoke was! The bad news is, it's still shorter than seasons past; according to Deadline, Season 7 will only run for 11 episodes. It's an unusual season length, but when you're Ryan Murphy, you can pretty much do anything. It's not like the showrunner doesn't have a solid track record of hits for FX; in addition to AHS there's also American Crime Story and Feud, both of which have also been immensely successful for the network.
Either way, no matter how many episodes there are of American Horror Story this season, it's definitely going to be wild this year. I mean, it's got election night parties going wrong and cults full of clowns. What isn't horrifying about that?