'Big Little Lies' Is Your New Fave Mini-Series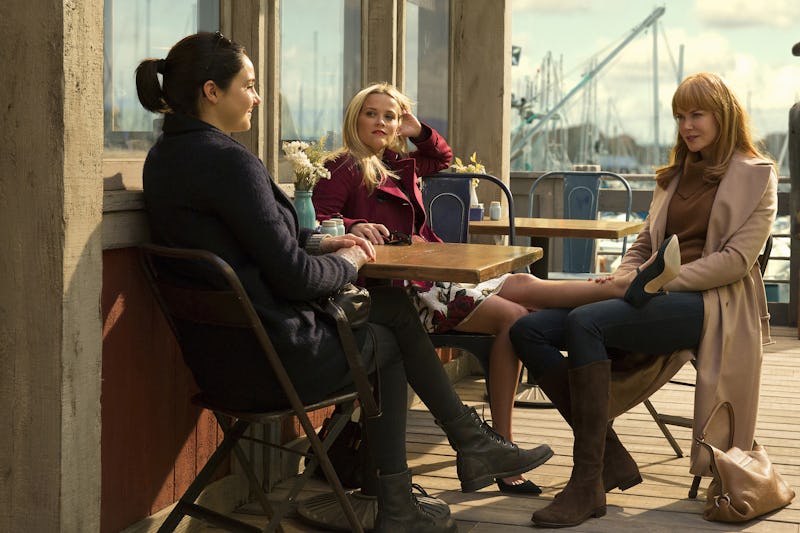 Hilary Bronwyn Gayle/courtesy of HBO
If you're a fan of Gone Girl or Girl on The Train, the HBO mini-series Big Little Lies is going to be your new obsession. The who-dun-it murder mystery, which has been adapted from a 2014 Liane Moriarty novel is full of twists and turns at every corner. Big Little Lies will run for seven episodes. Since it's a mini-series, the show is shorter than a regular season and completely wraps in that one season. Perfect for someone who's not looking to get into a lengthy new series, but wants something highly addictive. The show landed a superstar cast, which includes Reese Witherspoon, Shailene Woodley, Nicole Kidman, Adam Scott, Zoë Kravitz, Alexander Skarsgård and Laura Dern. How can you go wrong with that?
The previews have been a bit vague when it comes to spilling plot details, but that's why I'm here, to tell you what's up without ruining the fun parts. The preview shows a young mom who's moved to a wealthy town where everyone has a lot of money. You know that a murder has been committed, but you have really no idea what else is going on. It looks like Shailene Woodley, Reese Witherspoon and Nicole Kidman become friends, but it seems like no one really likes each other in the trailer. I recently read the book and I'm here to break down the plot points you need to know going into this thing. Don't worry, there aren't many spoilers in here, and the show may stray from the book. But, here's your official spoiler warning just in case.
Most Of The Plot Revolves Around A Murder At Trivia Night
A trivia night at the local school turns into a dramatic evening that results in a murder. From the previews, it looks like trivia night has been changed to a masquerade type ball where the murder happens. Now, I'm not going to spoil who's murdered and who committed the murder, but I will say that it's a pretty awesome twist in a plot that's already full of surprises. The event will probably be the main setting of the show, but flash between different points of view of the time leading up to the murder.
The Book Follows Three Separate Storylines
The book is broken up into the different storylines of three women who all have children that attend the same school. Though they all have vastly different personalities, they begin to form an unlikely friendship.
Jane Is Trying To Track Down Her Son's Father
Jane is the new girl in town and her son Ziggy is just starting school. Jane has come to town to find Ziggy's father, a guy she had a drunken one night stand that turned violent.
Celeste Is Abused By Her Husband
Although she seems like she has the perfect life, Celeste is hiding the fact that she's being abused by her husband. Her plot will focus on raising her two sons, while dealing with the issues in her marriage and how to escape her dangerous relationship.
Madeline Struggles With Her Ex-Husband's New Wife
Madeline is a divorcee with a daughter the same age as Celeste and Jane's children. Her plot line deals with being a single mother and the struggle of watching her ex-husband's new wife develop a close relationship with her daughter.
Their Town Is Based On An Australian Beach Town
The town in the TV show is Monterey, California, but in the book, the fictional town of Pirriwee is based off the beach towns in North Sydney, Australia where author Liane Moriarty lived for a few years. "I knew from the beginning that I wanted a small community because that gives you so much more scope for intrigue and conflict," she told Birchbox.
Catch all the drama starting Feb. 19 on HBO.