Investigation Discovery Asks, 'Is O.J. Innocent?'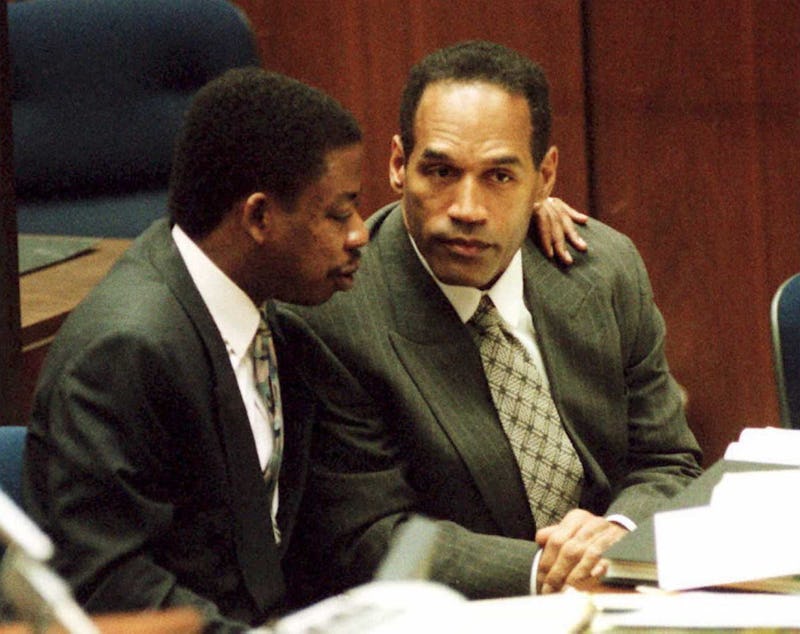 POOL/AFP/Getty Images
The O.J. Simpson case is frequently referred to as "the trial of the century." Over two decades later, the public remains fascinated by the murders of Nicole Brown Simpson and Ron Goldman, the arrest of O.J. Simpson, the lengthy, highly publicized trial, and Simpson's acquittal that came as a shock to many. (Simpson was later found liable for Brown and Goldman's deaths in the civil trial.) Following on the heels of The People v. O.J. Simpson: American Crime Story and O.J.: Made In America, Investigation Discovery is airing a docuseries that will look at the case from a different perspective. Viewers have seen a lot of Simpson coverage over the past year, so how many episodes is Is O.J. Innocent? The Missing Evidence on Investigation Discovery?
If you're not ready to commit to another full season about the case, you're in luck — Is O.J. Innocent? consists of six one-hour episodes that will air over the course of three consecutive nights. The docuseries premieres on Sunday, Jan. 15 at 9 p.m. ET with the first two episodes, and back-to-back episodes will air on both Monday, Jan. 16 and Tuesday, Jan. 17. You may feel very well-versed in the case after watching American Crime Story and Made in America — but, according to a press release from Investigation Discovery, the series "challenges everything you think you know about the trial of O.J. Simpson."
Is O.J. Innocent? features new, exclusive interviews with the families of Brown Simpson and Goldman. But, the press release indicates that the series' main focus will be looking at the case from start to finish — investigators will examine facts and evidence that they believe may have been overlooked in the initial investigation. Simpson was acquitted of both murders in his 1995 criminal trial, but found liable in civil court two years later. Although many believe Simpson allegedly committed the murders, Is O.J. Innocent? focuses on alternative scenarios. Henry Schleiff, Group President of Investigation Discovery indicated that the series will challenge viewers to look at the case with fresh eyes, stating:
"[I]t is imperative to remember... that no one has ever been convicted of the murders of Nicole Brown Simpson and Ron Goldman in a court of criminal law – and, accordingly, with unprecedented access and evidence never before investigated, we offer, today, a new take on the case everyone thought they knew."
It appears the "new take" will focus heavily on Simpson's son, Jason — The Hollywood Reporter confirmed last year that the docuseries is inspired by John Dear's controversial book O.J. Is Innocent and I Can Prove It, which poses the theory that Jason, then 24, allegedly killed Brown Simpson and Goldman, and O.J. Simpson allegedly helped him clean up the crime scene. Jason was never a suspect in the case or charged in connection with the murders, and thus has never publicly commented on any such allegations. Producers for the series reached out to Jason and he did not respond. Bustle could not reach Jason for comment.
Dear will be joined on screen by LAPD forensic psychologist Dr. Kris Mohandie and Rhode Island police sergeant Derrick Levasseur as they re-visit every piece of evidence. The press release teases that the series will feature "a never-before-seen interview with a potential eyewitness to the crime," but it doesn't specify who this person is or what they reportedly saw. There was no shortage of Simpson coverage in 2016, but Is O.J. Innocent? is definitely worth a watch for anyone who is still interested in the case in 2017.