'Raven's Home' Season 1 Will Leave You Wanting More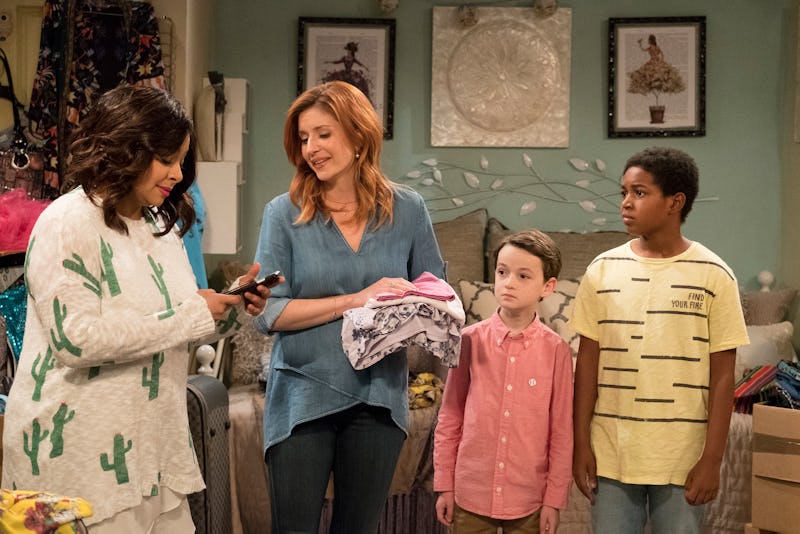 Disney Channel/Adam Rose
Raven Baxter is back, with a new series on Disney Channel that should be just as hilarious and supernatural as That's So Raven was back in the day. Unlike the show's first spin-off Cory In The House, which left out references to the sixth sense, Raven's Home will bring psychic abilities back into the mix — but this time, Raven's son can see the future too. But is this back-to-basics revival a limited or a full series? How many episodes is Raven's Home?
The premiere season will be short and sweet. According to the Raven's Home IMDb page, Season 1 will have 13 episodes. The original series racked up 100 episodes over four seasons, so this brevity is a bit of a change. But perhaps this is only Part 1 of a two-part Season 1, a trend that many networks have adopted in recent years. Maybe more episodes will air later in the year. But Disney hasn't announced more episodes beyond these 13, and I can't see the future, so I can't say for sure.
What I do know for sure is that the new series revolves around Raven and her BFF Chelsea, who fans already know and love. The two of them have moved in together as divorced single mothers, Full House-style. It's the perfect formula for some family-friendly, nostalgic chaos. Plus, as I mentioned before, Raven's oldest son discovers that he has inherited the family gift.
Raven's ex-husband, and the father of her two children, is her old boyfriend Devon from the original series. So the new show will feature a lot of familiar faces, but some new characters as well. Here's a quick rundown of who you'll meet in Raven's Home Season 1:
Nia & Booker
Only one of Raven's twins, her son Booker, can see the future, but they both have tons of personality. According to the official Disney Channel press materials, Booker is "lovable and overly confident" while Nia is "smart, dependable, and fiercely independent."
Levi
I know some of us dream of our kids playing with our friend's kids, but that doesn't always work out in practice. Chelsea's son Levi at least seems enthusiastic, and he may take on a more adult role in the family. Disney Channel describes him as "so responsible and levelheaded that he often provides guidance to his own mother in matters impacting their hectic household."
Tess
Every sitcom needs a nosy neighbor, and in Raven's Home, that role will be filled by Tess. The Disney Channel description of her is "spunky" and "often involved in the family's shenanigans" — perfect.
Hopefully, Raven's Home is renewed for more episodes. 13 won't provide nearly enough time to get to know these new characters, or get back into the swing of things with Raven and Chelsea. If audiences feel back at home with Raven, the show could have a future as long and bright as the original's.