'Big Little Lies' Just Scored SO Many Golden Globes Nominations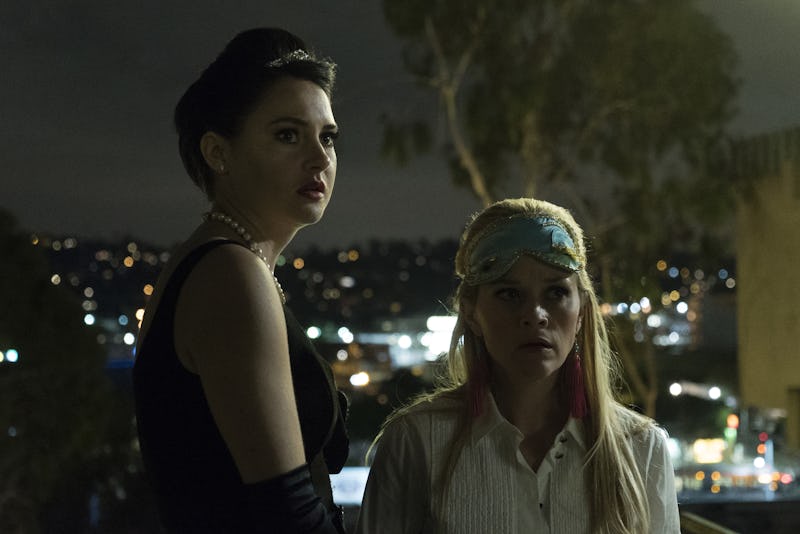 Hilary Bronwyn Gayle/courtesy of HBO
Big Little Lies, the HBO drama that was as pleasing to look at as it was to frantically and dramatically discuss with friends after each week's episode, has had a great start in awards season thus far. Not only did it win several Emmys earlier in 2017, but Big Little Lies received six Golden Globes nominations. The show nabbed nominations for Best Supporting Actor in a Limited Series: Alexander Skarsgard, Best Supporting Actress in a Limited Series: Shailene Woodley and Laura Dern, Best Actress in a Limited Series: Reese Witherspoon and Nicole Kidman, and Best Television Movie or Limited Series, according to The Hollywood Reporter's full list.
This isn't the first time the series, helmed by Witherspoon and Kidman as executive producers, has received awards show acclaim. It scored eight Emmys earlier this year, including Outstanding Lead Actress for Kidman, Outstanding Supporting Actor and Actress for Laura Dern (Renata) and Alexander Skarsgard (Perry), Outstanding Limited Series, Outstanding Directing for a Limited Series for Jean-Marc Valee, Outstanding Casting, Outstanding Contemporary Costumes, and Outstanding Music Supervision.
Part of what makes Big Little Lies so remarkable isn't just its gripping plot, but also the love the showrunners and cast so obviously have for the project. After receiving her Emmy, Dern told reporters backstage how much she loves what the show has managed to accomplish in terms of showcasing the real plights of women.
"[Showrunners and the book's author, Liane Moriarty] spoke to voice, and they spoke to on the outside these seemingly strong and dynamic women being broken and victimized, particularly in the area of domestic violent and sexual assault," Dern said, according to Variety. "The show was delicious and fun to get inside of for so many people, but also it was speaking directly about being true to your voice and standing up for yourself, and I feel very proud to be a part of a group of women getting to tell that story right now."
Kidman seems particularly deserving for her recognition on Big Little Lies this season, given not only the emotional but the physical places she needed to go to accurately portray her character, who is a domestic abuse victim. "A lot of that was brought home with me," she told Deadline. "I went home crying. I was lucky to have a partner [Keith Urban] that would put his arms around me and hold me, because I would cry and I would be physically in pain, and he was like, 'What is going on on that set?' He would see the bruises and be aghast. But he's also an artist, so he gets it and he's willing to support me. That, for me, is an extraordinary act of love. To step back and just let me do the work."
The Golden Globe nominations come on the heels of HBO's announcement that Big Little Lies would indeed score a second season, with Witherspoon and Kidman returning to star and executive produce (the rest of the original cast is expected to return as well). "I'm thrilled to be bringing back this talented team of artists," Witherspoon said in a statement, according to Vulture.
"It gives us the opportunity to delve deeper into the lives of these intriguing and intricate Monterey families and bring more of their stories back to the audience who embraced and championed them. I'm beyond excited to be working with talented and acclaimed director Andrea Arnold who will be at the helm. Andrea's unique storytelling style will be a welcome addition to the filmmaking team."
According to Vulture, casting is underway for the new season. Season 2 will be based on a story created by Moriarty, the outlet reports, and will be written by David E. Kelley. Thankfully, the ladies of Monterey are going to be back before we know it, keeping us all on the edges of our seats while telling authentic, moving stories for another season — and likely even more awards.