Here's Hoping Prince Wins One More Grammy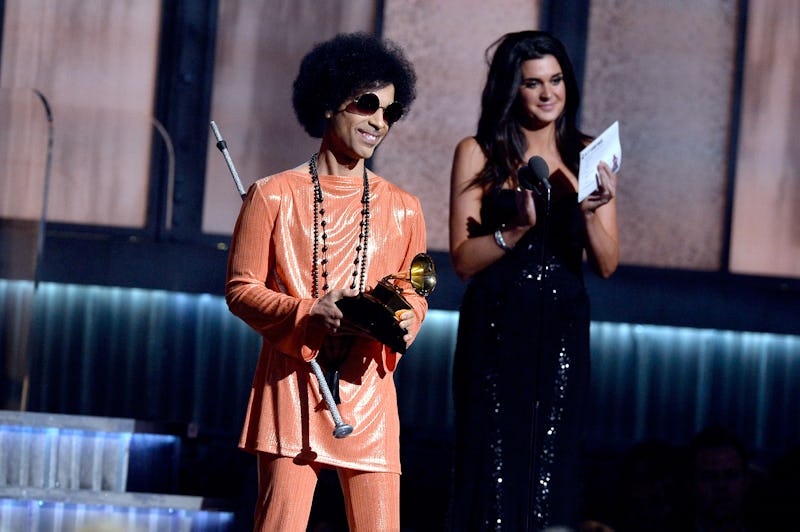 Kevork Djansezian/Getty Images Entertainment/Getty Images
Like everyone else on the planet with a pair of functioning ears, I still miss the Purple One. Life minus Prince feels a little less exciting and a lot less sexy. So with the Grammys approaching, naturally my mind turned to Prince Rogers Nelson and one specific question: How many Grammys did Prince have? It feels as if no matter how many he won, they would never be enough. What other artist recorded two songs a day, and as such, has enough unreleased material to be able to keep on releasing a posthumous album once a year for the next 100 years?
But OK, let's cut to the good stuff. According to the award show's official site, Prince was nominated for 38 Grammy Awards over the years, counting his 2017 nom. Which is great, but also not, when you consider how many of those he actually won: a grand total of seven. That's seven Grammys for a career that spanned over a quarter of a century. He started winning Grammys in 1985, which was a lucky year for Prince, with him taking home not one but three trophies — two of which were for Purple Rain: one in the Best Rock Performance by a Duo or Group with Vocal category, and one for Best Album Of Original Score Written For A Motion Picture Or A Television Special.
He also won Best R&B Song that year for writing "I Feel For You," which he originally wrote and recorded for his debut album, but Chaka Khan recorded a better-known version in 1984. Just two years later, he would win Best R&B Performance By A Duo Or Group With Vocal for "Kiss," and then there was a very long gap of 18 years until he struck Grammy gold again. In 2005, Prince won Best Traditional R&B Vocal Performance for his album Musicology, and Best Male R&B Vocal Performance for a track off the same album, "Call My Name." Finally, in 2008 he won Best Male R&B Vocal Performance for "Future Baby Mama," a track off his album Planet Earth.
And that's not all the Grammy love he received. In 2008, Prince's album 1999 was added to the Grammy Hall of Fame; in 2011, Purple Rain was added to the same; and in 2017, Sign O' The Times was added.
But it still doesn't stop there — Prince is nominated at this year's Grammys for the Best Engineered Album, Non-Classical category for the final album of his life, HitNRun: Phase Two. So, cross your fingers on Sunday, Feb. 12 — if you love Prince and want his work to be celebrated, you'll want him to win one more Grammy.