The Las Vegas Shooter Had At Least 10 Guns & May Have Tweaked Them To Fire Faster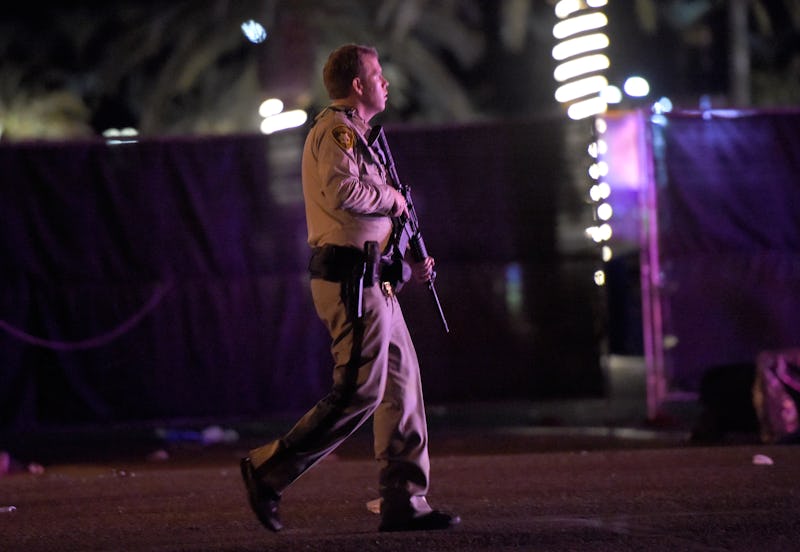 David Becker/Getty Images News/Getty Images
A horrific shooting at a music festival Sunday night ended with at least 58 deaths and 400 injuries, breaking the record for deadliest mass shooting in recent national history. The Las Vegas shooter had multiple guns on the scene, though he may not have used them all while perpetrating his attack.
The shooter had more than 10 rifles in the hotel room where he committed the deadly shooting, according to Las Vegas Metropolitan Police Sheriff Joseph Lombardo. The New York Times reported that at least one of the weapons seems to have been a fully automated rifle, based on audio recordings from the shooting.
Automatic machine guns are heavily regulated, suggesting that the shooter may have obtained the weapon illegally. The shooter may have also modified the gun by hand to make it fire more rounds per minute. Police haven't released any information at this time about how or when the shooter obtained the guns, or whether there were any modifications to the weapons.
The shooter reportedly fired down at the crowd attending the Route 91 Harvest Music Festival from his hotel room on the 32nd floor of the Mandalay Bay Hotel. From a photograph of the hotel, the shooter appears to have broken the window of his room in order to shoot down at the festival some 300 feet below him. According to official reports, the shooter then took his own life in the hotel room.
As law enforcement assessed the scene, it became clear that not the injuries were caused by the gunman. According to eyewitnesses, some people were trampled in the confusion as the crowd tried to figure out what was going on.
"I turned around and I looked and people just started running," survivor Michelle Leonard told ABC News. "People were just running and falling and screaming. I had no idea of where it was coming from or where to run to."
People have been expressing their outrage via social media all morning, much of it directed at gun laws that many claim are too lax. The overarching narrative of the shooting has the finger ultimately pointed at Congress, which has accumulated the majority of the public blame for mass shootings in the last several years.
It's also important to note that state gun laws play a huge role in how shooters obtain weapons. Nevada has open carry laws that may have made it difficult for anyone to notice the attacker and his bevy of guns, plus background checks for private gun sales were only approved last year.
Here are some ways you can help the victims in Las Vegas.