Daveed Diggs Is So Cute On 'Kimmy Schmidt'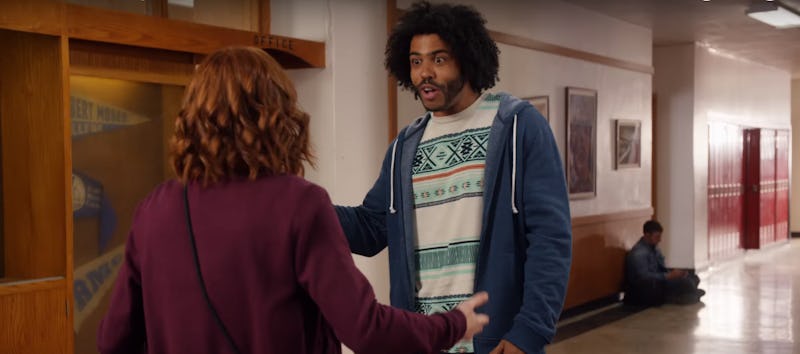 Netflix
Netflix's Unbreakable Kimmy Schmidt Season is now streaming and there are some SPOILERS ahead. Season 3 follows the title character on a new adventure: going to college. Kimmy graduates from her GED program, checks out some colleges, and she meets Perry (played by Daveed Diggs) at one in particular. After seeing the Hamilton star's guest role, you might be wondering how many Kimmy Schmidt episodes is Daveed Diggs in? The Tony Award winner makes his first appearance in the season's second episode and appears again in the sixth and eleventh episodes of Season 3.
In the second episode, Kimmy goes on a tour of New York City's lesser known colleges (such as the "As Seen On Law & Order" school Hudson University) and she meets Perry at Robert Moses College. He studies philosophy and he's transferring to Columbia University. Perry encourages Kimmy to expand her learning horizons and tells her she doesn't have to become a crossing guard like her career aptitude test indicated she should. By the fourth episode, Kimmy receives a full scholarship to Columbia to row for the varsity crew team. Perry and Kimmy run into each other many times over the course of the sixth episode, which ends with them kissing — and then Kimmy has a negative reaction to Perry's aspirations to become a reverend. Because, remember: she was held captive by Reverend Richard Wayne Gary Wayne for years.
Kimmy and Perry encounter each other again in Episode 11 at a Columbia professor's self-proclaimed student soiree. Kimmy apologizes to Perry and they bond, but she becomes upset when the whole party — including Perry — has googled her and they know about her "Indiana mole woman" past. Understanding how humiliating it is to have your past on the internet, Kimmy helps salvage Perry's flailing "philosophy rap" in their class, which is being recorded on their classmates' phones.
After that episode, Kimmy leaves Columbia and it's unclear if she and Perry will pursue their connection or ever bump into each other again outside of campus, but as fans know anything is possible in the world of Kimmy Schmidt.