There's Not Enough Mikey In 'Kimmy Schmidt' This Season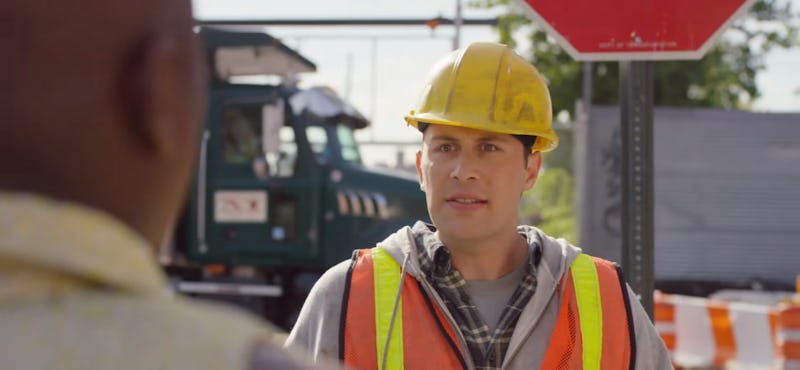 Netflix
In Unbreakable Kimmy Schmidt Season 2, Titus (played by Tituss Burgess) and Mikey (Mike Carlsen) became an unlikely, but very sweet couple, showing that opposites do attract. SPOILERS are ahead for Season 3, which is now streaming. In the third season, Titus and Mikey hit a bit of a rough patch, so how many episodes is Mikey in Kimmy Schmidt Season 3? Carlsen will guest star as Mikey in four episodes: two at the beginning of the season and two later in the season, ending the season on a hopeful note for the couple.
In Season 3, Titus departs his role on cruise musical and returns home to New York City to find Mikey hanging out with another guy. Naturally, Titus doesn't take this well and, inspired by Beyonce's Lemonade, goes "Lemonading." Eventually, Titus realizes that he needs to let Mikey explore connections with other men and, if they're meant to be, they'll get back together. Mikey later resurfaces in the tenth episode of the season, when he runs into Titus in a gas station convenience store. Mikey tells Titus about all the adventures he's having as he's "seeing the big beautiful gay world." And then, Mikey confesses: he has a new boyfriend named Andrew, who works on Wall Street. Titus is visibly jealous, but tries to shrug it off by saying he too has a new boyfriend. It's as awkward as any run-in with an ex usually is.
In the season finale, Titus attempts to use the success of his TaskRabbit song "Boobs in California" to win back Mikey and schemes his way to performing at a New York Mets opening day party cruise attended by Mikey and Andrew. And during the song, Titus declares his love for Mikey and pledges to win him back.
So it sounds like Carlsen could be back for more episodes in Kimmy Schmidt Season 4.