How Many Mass Shootings Have There Been In 2017?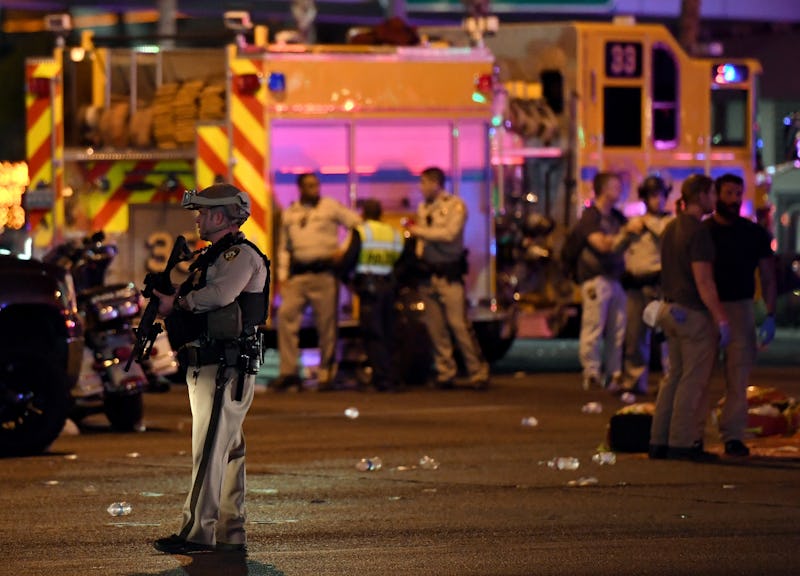 Ethan Miller/Getty Images News/Getty Images
On Sunday Oct. 1, a shooter opened fire on people attending Route 91 Harvest, a country music festival in Las Vegas, Nevada where about 22,000 people were attending a concert. The attack occurred during a performance by country star Jason Aldean, who was headlining the three-day event. The massacre, now the deadliest mass shooting in U.S. history, has resulted in more than 50 casualties, and more than 400 injuries as of Monday morning. The shooting took place near the Mandalay Bay Hotel and Casino, where the shooter fired at concert-goers from the 32 floor. Even as the deadliest mass shooting in U.S. history though, this event isn't the only mass shooting in 2017.
While the United States' Congressional Research Service does in fact acknowledge that there is not a broadly accepted definition of a mass shooting, it does state a mass shooting to be loosely defined as one in which "four or more people selected indiscriminately, not including the perpetrator, are killed." According to the Gun Violence Archive, by the above definition, this would make the Las Vegas shooting the 35th mass shooting in the U.S. in 2017. As aWashington Post article points out, though, there are multiple definitions of mass shootings in the U.S, some of which are more broad than the U.S. Congressional Research Service's terms.
As the same Washington Post article points out, "'By whatever metric you prefer, mass shootings are becoming more common."
Echoing that quote from the Washington Post, by any definition, though, the Oct. 1 Las Vegas shooting is now officially the deadliest mass shooting in U.S. history, with the death toll of 50 and number of injuries is expected to rise.
According to NPR, the Associated Press described the scene as follows, "Concert-goers reported seeing muzzle flashes from the upper floors of the Mandalay Bay Hotel and Casino across Las Vegas Boulevard from the country music festival and the sound of what they described as automatic gun fire. Witnesses said they saw multiple victims as they fled the gunfire raining down on the concert venue. Some later huddled in the basement of the nearby Tropicana hotel-casino. Some officers took cover behind their vehicles while others carrying assault rifles ran into the Mandalay Bay Hotel and Casino."
"The Clark County Fire Department estimated that approximately 406 people were transported to area hospitals," the Las Vegas Metropolitan Police Department, according to NPR.
The suspect in the shooting, 64-year-old Stephen Paddock who lives in Mesquite, Nevada in a retirement community, was found with "at least eight weapons, including multiple long rifles," Las Vegas Police Undersheriff Kevin MacMahill told CNN. Paddock eventually took his own life before being apprehended by a SWAT team while in his hotel room, according to CNN. This information has later been updated to reflect that there were at least 10 weapons in his room.
"We believe the individual killed himself prior to our entry," Las Vegas Metropolitan Police Sheriff Joseph Lombardo said in a press conference. Lombardo also said in the same press conference that Paddock had been staying at the Mandalay Bay Hotel and Casino since Thursday, Sept. 28.
President Trump tweeted a statement about the attack on Monday morning, saying, "My warmest condolences and sympathies to the victims and families of the terrible Las Vegas shooting. God bless you!" Trump is expected to give another statement later Monday morning.
Those looking to locate or connect with loved ones still missing or unaccounted for can reach out to a hotline at 866-535-5654, Lombardo also pointed out.
Here are some ways you can help the victims in Las Vegas.