Miss Universe Has So Many Contestants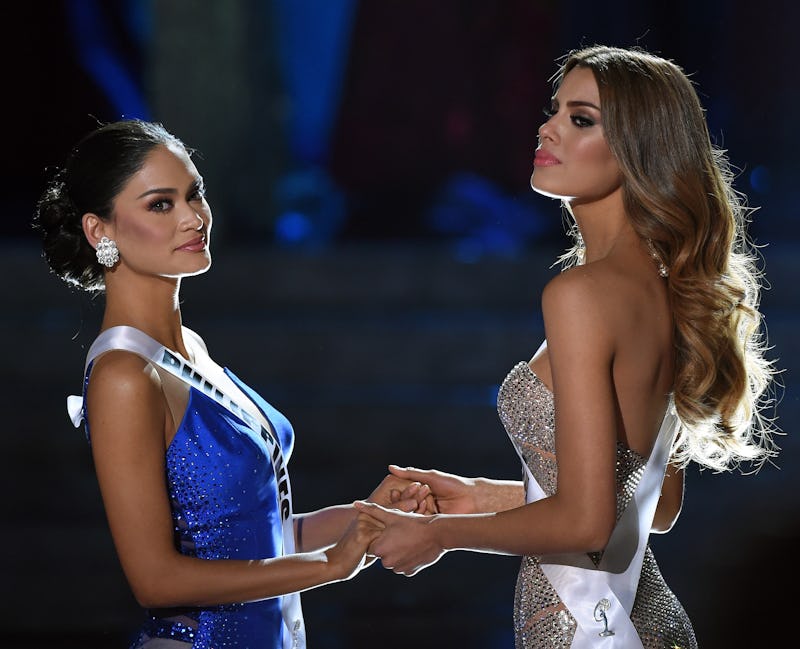 Ethan Miller/Getty Images Entertainment/Getty Images
The Miss Universe pageant has become a tradition, offering competitors the opportunity to showcase themselves and hopefully be crowned the new Miss Universe. The competition is stiff, with some of the world's most talented women coming from all over the globe to represent their country and win the title of Miss Universe. Not only are all of the competitors in top form, but there happen to be a lot of competitors in the Miss Universe competition. As a contestant it could be intimidating to know how many women participate in the Miss Universe competition. By the time the competition comes down to the final three, dozens of the most accomplished women around the globe have been eliminated.
According to the competition's official website, "In the case of Miss Universe, between 80 and 100 countries send a candidate to compete." In the 2017 competition, there are 86 competitors vying for the title of Miss Universe, which involves being "relocated to New York City ... [and being] provided a platform for possibility based on her objectives for the year. Alongside The Miss Universe Organization, she will plan how to achieve her goals on the national and global scale." With so many names in the mix, just making it past the preliminaries is an accomplishment.
The Miss Universe pageant, which was previously owned by President Donald Trump, is just as cut-throat as President Trump's former reality franchise The Apprentice. After the preliminaries, the pool of contestants is cut down to the top 14 percent of competitors. If you're in the lucky final 12, you get to chance to move on to the top nine, top six, and then final three before hopefully being crowned Miss Universe.
This is a change from the most recent ceremony in 2015, when the field of 80 competitors was cut down to top 15, top 10, and top five, before winners were crowned. If anything, it's even more difficult to place in 2017 than it was in 2015 with more competitors and less spots in the final rounds of the competition.
Each competitor represents one country, including major world powers like the U.S.A. and China and smaller countries like Myanmar and Denmark. The contestants range in age from 18 (with the youngest competitor in the competition being Israel's Yam Kaspers Anshel) to 27, which is the cut-off age for competitors.
When the 2017 Miss Universe pageant commences, it'll be up to the judges to pick which of these 86 women is truly Miss Universe.