Trump's 'Apprentice' Involvement Is Controversial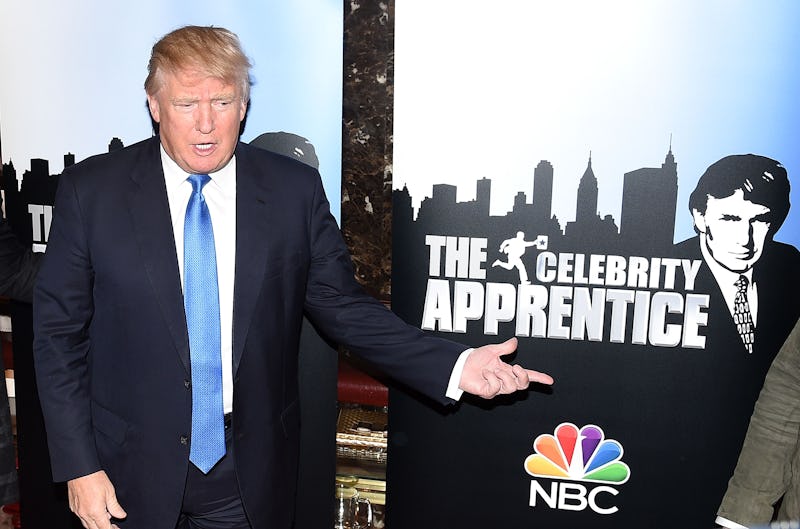 Andrew H. Walker/Getty Images Entertainment/Getty Images
On Jan. 20, 2017, Donald Trump will be inaugurated to the office of the President of the United States. This thought excites some and chills others; Trump is a name often associated with turbulent behavior. He will also become the first president to have a background in reality TV, due to his involvement with The Apprentice. The show returns on Monday, Jan. 2, at 8 p.m. ET, and though Arnold Schwarzenegger will now serve as host, many viewers will likely wonder if Trump is still involved with The Apprentice, or if his role has changed since becoming president-elect.
Trump may be gone as host, but production company MGM confirmed to Variety that he will remain an executive producer of the show when it returns as The New Celebrity Apprentice with Schwarzenegger. Additionally, Trump spokesperson Hope Hicks confirmed to Variety that he has "maintained a financial interest" in the NBC series. This has caused controversy, as Fortune pointed out that this could cause a conflict of interest, since Trump would have a "shared business interest" with NBC Universal. However, it should be noted that MGM also told Variety that Trump will be paid through the production company, which removes NBC from any direct financial engagement with the President of the United States.
When the news broke that Trump would remain an EP, his former campaign advisor Kellyanne Conway told CNN that "presidents have a right to do things in their spare time" and compared his involvement to other presidents' hobbies, such as golf. She also said:
"He's a very transparent guy. Everyone can see what he's doing, and the fact is that he is conferring with all types of experts who tell him what he can do and not do as President of the United States ... If this is one of the approved activities, then perhaps he will consider staying on."
Still, there were doubts. Norman Eisen, former ethics advisor to President Obama, claimed to ABC News that Trump's financial connection to The Celebrity Apprentice could affect his actions as president. "He will be tempted, consciously or otherwise, to favor NBC or use the White House to promote this source of revenue," Eisden claimed. (NBC has not yet responded to Bustle's request for comment on Eisden's claims.) "It is one more example of why he must divest all his interests into a blind trust or the equivalent." According to Politico, Trump's team is reportedly considering creating a discretionary trust for when he takes office, which would put Trump's assets and businesses in a trust overseen by one of his family members, who would be allowed to discuss revenue with Trump. (In a blind trust, Trump could not be informed of how the assets are being handled.)
On Dec. 10, after these criticisms were levied, Trump tweeted about his involvement in The Apprentice and said that his only involvement is the financial stake.
This is actually very common for executive producers, as Vox's Todd VanDerWerff explained, "the vast majority of 'executive producer' titles are strictly ceremonial." He also pointed out that The New Celebrity Apprentice already finished its production, and Trump likely wasn't very involved while he was busy campaigning.
Beyond Trump's wallet, there are more concerns about his EP credit. Trump's relationship with NBC is already complicated at best. As reported by Deadline, in September 2015, Trump settled a lawsuit against the network after it opted not to broadcast the Miss USA pageant. He bought NBC out of the Miss Universe Organization, which he would later sell to agency WME/IMG.
More recently, MSNBC has frequently been critical of Trump as a presidential candidate, NBC's Late Night with Seth Meyers has risen to prominence by taking on Trump, and there's been an ongoing rivalry between the president-elect and NBC's comedy institution Saturday Night Live. Of course, Trump also hosted SNL a year before he was elected and later got a friendly hair tussle from Jimmy Fallon. This all came after NBC said it was "ending its business relationship with Mr. Trump" in June 2015, following offensive comments he made about Mexican immigrants. NBC has not yet responded to Bustle's request for comment on its relationship with Trump.
Clearly, there are still concerns about Trump's role in The Apprentice, no matter how small. It's yet to be seen if anything will change between the premiere of Celebrity Apprentice on Jan. 2 and Trump's inauguration on Jan. 19, but as it stands, it's one of many controversies following Trump to the White House.