The Inaugural Balls Will Likely Be Crowded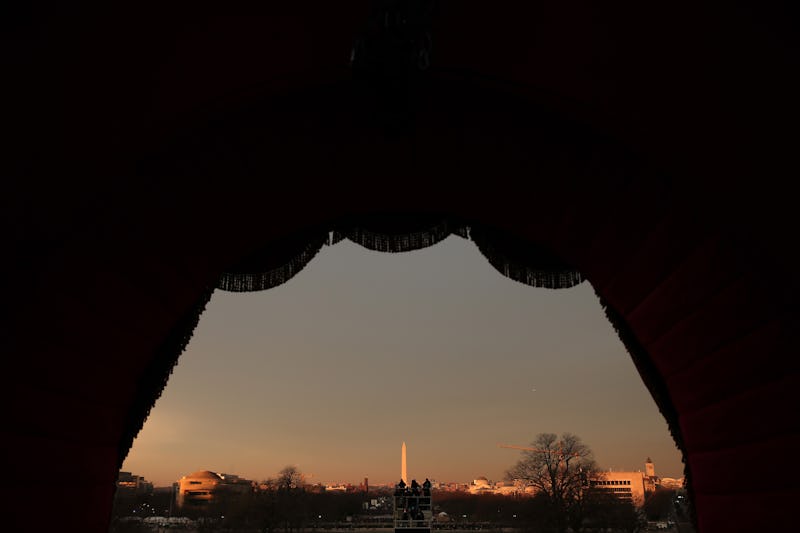 Win McNamee/Getty Images News/Getty Images
Inauguration Day doesn't end with Donald Trump's swearing-in ceremony. On the contrary, it's tradition that the new president celebrate the transition at elaborate parties that more often than not involve big celebrity names. Not to mention, there's always more than one of these star-studded events. This year, it's likely that Donald Trump and his people will attend three inauguration balls total. And they can expect them to be relatively crowded. It's uncertain just how crowded, though.
According to the Presidential Inaugural Committee (PIC), there will be three official inaugural balls on the evening of Jan. 20. Boris Epshteyn, the committee's communications director, released a statement on the decision that provides further details:
Our country was founded on, and has endured because of, the undying principles of freedom and liberty. In honoring these important values, the inauguration of President-elect Donald J. Trump and Vice President-elect Michael R. Pence will be celebrated at two balls open to the public, Liberty and Freedom: The Official Presidential Inaugural Balls. Additionally, we are pleased to announce the Salute to Our Armed Services Ball, open to invited guests who serve our country in our communities, at home, and abroad.
Seeing as the Liberty and Freedom balls are expected to have more performers, including the Rockettes, it seems as though they will be the more crowded of the three events. Additionally, tickets were made available to the public for just $50, according to the PIC's website.
And according to Epshteyn, there's a reason the tickets are relatively cheap. Trump supposedly wants the celebrations to be "workmanlike" and involve the people who voted for him. And though Trump's inauguration doesn't feature as many official inaugural balls or A-list performers as those of previous presidents, the celebrations will likely be packed.
For one, this is the case because of ticket pricing. Secondly, many "unofficial" inaugural balls are already sold out or selling for hundreds of dollars. Still, Trump's inaugural ball game doesn't match up to that of Barack Obama or Bill Clinton. Clinton, for example, attended no less than an astonishing 14 inaugural balls the same day he was sworn in as president. Similarly, Obama attended 10 of the events. And if the swearing-in ceremony goes as planned, Trump's inauguration will see about 900,000 attendees. In 2009, over 1 million attendees watched Obama be sworn-in.
Still, Washington, D.C. will no doubt be packed the entire inauguration weekend, so if you plan on attending the swearing-in ceremony, the Women's March, or both, be prepared for the crowds.