Paris Hilton Loves Kylie Lip Kits As Much As You Do — EXCLUSIVE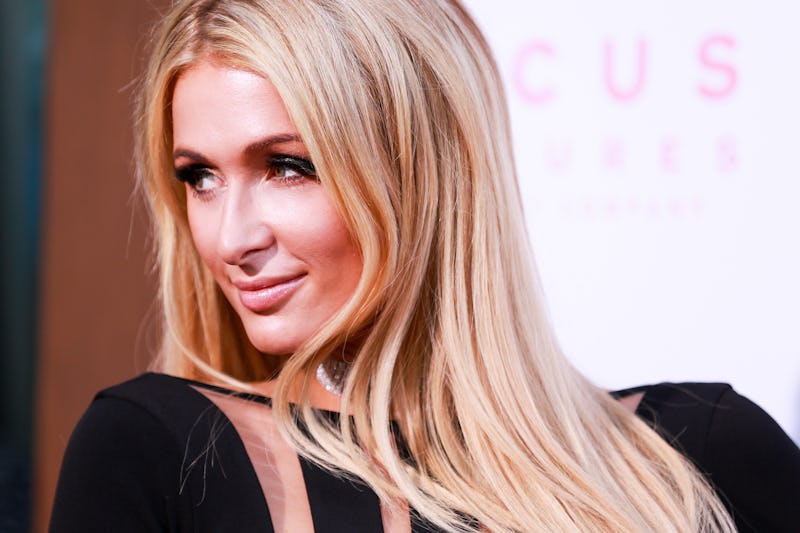 Rich Fury/Getty Images Entertainment/Getty Images
If there is one thing Paris Hilton excels at, it's reinvention. The hotel heiress has transformed herself from a famous-for-being-famous socialite to an entrepreneur with her own beauty collections. She's also morphed from a reality TV star to an in-demand DJ spinning at the hottest spots in the world.
Now, Hilton is reinventing her perfume line with a luscious new release. And when creating her 23rd (!!!) fragrance Rosé Rush, she wasn't lacking in inspo given her fast-paced lifestyle.
"With my travels and my life, I experience different cultures and smells, so I am inspired by that," Hilton tells me over the phone. "It's easy for me to come up with a new fragrance. I'm a professional in that arena after 12 years."
Though she's released a robust portfolio of perfumes since 2004, Hilton admits that her debut perfume, Paris Hilton, is still her favorite "since it brings back so many memories of first having my own perfume and how I excited I was."
But back to her newest release. Rosé Rush is a floral, fruity fragrance with notes of rose, neroli, lychee, and peony. Hilton calls it "the perfect scent for summer and fall" when the flowers are blooming and the fruits are ripe.
But be warned: Paris says the scent is an attention-grabber. And that's coming from a head-turning celebrity.
"I attract attention when I wear it," she says. "People come up to me and ask what it is. It's sexy, beautiful, and puts you in a good mood."
But what exactly does Paris Hilton smell like on the regular? With 23 of her very own fragrances, surely she has a hard time picking just one.
Here's her secret: "I love wearing Rosé Rush and mixing it with a little bit of vanilla," she says, flawlessly promoting her latest aroma. "I mix it with a random oil I got in Malibu."
And we can't contest. The sexy notes of vanilla, after all, go well with the feminine allure of florals.
It's no secret that Hilton helped introduce Kim Kardashian to the world, helping her bestie — and, as a result, her family — break into the public sphere. So I had to ask the mogul, who is known for her pretty pink and extra glossy lips, if she is a fan of Kylie Lip Kits, the blockbuster product of Kim's younger sister.
"I love Kylie Lip Kits," Hilton says. "They are great colors. Her presentation is perfect."
But Hilton is also a fan of beauty brand classics, like MAC and NARS. And, of course, she's also a fan of her own.
"[MAC] is old school," she says. "I love the Prr Lip Glass. It's sticky, which is annoying, but the color is so pretty, especially in photos. I love NARS Orgasm Bronzer. I have my own makeup line that I love, too."
Hilton's look has been oft-copied since the early '00s, when she was at the height of her fame. But she has grown from her mini skirts and teeny tops into a modern style maven. Her one tip for millennials when it comes to beauty routines is really simple — and somewhat shocking from Hilton.
Hilton says she doesn't lay out in the sun, noting that spray tanning can give you the same effect as a laying out. She also is quick to tell me she is completely natural and has never had Botox.
"One thing my mom taught me when I was 12 was to be careful in the sun, since it will ruin your skin," Hilton, who was known for deep tans in the 2000s, says. "Stay out of the sun, and be as natural as possible at a young age. You don't want to ruin your face."
While Hilton may not be a fixture in the L.A. paparazzi scene anymore, she is happy with her life. And particularly happy in her role as a DJ.
"I have always loved music," she says. "I have been going to raves since I was 15. It's a part of my life. Now, I'm in my fifth year of residency in Ibiza; it's legendary. It's a huge honor."
The Paris Hilton of 2017 is obviously very different from the Paris Hilton of 2003. Though the pink gloss hasn't changed, her attitude and outlook has. And Hilton says it's all been for the better.
"I have grown up a lot. I am a confident woman," she says. "I am smart about the people I surround myself. I am just a more grown up version of me."
Amen, sister!