California Isn't The Only State That's Drastically Tweaked Its Primary Election System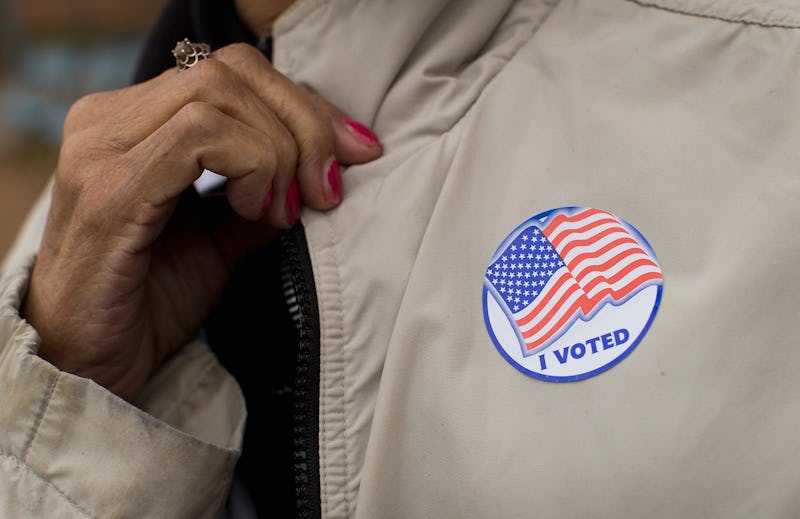 Scott Olson/Getty Images News/Getty Images
On Tuesday, June 5, California's residents will head to the ballet box to cast their votes in the state's highly anticipated primary elections. Tuesday's primaries could have significant political consequences, as they could very much help or hurt Democrats' chances of regaining a majority in the House of Representatives in November. However, California's primaries are also receiving a lot of attention because of the unique system used to elect candidates. Indeed, you may be wondering how many states use the top two primary system. As it turns out, while the system is rare, California is not the only state to utilize this unique approach to primary elections.
As Vox explained, the top two primary system places all primary candidates in each race against each other, as opposed to pitting them only against members of their own party. The top two finishers in each race go on to the general election in November. This means that, hypothetically, two candidates from the same party could face each other in the general election (as opposed to a traditional primary system, in which only candidates from different parties face each other in the general election). Of course, in a top two primary system, the top two finishers in each race can also be from different political parties, but this is not guaranteed.
California implemented the top two primary system in 2010. As Vox noted, the system is used for all elections in the state, including Congressional and state legislature races. California is not the only state which has a top two primary system, however. As Ballotpedia noted, Washington was the first state in the United States to establish the top two primary system, which it did back in 2004. Nebraska also uses the system, though only for state legislature elections. As Ballotpedia explained, Nebraska's state legislature is nonpartisan and, on the electoral ballot, state legislature candidates are not affiliated with a political party.
Advocates of a top two primary system believe that the system eliminates some of the problems associated with party-dominated politics, including the nomination of more politically extreme candidates. Indeed, in 2010, when commending California voters for passing Proposition 14, which established the top two primary system, then-Governor Arnold Schwarzenegger spoke of the system's merits, saying, "It will give power back to the people. ... We've got to get rid of that partisan gridlock."
However, critics note that the top two primary system can sometimes produce two general election candidates who are not truly representative of voters' choices, especially in very politically divided districts. As Vox explained, in a district where voters are nearly equally divided between Democratic and Republican candidates, it's possible that the two top finishers in the entire race will be from one party, even if the overall district vote is split nearly equally between Republican and Democratic candidates. Thus, the two candidates who end up making it to the general election might not reflect the truly politically-divided nature of their district.
As The New York Times reported, in California's upcoming primary elections, both political parties are concerned that they could be completely pushed out of certain races due to the top two primary system. As the paper described, Democrats are particularly worried about House of Representative primary races, in which they have a significant number of candidates. Indeed, the party has so many candidates in some races that they could split the Democratic vote multiple ways — and cause the two top finishers to be Republican.
Overall, the unique nature of California's (and other states') top two primary system certainly allows for very intriguing electoral races and results. Indeed, Californians, as well as many Americans around the country, will likely be eagerly anticipating the outcome of Tuesday's many primary elections.