Guess How Many Times Trump Generally Tweets Per Day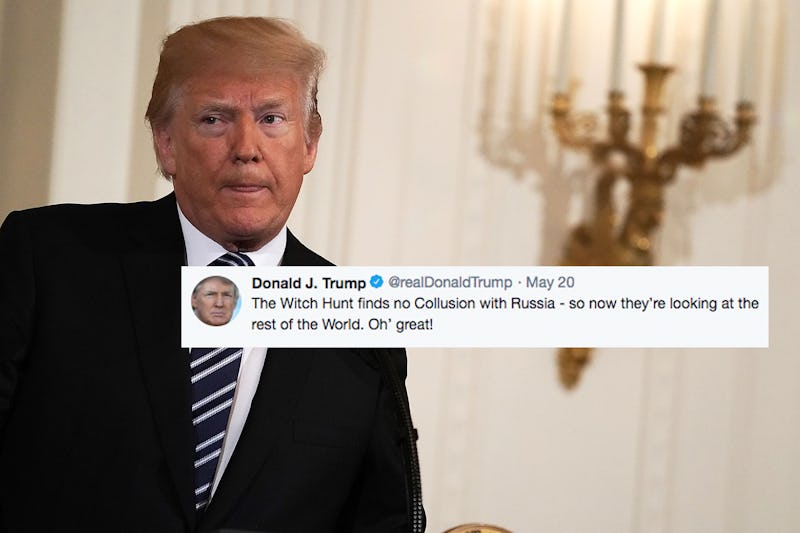 Alex Wong/Getty Images News/Getty Images
The president engulfs the country in a new controversy about every week, and it often starts on Twitter. That's what happened Sunday when Donald Trump attacked the FBI and demanded an investigation into the bureau and the Obama administration. In all, there were eight tweets in the rant. But on the average day, how many times Trump tweets adds up to as many as 11 or 12 posts.
The very first tweet sent by now President Trump was in May 2009. He was self-promoting his appearance on The Late Show with David Letterman. "Be sure to tune in and watch Donald Trump on Late Night with David Letterman as he presents the Top Ten List tonight!" Trump wrote. That was just about nine years ago. Since, he has posted a total of 37,600 tweets, according to his Twitter profile. That works out to about 4,178 per year and 11 to 12 per day.
But since taking office, he is probably tweeting a bit less than on average — even though each individual tweet gets far more attention. During his first year in office, from Jan. 20, 2017, to Jan. 19, 2018, the president sent out 2,548 tweets according to the Trump Twitter Archive, which makes it easy to count how many posts the president has sent out in a specific time, or on a specific subject.
That would be a big decrease from his top tweeting days — just about seven per day during that first year in office. That would put Sunday's rants at above average.
The first tweet on the morning of Jan. 20, 2017 was posted at 7:31 a.m., technically before he was sworn in as president. "It all begins today!" Trump wrote. "I will see you at 11:00 A.M. for the swearing-in. THE MOVEMENT CONTINUES - THE WORK BEGINS!" But the tweeting didn't continue at the same pace.
To compare and contrast, the president sent out 3,652 tweets in 2016. That amounts to just about 10 per day. Before that, Trump didn't start to tweet very much until 2013. In that year alone, he sent out 5,767, or almost 16 tweets a day — more than twice what he currently sends. Since that year, he has had swings in one direction and then the other.
What Americans have paid more attention to than the exact frequency of the tweets is what the president has decided to write about. According to the Trump Twitter Archive, the top topic since becoming president is "fake news" followed by tweets that mention CNN, NBC, and The New York Times. His obsession with his media coverage seems to be the main focus.
When you consider all time, his main mentions in tweets are the words "loser," "dumb" or "dummy," "loser," and "stupid." There's another chunk of negative words and insults that are used frequently, too.
Of all the accounts that he mentions on Twitter — since becoming president — the account for Fox & Friends, @foxandfriends, is the most common, the Trump Twitter Archive shows. That's followed by mentions of himself, @realDonaldTrump, with 95. The accounts @WhiteHouse and @FoxNews round out the top four with 80 and 69 respectively.
Of all his tweets, though, only the most dramatic are seen by the majority of Americans. Just 4 percent of Americans say they have a Twitter account, follow the president, and regularly see his tweets there, according to a Gallup poll released last week. And it points to Democrats interacting with them more than Republicans.
Still, many more see the tweets when they're later reported in the media or discussed on TV. And they often are.