Melissa McCarthy Is Joining 'SNL's Five-Timers Club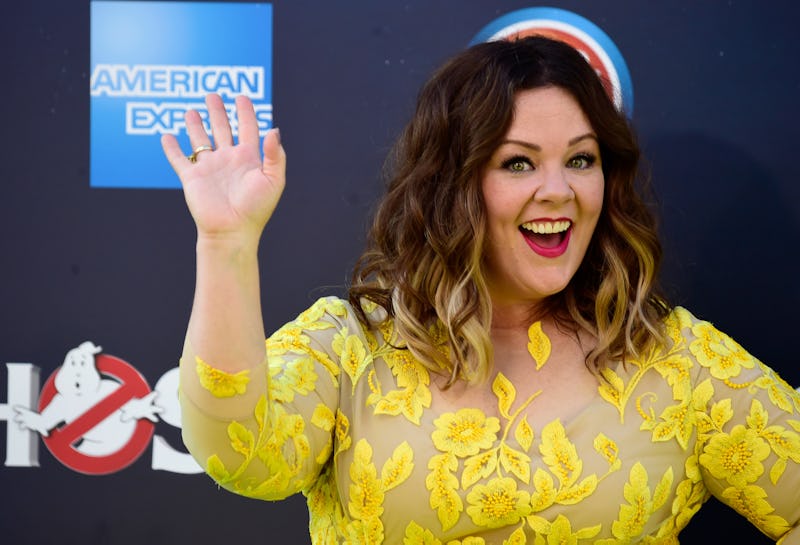 Frazer Harrison/Getty Images Entertainment/Getty Images
Saturday Night Live has a long roster of hosts, many of whom have only hosted once or twice and then never revisited the sketch comedy institution. Then again, not every celebrity is as suited to SNL as much as Melissa McCarthy. After her breakthrough role in Bridesmaids in 2011 made her a comedy superstar, Melissa McCarthy has hosted SNL four times in six years, showed up on the show's 40th anniversary special paying tribute to Chris Farley's Matt Foley, and has made frequent cameo appearances as Sean Spicer this season. But when McCarthy hosts SNL again on May 13, she'll have completed her biggest SNL milestone yet: joining the Five-Timers Club.
McCarthy's speedy journey to the Five-Timers Club puts her in the exclusive company of great Saturday Night Live hosts, including Steve Martin, Tom Hanks, Justin Timberlake, and Dwayne "The Rock" Johnson. She even dedicated her entire monologue during her fourth hosting gig to the prospect of joining the Five-Timers Club, meaning that the show is likely going to be celebrating the occasion in a big way. McCarthy's return to SNL may be cause enough to have the show return to the physical Five-Timers Club set so some of her colleagues can congratulate her.
SNL's Five-Timers Club began as a joke during Tom Hanks' fifth time hosting the show, and has turned into a running gag of the late-night show. In the original Five-Timers Club sketch, Hanks is welcomed by a pre-fame Conan O'Brien and introduced to fellow members Paul Simon, Steve Martin, and Elliot Gould. The show returned to the Five-Timers Club in 2013 to commemorate Justin Timberlake's entry and celebrate other great SNL hosts — an overwhelming amount of whom are men.
Timberlake's Five-Timers Club sketch reminded viewers that the only two women to be inducted into the club thus far are Drew Barrymore and Candice Bergen. Barrymore was represented by a painting, and Bergen was only present for a brief appearance at the end to make a joke about no one else leaving the toilet seat down. It's an overwhelmingly white male club, but McCarthy joining the Five-Timers Club could bring some major changes to the it, and give some important women from SNL's past a chance to gather in the same place and create a hilarious new installment of the recurring sketch.
Since the show's last visit, the number of women who have hosted more than five times has nearly tripled thanks to the inclusion of Melissa McCarthy, Tina Fey, and Scarlett Johansson. Even if McCarthy's monologue isn't dedicated to revisiting one of SNL's longest-running gags, she's setting the stage for a future visit to the club that looks far more representative. Even without the importance that has been given to the club, ironic or otherwise, any time that McCarthy hosts SNL is worthy of celebration as there's no denying that she is one of the most talented, committed, and entertaining comedic performers of her generation.
It's no accident that McCarthy keeps being invited to return, and no matter what her material is on her her fifth appearance on the show, it's nearly guaranteed to bring the house down.