More Women Deserve To Win This Golden Globe Award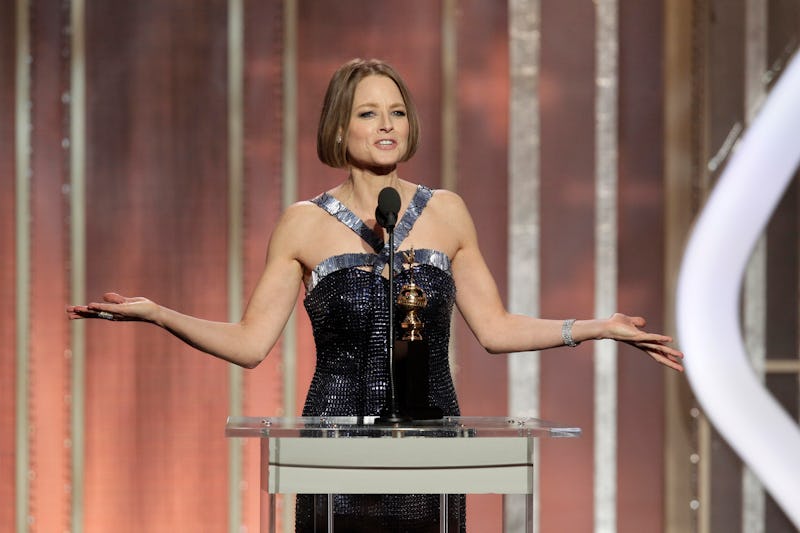 Handout/Getty Images Entertainment/Getty Images
Though I'm sure we'll all be rightfully celebrating Meryl Streep's acceptance of the Golden Globes lifetime achievement award at the upcoming 74th annual show, you might be disappointed to discover just how many women have won Cecil B. DeMille awards since they were first handed out in 1953. Because I can't lie, the list of Cecil B. DeMille award winners is a total bro-fest, and it provides a frustrating reflection of an industry still seemingly dominated by dudes.
Out of the 64 Cecil B. DeMille Awards which have ever been handed out to actors, only 14 of those have been women. And though the list of women who have received the Golden Globes lifetime achievement award is a veritable celebration of some of the greatest female entertainers of all time, the inequity of the accolade is a glaring one.
Before Jodie Foster won the award in 2013, 12 years went by without a single female win. The first woman to win the Cecil B. DeMille award was Judy Garland in 1962, and even then the legendary performer only had to wait nine years before she was recognized for her contributions and awarded the accolade. The '00s, on the other hand, saw the lifetime achievement award being awarded solely to male talent for the longest, unbroken streak of time in Golden Globes history.
However, that's not to say that any of the male stars who received the award between Barbara Streisand's win in 2000 and Foster's win in 2013 weren't deserving of the achievement. After all, nobody can deny that icons like Robin Williams, Al Pacino, Steven Speilberg or Martin Scorsese — all recipients of the esteemed award during that period — aren't precisely the sort of talent that an award like this should be celebrating.
But that fact does little to shrug off the absence of female talent from the overall list of winners. Since 1953, women who have won the award have included Joan Crawford in 1970, Bette Davis in 1974, Lucille Ball in 1979, Elizabeth Taylor in 1985, Barbara Stanwyck in 1986 and Audrey Hepburn in 1990. And though all of them are icons in their own right, there's still a great number of tremendous female talent deserving of recognition who have yet to receive it from the Golden Globes.
Actors like Sigourney Weaver, Oprah Winfrey and Susan Sarandon and directors like Kathryn Bigelow, Jane Campion, Ava DuVernay, and the late Nora Ephron are all names more than deserving of the accolade, who have yet to receive it. And who knows, perhaps in the forthcoming years the Golden Globes will rectify the inequity of it's lifetime achievement award distribution by dishing the Cecil B. DeMille award out to consecutive female recipients over a number of years. And boy, would that action be welcomed.
But there's another worrying trend to this lack of diversity which doesn't just impact on gender representation — of the 64 Cecil B. DeMille winners, only three of those have been people of color (Denzel Washington in 2016, Morgan Freeman in 2012,and Sidney Poitier in 1982). Not a single woman of color has thus far won the award, and that's truly troubling.
In awarding a lifetime's worth of outstanding contributions to entertainment, the Cecil B. DeMille award acts as something of a reflection of the entertainment industry as a whole. Though more can obviously be done to diversify award shows, the lack of representation as exemplified by the Cecil B. DeMille award seems to frustratingly mirror an industry which still appears to be something of a boys club.
The lack of female and non-white recipients of the Cecil B. DeMille award appears, to me at least, to point to a very clear problem with a very simple solution. In order to be able to celebrate the lifetime achievements of women in entertainment, women simply have to be included and celebrated as an equal part of that industry.
That includes rewarding their contributions on an equal level to those of their male peers, but also to provide women with equal opportunities to men on a basic level within the entertainment industry as a whole. And as this award has thus far sadly proved, that just hasn't been the case.