How Marnie & Kal Started Dating IRL Is An Adorable Story 'Halloweentown' Fans Need To Hear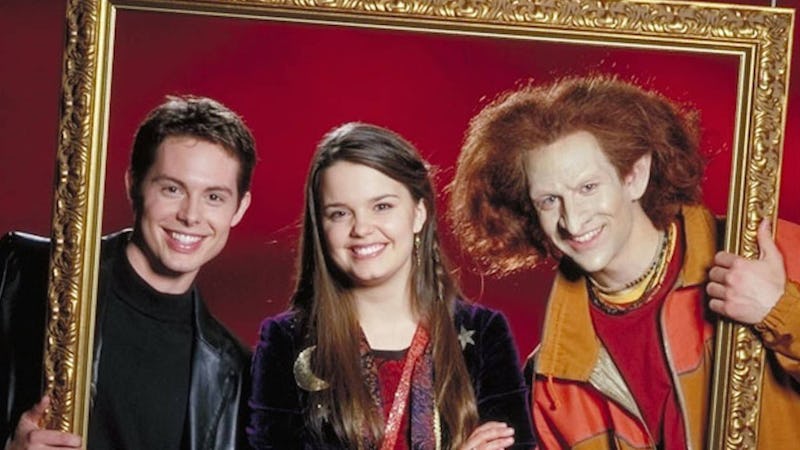 Walt Disney Pictures
This summer, Halloweentown's Kimberly J. Brown blew fans' minds when she shared a picture on Instagram kissing her Halloweentown II: Kalabar's Revenge co-star Daniel Kountz in honor of International Kissing Day. The two had previously shared pics together, but this was the first time they officially confirmed Marnie and Kal from Halloweentown are dating in real life. But how did they get together? As it turns out, their romance has a very cute story behind it that fans will get a kick out of.
"We've kept in touch over the years since we wrapped the second movie, and we've been friends on social media for a while. We hadn't seen each other in a bit, and I wanted him to be in some of my original comedy sessions that I shoot for my YouTube channel," says Brown, speaking over the phone to Bustle in October for the 20th anniversary of the original movie. "I ended up directing a short film about where Kal could be now, and [Kountz] graciously starred in it with some of my other friends from Second City where I've been studying improv for a while. We shot that and that stuff on my YouTube channel kind of continued. It just naturally and very unexpectedly grew from that."
Kountz's first video with Brown was posted back in 2016, where we get to see Kal in therapy trying to redeem himself. But his videos haven't just been limited to reprising his role as Marnie's love-interest-turned-villain. A year later, Kountz and Brown first appeared onscreen as a couple in a State Farm parody, where the insurance company helps Brown's character navigate their relationship.
Their latest video together is a sketch from December 2017 about the types of family members that come over for Christmas dinner, featuring Kountz in a hilarious mullet wig playing Brown's character's deadbeat "immediate soulmate." Even though the couple haven't done a video together in a while, the pair recently did photo ops at L.A.'s Comic Con, making it the ultimate experience for fans who are overjoyed to see them together.
The happy couple regularly share pictures of them together from trips, weddings, and holidays — which, of course, includes Halloween. But rather than being concerned with fans knowing too much about their relationship by deep diving through their respective social media accounts, Brown embraces how much fans care about the couple. "The response to that was amazing. There's a fine line with being in the public eye and the media and my personal life, but it's been pretty funny to watch the fans' responses," notes the Halloweentown star.
But fans who know Kountz from the Halloweentown sequel remember him as the character who tricked Marnie into falling for him in order to wreak havoc in Halloweentown through gaining her trust and stealing Aggie's spellbook. So, some fans are naturally worried Kountz will resemble his nefarious character in real life. "I get messages from fans that they equate it to the storyline in Halloweentown II and tell me to watch my spell book and watch my back. It cracks us up. It's so fun that that does that for the fans. I couldn't really have imagined that response to us being together in real life," says Brown.
But unlike Kal and Marnie in the movie, Kountz and Brown are still going strong, and are happy to amuse Halloweentown fans with their romantic reunion.