How Marriage Equality Can Save Lives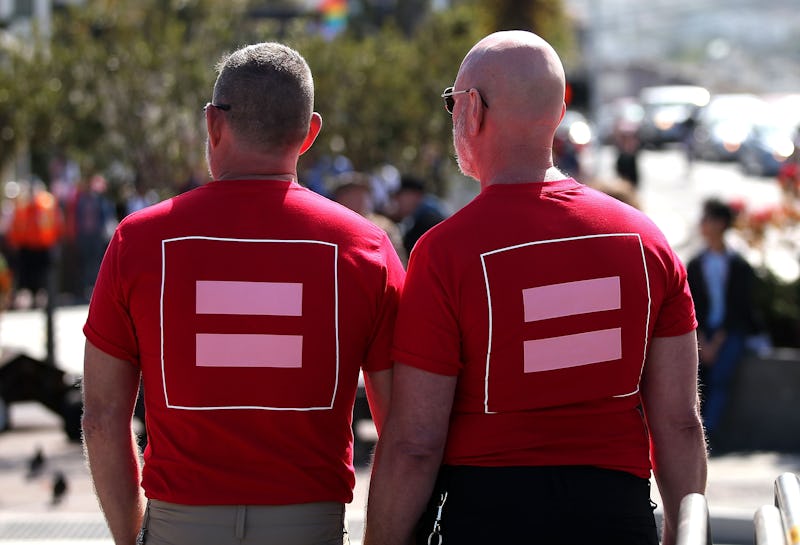 Justin Sullivan/Getty Images News/Getty Images
Obviously, there shouldn't be any sort of "discussion" around marriage equality — everyone should have the right to marry. But this very commonsense point hasn't stopped people from assuming that the issue of marriage equality is still up for debate, both culturally and legally. Even though the U.S. Supreme Court decided Obergefell v. Hodges in June 2015, local governments still regularly challenge the ruling, and cultural commentators still often weigh in on the issue.
What's often overlooked when people seek to defend or decry marriage equality, however, is that it can have a positive impact not just on adults looking to marry, but on the next generation. And a new study released in the Journal of the American Medical Association of Pediatrics appears to show that marriage equality laws can seriously help fight distress and increase future happiness for LGBTQ adolescents.
If you want to understand the distress experienced by LGBTQ adolescents in the US, look at the high risk of suicidal behavior among LGBTQ teens — one study by the Suicide Prevention Resource Center reported that lesbian, gay, and bisexual teens were "nearly one and a half to three times more likely to have reported suicidal ideation" that teens who identified as heterosexual, and "nearly one and a half to seven times more likely than non-LGB youth to have reported attempting suicide." This makes what the researchers behind this new study have to say about what marriage equality laws symbolize to LGBTQ teens vital. It turns out, marriage equality laws don't just help adults protect themselves, their families, and their finances — they can help young people protect their lives.