Meghan's Comments On Her Wedding Dress Reveal So Much About Her Hopes For The Day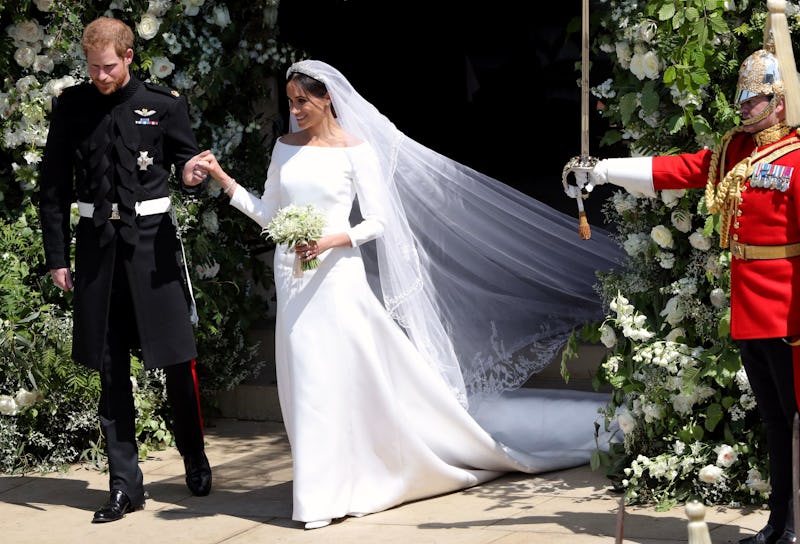 Shutterstock
The Duchess of Sussex has spoken publicly about her infamous wedding dress. The comments about how Meghan Markle chose her wedding dress were recorded to coincide with a new exhibition to celebrate the Duke and Duchess of Sussex's nuptials earlier this year, and are pretty revealing. The exhibition, A Royal Wedding: The Duke and Duchess of Sussex, celebrates the biggest wedding of the year and showcases Markle's beautiful Givenchy gown in all its glory.
The Duchess recorded her commentary about the dress and the process of picking and making it for the exhibition, the BBC reports. Explaining how she chose her design, Markle said, "I had a very clear vision of what I wanted for the day, and what I wanted the dress to look like." She added that "knew at the onset" that she was going to opt for a bateau neckline and cropped sleeves, and that she wanted the design to be "classic", "modest," and "timeless".
"I knew that the tailoring was so key, because the dress itself would be so covered up," she added. Markle also talked about how she worked closely with Givenchy designer Clare Waight Keller to come up with her dream dress:
"What was amazing in working with Clare is that sometimes you'll find designers try to push you in a different direction. But she just completely respected what I wanted to see for the day, and she wanted to bring that to life for me."
As well as talking about the dress itself, Markle opened up about what it was like to choose her tiara. She decided on Queen Mary's diamond and platinum bandeau tiara, visiting the Queen to pick one out on a day the Duchess describes as "incredibly surreal". Prince Harry was also present during the occasion, which he commented on during the recording, saying:
"I shouldn't have really even been there, but such an incredible loan by my grandmother, it was very sweet."
The recording reveals that it was actually The Duke Of Sussex who picked the music which The Duchess walked down the aisle to (Handel's Eternal Source Of Light Divine). He sweetly said that, "Both of us, wherever we are, whatever we're doing, we can close our eyes, listen to that music and take ourselves straight back to that moment. It's a beautiful thing for both of us." No, YOU'RE crying.
Meghan's incredible wedding gown and veil took a LOT of manpower to create, with 50 people working on the design, which took 3,900 hours. When you consider the fact that her veil was embroidered with flowers from each of the 53 commonwealth nations, it's sort of no wonder!
Meghan's evening dress was a beautiful halter neck Stella McCartney design, which was just as popular as her main gown, if not more so.
Speaking to Elle about her design and why Meghan chose her, McCartney commented:
"I think Meghan chose me for reasons other than just a beautiful dress. Plenty of people can do that. I think, obviously I am a British designer, but I think being a woman and being a women's woman played a part."
You can see the Duchess' wedding dress in the flesh at the A Royal Wedding: The Duke and Duchess of Sussex exhibition, which will be at Windsor Castle until 6 January.