Finally, Here's Where Prince Harry & Meghan Markle Will Be Getting Married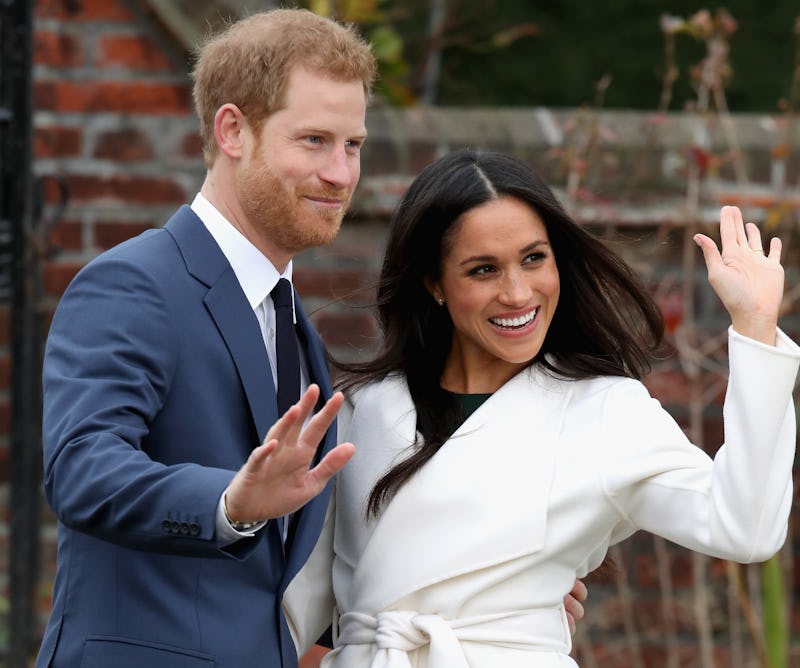 Chris Jackson/Getty Images Entertainment/Getty Images
If you're already intrigued by all things royal wedding, then hold onto your fascinators. Prince Harry and Meghan Markle's wedding date and venue have been announced by Kensington Palace, and the location of the wedding is as traditional as you would expect. The couple will be wed in May 2018 at St. George's Chapel at Windsor Castle, according to the BBC UK.
Kesington Palace announced the news in a statement that was also posted to its Twitter page. In addition to the month the wedding will take place and the venue, the statement also notes that the Queen granted permission for the ceremony to take place at the chapel and that the Royal Family will pay for the wedding. You know, in case anyone thought otherwise.
The statement concludes that "Further details about the wedding will be announced in due course." And seeing as the venue and the month of the wedding were announced only one day after the original engagement announcement told us that further details would be announced in due course, fans of the pair might not have to wait too much longer for more information.
In fact, we already know when Markle and Harry are making their next public appearance. The BBC reports that the pair will save their first official engagement on Friday in Nottingham. According to The Mirror, Markle and Harry will visit the National Justice Museum and participate in a World AIDS Day event. Markle and Harry both place a great importance on their philanthropic work, so this sounds like the perfect way for them to kick off their royal duties as an engaged couple.
The BBC also had a couple more updates about how Markle will fit into the Royal Family. The BBC reports that according to the palace, she will be baptized before the wedding and also that she plans to become a British citizen and will "work towards it in the coming years." On Monday, TMZ reported that one cannot use a royal title unless they are a citizen. This isn't a situation that has arisen for quite some time, so it will be interesting to see if Markle's citizenship process is sped up and if she is able to use her title starting on her wedding day.
With the wedding only six months away, Markle and Harry surely have a lot of preparing to do, but they aren't the only ones in the Royal Family who have a big event coming up. Kate Middleton is currently pregnant with her and Prince William's third child. Kensington Palace previously confirmed that Middleton is due in April. It's no surprise that Markle and Harry's wedding wouldn't be scheduled during the same month since the royal birth is a big deal on its own. (This baby is going to kick Harry down a spot to sixth in line for the throne, after all.) With the wedding scheduled for May, Middleton will be able to attend the wedding and it just might end up being her first official appearance after welcoming her baby.
Markle and Harry have a lot of high-profile appearances ahead of them, but judging by their first interview as a couple, which streamed online on Monday only hours after their engagement announcement, they'll be just fine. The actor and the prince clearly love each other and they seem to have a ton in common too. Now, fans of the couple just have to wait for more adorable photos and more giddy interviews, until we get to see Markle walk down the aisle. It won't be long now.