Melissa McCarthy's New Movie Is Trying To Dismantle This Sexist Sorority Cliche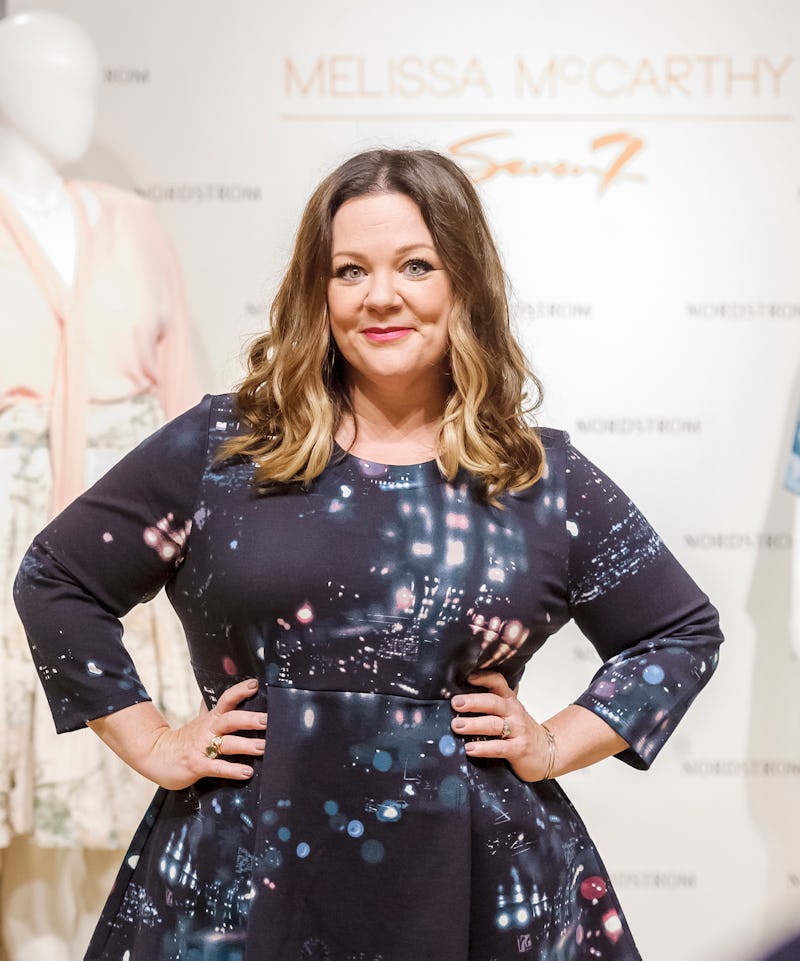 Paul Conrad/Getty Images Entertainment/Getty Images
When it comes to movies about college Greek Life, fraternities and sororities have gotten pretty equal time in the spotlight. For every Animal House or Neighbors, there's a The House Bunny or, well, Neighbors 2. But while films about frats showcase all different sides of that lifestyle, from the bonds of brotherhood to the repercussions of hazing, those about sororities tend to hone in on one aspect only: the petty fighting between its female members over titles, parties, and so much more. But one upcoming sorority movie, Melissa McCarthy's Life of the Party, is trying to change things up by taking apart that tired cliche completely.
"I don't like that stereotypical, 'all guys in college act like this,' or 'all girls in college act like this,'" explains McCarthy, chatting on the Atlanta set of the movie, out May 11, during a break from filming. "I love that [Life of the Party] is not, 'can we get a boyfriend?', 'will we get a boyfriend?'... I just find these women [in the movie] to be strange and eccentric and really smart and with very varied interesting backgrounds."
As said, that's unfortunately not the norm in many college-set movies. 2009's Sorority Row, for instance, made its female characters be obsessed with sex, makeup, and little else; Legally Blonde depicted many of the members as silly and unintelligent; The House Bunny saw groups of Greek Life women sabotaging each other's work. In real life, however, sororities tend to be more about sisterhood and solidarity than revenge and catfights, and Life of the Party attempts to showcase that truth.
"There's not really an antagonistic relationship within the group of girls," explains Gillian Jacobs, who co-stars in the film as Helen, a member of the sorority. "It's a group of girls that have their differences but who all seem to genuinely like each other and get along."
Directed by Ben Falcone, Life of the Party follows McCarthy's Deanna, a housewife who decides to re-enroll in college after her husband (Matt Walsh) shocks her with a break-up. But it's not just any college — it's her daughter's school, and safe to say that Maddie (Molly Gordon) isn't exactly thrilled to be sharing class schedules and Solo cups with her mom. Yet the longer Deanna stays at college, the more involved she gets, and before long, she's as much a sorority girl as Maddie, Helen, or any of the others.
And while your mom joining you at college and taking over your social life (hopefully) isn't the most realistic situation for most of us, McCarthy says that the reasons for Deanna's return are much more universal. She recalls how, during a week's period several years ago, she was startled by several of her friends telling her they were staying in most nights or settling down. "[It was] people at a way too early age kind of being like, 'well we're done. It's done. This is what it is. We can't evolve anymore. We can't change anything about ourselves," McCarthy says. "I find that so sad, and just a weird thing that you can buy into."
From that week, she and Falcone "spun out," she says, coming up with the idea of a middle-aged wife and mother reclaiming the freedom she gave up years earlier. "I've always been obsessed with the second chance thing, or fifth chance, or the sixth chance," says McCarthy.
Since the movie is a McCarthy-Falcone production (the real-life husband and wife have previously teamed up on Tammy and The Boss), Deanna's second chance at school inevitably leads to her getting into some wild antics. So it's no surprise that the movie's cast includes comedy heavyweights like Maya Rudolph (Deanna's BFF), Julie Bowen (the woman Deanna's husband leaves her for), and Chris Parnell (a college professor). With that kind of line-up, Life of the Party is bound to be a spectacle — but don't expect McCarthy to get into anything too outlandish.
"She's just super open to trying a ton of different stuff, which is always great because she also knows I'm not gonna put anything in the movie that she really doesn't want to be in the movie, because I want to live in my home," says Falcone with a big laugh.
Clearly, whether it's in their real-life home or the one they create for the women of a fictional sorority, McCarthy and Falcone are happy to stay far, far away from the drama.