After Jack's Death, Here's What Happens To Milo Ventimiglia's Role On 'This Is Us'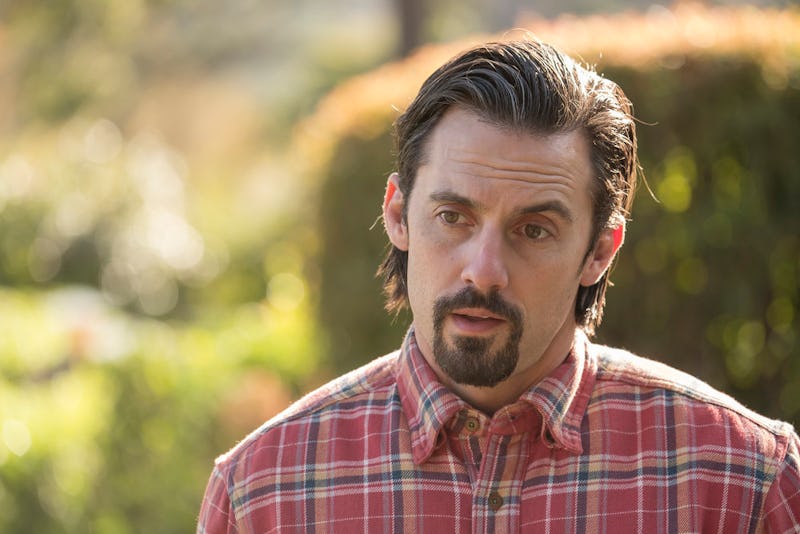 Ron Batzdorff/NBC
The time has come, This Is Us fans. It's time to say goodbye to Jack Pearson — the world's best father and husband, wearer of short shorts and one hell of a mustache. The This Is Us Super Bowl episode is shaping up to be the show's most devastating yet, finally showing just how Jack Pearson meets his end. But is Milo Ventimiglia leaving This Is Us after Jack's death? Fans can rest assured that the mustache will stick around for a while longer.
The post-Super Bowl episode is the end of the line for his life, yes. It's when Jack Pearson finally dies, and there will not be a dry eye in the house. In any house. Of the fire, This Is Us creator Dan Fogelman told Entertainment Weekly, "The opening five to 10 minutes of the episode — we spent a fortune, we went into the middle of nowhere so nobody would see us, and we built our house. We brought in the people who had done Backdraft, and for you, as an audience member, it's very hard to breathe," he said. "It's extraordinary ... It's fair to say that [Jack] goes out like he lived."
Heroically? Handsomely? As the best dad on television? All of the above?
Luckily, if you can't bear to think about Milo Ventimiglia's shining face leaving This Is Us, you're in luck — he is not going anywhere. I repeat, he is not going anywhere. In a different interview with Entertainment Weekly, Ventimiglia reassured fans:
"I really think people are going to have a hard time accepting it, but what they should know is that even when we do find out Jack's death, it doesn't mean that Jack goes away. That's a good thing to remind people of — I'm not going away from the show, Jack is still around. There is still so much story to mine in this world of This Is Us. I think at that point then you gotta start wondering if anyone else is going to die. I'm going, 'Whoo! All right! I'm off the hook!'"
Oh, great... something else to worry about. Another one of my favorite characters biting the dust. In all seriousness, though, it makes sense for Jack to stick around. This Is Us has only dipped its toe into the storytelling pool. There's a lot of Jack's story that we don't yet know. The show only just started to talk about Jack's brother. His time in the Vietnam War hasn't been explored, neither has more of the kids' childhoods, and how Jack became the way he is with that father of his. There's so much left to do. As Mandy Moore, who plays Rebecca, told People magazine, "Milo is No. 1 on the call sheet — he isn't going anywhere!"
If anything, showing Jack's death will set off a new era for This Is Us. Jack Pearson is the sun, the one whose gravitational pull keeps everyone else in the Pearson family in orbit. He has his problems, yes, but viewers have really seen how Jack's death has left the family unmoored even 20 years later. Kate blames herself for her father's death, and she's unhappy with herself. Kevin is an addict who is constantly seeking approval (hence why he is an actor). Randall seems OK on the outside, but inside, he's obsessed with making both of his fathers proud, which makes him prone to impulsive decisions and bigger breakdowns. They're all dealing with a lot, and we know the why, but not necessarily the how. Rebecca is the only one who currently has a grip on things, but viewers haven't seen those in-between years between Jack's death and when the show started. There's definitely some stuff in there that could be explored.
Jack's death makes for a new turn on This Is Us, but at least we'll still have Milo Ventimiglia there to get us through it.