How Sylvester Stallone Made THAT 'Creed II' Cameo Happen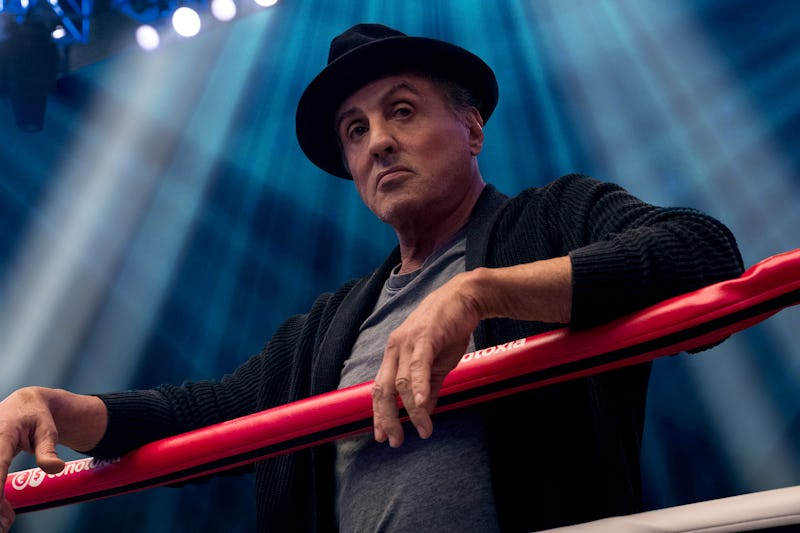 Barry Wetcher / Metro Goldwyn Mayer Pictures / Warner Bros. Pictures
Creed II might look like a movie about boxing, but really, at it's heart, it's a movie about family. And never is that more evident than at the very end of the film, when — spoiler alert — Rocky Balboa decides to reunite with his son, Robert. That means that Milo Ventimiglia has a cameo in Creed II. At the Creed II press junket in Philadelphia, director Steven Caple Jr. explained how that surprise moment came to be.
Ventimiglia hasn't been a part of the Rocky franchise since he appeared as Rocky's son in 2006's Rocky Balboa. But in the years since he's become almost as much of a household name as Sylvester Stallone himself thanks to his leading role on This Is Us, which is what makes his appearance in Creed all the more surprising. It turns out, however, that it was pretty easy to get Ventimiglia. All it took was one phone call from Stallone. "He called up Milo, and Milo showing love, being the nice guy that he is, showed up on set. Of course all the ladies went crazy," Caple Jr. says with a smile. (Really, who could blame them?) "He was just great to work with," Caple Jr. adds.
If this story sounds familiar, it's because last year, Stallone appeared in a few episodes of This Is Us after receiving a similar call from Ventimiglia. "Every time I saw Sly throughout the years — the last 13 years, bumping into him — he was always so warm with me," Ventimiglia recounted during an appearance on Jimmy Kimmel Live leading up to Stallone's This Is Us debut. "Whenever we'd finish a conversation, he'd always say to me, 'If you need anything, call.'" Well, Ventimiglia took him up on his offer, and now, he's repaying the favor.
The cameo itself doesn't occur until one of the film's final moments, when Rocky knocks on his son's door to meet his grandson for the first time, and to see his long-estranged son. And the idea for it was born out of a discussion Caple Jr. had with Stallone. "I met with Sly [Stallone], and everything started to fall around family," the director says. "I'm a huge fan of Balboa, and when he [Rocky] had cancer [in Creed], I was like, 'Where's Robert?"
Though a tense father-son relationship is hinted at in Creed, Caple Jr. says he wanted to take their story a step further. "We developed this storyline where he missed a lot of Robert's life, and he didn't know how to go back to Robert or make that connection," the director continued. "He felt like a failure." Without spoiling the film too much, it's safe to say that things happen between Rocky and Adonis that inspire him to reach out to his son.
Of course, Robert isn't the only Rocky character returning for Creed II. Adonis' enemy in the ring this time around is Victor Drago, played by franchise newcommer Florian Munteanu. That's Ivan Drago's son, which means that Dolph Lundgren is back as the Russian villain from Rocky IV (1985).
And the weight of each returning cast member — namely Ventimiglia and Lundgren — makes the movie that much more impactful, according to Caple Jr. "When you bring back characters in this franchise, there's always this moment," he says, "Where everyone kind of gets emotional because it's been so many years since each one, and everyone has a personal connection to Sly or the franchise."
Well, if there's anyone who knows about making audiences emotional, it's Milo Ventimiglia.