Rihanna's New, Trendy Lippies Won't Completely Break The Bank — Unless You Want All 14 Hues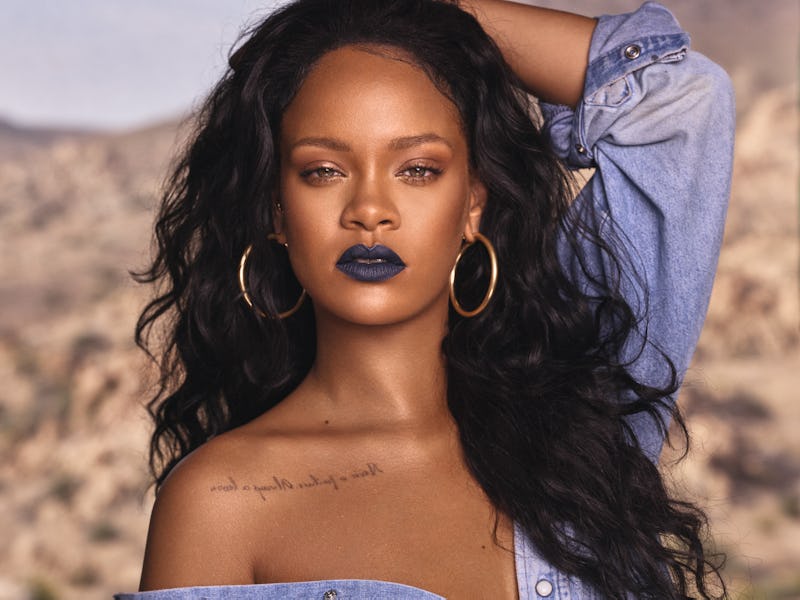 Courtesy Fenty Beauty
Rihanna is back at it again. In case you missed the social media announcement, Fenty Beauty created 14 new solid Mattemoiselle lipsticks that are launching on Dec. 26. With the release, the brand is proving they're here to stay with a classic product with a twist. And if you're wondering what the price of the new lipsticks are, you'll be pleasantly surprised.
It's been a big year for Fenty Beauty. The brand started off with a quirky take on essential products. like the Match Stix for contouring and blotting papers that come in dispenser form. Now, Fenty Beauty is coming out with a classics — solid lipsticks. Of course, there's a little bit of a twist or it wouldn't be Fenty Beauty.
"I wanted a lipstick collection where every shade works on every skin tone," Rihanna said, according to a Fenty Beauty press release. "I wanted to prove that lipstick is meant to be fun and not feared."
The products haven't launched yet, but they're already winners. The 14 different Mattemoiselle shades are $18 each and will arrive in Sephora stores and online at the Sephora and Fenty Beauty websites on Dec. 26 at 9 a.m. ET.
The packaging might seem small and slender, but the colors are mighty. Get ready, because after seeing them you're going to want them all.
These might not be the most affordable lipsticks out there, but they are the most affordable lip products from Fenty Beauty. The Mattemoiselle lipsticks are $18 each. That's $1 cheaper than the brand's limited edition holiday colors and $6 less than the Stunna Lip Paint. It's also the same price as the first gloss that the brand launched.
This is the largest line of lip products from the brand thus far. At first, Fenty Beauty came out with only one shade per formula. Then came the Holiday Collection, which included four limited edition solid lipsticks. Now there's a whopping 14 shades of matte lipstick, too.
Obviously, the $18 price tag is not the most affordable price. But there is a silver lining. The Mattemoiselle lipsticks are here to stay, so you have plenty of time to save your money and save up for all the stunning colors. There's no telling if there will be even more to come, but it wouldn't surprise me if this was only the beginning.
While the weightless, highly pigmented formula is great, it's the shades that make this line exactly what it is. These aren't just your typically 14 shades of neutrals. There's everything from mauve-based neutrals to purples and blues. When Rihanna says that she wanted to create this line for a variety of skin tones, she wasn't lying.
The names are equally as great as the hues. The line is filled with names like Spanked, Midnight Wasabi, and Clapback. But a favorite is PMS, which is a "moody brown." Yes, you read that right. There's a shade for every single mood.
According to the press release, these lipsticks are meant to be liners and lipsticks all in one. The brand suggest using the Mattemoiselle lipsticks right side up for your top lip and flipping them upside down to fill in your bottom lip. There is method to the skinny-packaged lippies.
You don't have to worry about these selling out too quickly like other brands out there. (I'm looking at you, Kylie Cosmetics.) There are plenty of places to shop these lipsticks, and Fenty relies on a major beauty manufacturer to make its products. But that doesn't mean that you should wait to shop though.
Set those alarms. You won't want to miss these lipsticks.