This Is *Exactly* How Much It Will Set You Back To Get Spice Girls Tickets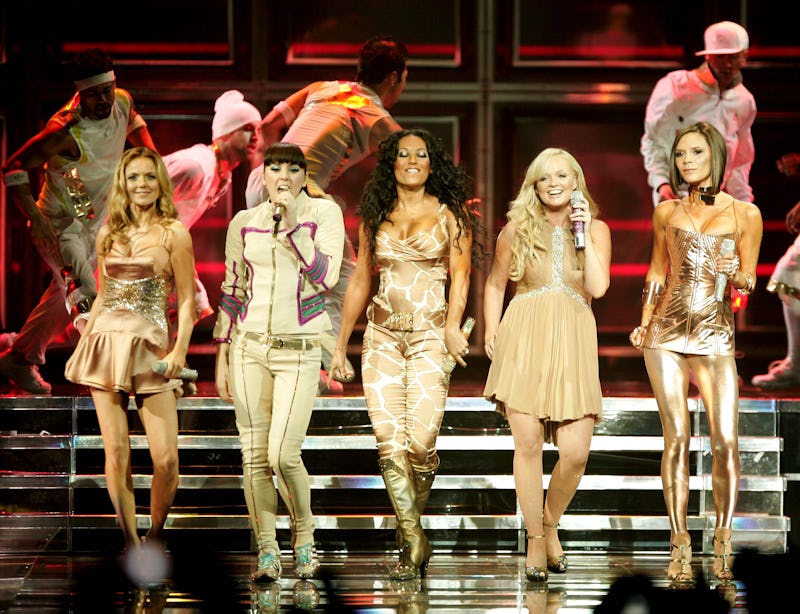 Shutterstock
It is the announcement that girl power babes everywhere waited two decades for. After being teased and hinted at to no end for some time now, tickets will go on sale for the Spice Girls reunion tour on Saturday 10 November. But come on, the chance to spice up your life with the girls who taught us what girl power really means is priceless, right? Well in essence yes, but how much are Spice Girls tickets? While I can't put a price on dancing to "Wannabe" live again, I am not about to miss out on a Spice Girls reunion because I don't have the funds in my bank account, even if I have to live off beans on toast for a while.
The announcement sent fans into a spin with all eyes on the band's twitter account. It has been confirmed via the Ticketmaster website that if you want to be part of the glitz, glam, and girl power it will set you back the following sum at London's Wembley arena:
Spice Circle Premium Pitch Standing — £210.00
Pitch Standing — £82.50
Reserved Seats — £146 / £104.50 / £82.50 / £66.00
Spice Up Your Life VIP (Spice Circle) Standing — £306.00
Say You'll Be There VIP (Seated) — £241.00
Zigazig ahVIP Standing — £181.00
According to See Tickets, prices are as follows for Manchester, Coventry, Sunderland, Edinburgh and Bristol are as follows:
Spice Circle Premium Pitch Standing — £196.00
Pitch Standing — £77.00
Reserved Seats — £136 / £93.50 / £77 / £60.50
Spice Up Your Life VIP (Spice Circle) Standing — £291.00
Say You'll Be There VIP (Seated) — £231.00
Zigazig ahVIP Standing — £176.00
When the news was announced, a source told The Sun, "girl power is back. This is the biggest music comeback of the decade and tickets are expected to sell like hot cakes when they go on sale at the weekend." So, this is not a time to sit and think about things. If you want to be there, make sure you book enough tickets for yourself and your whole girl gang.
Music ticket prices are a bit of a hot topic and there is always some contention about whether fans are made to pay too much to see their favourite bands play live. There is no doubt that Spice Girls are one of the most iconic girl bands ever, but how do their ticket prices match up compared to other big tours in 2018 and 2019?
Take That announced a big reunion tour of their own due to hit stages in spring 2019. Mark Owen, Gary Barlow, and Howard Donald will mark the bands 30th anniversary by taking their biggest hits on the road again. It really is a good time if you grew up as a music lover in the '90s. If you fancy going to watch Take That on their UK tour, tickets will set you back between £61-£247 according to Ticketmaster, depending on whether you are seated or standing and how close you want to be to the guys when they're performing.
Similarly, the girl power band of the next generation, Little Mix, has announced that they will be hitting the road again in autumn 2019. Tickets went on sale at the end of Oct. 2018 and the band will release their newest album, LM5 in Nov. 2018. If that wasn't enough good news, the band has been joined by fellow formidable woman and absolute girl boss, Nicki Minaj on the track "Woman Like Me". If you don't think you'll be able to get enough girl power in 2019 — and let's be real, can you get too much girl power? — tickets to watch Little Mix will cost you between £36-165, according to Ticketmaster, depending on which city you watch the girls in.
Whilst I am sure no one needed convincing that attending the Spice Girls reunion tour is an absolute must, as they go on sale this weekend, I pray to the girl powers at be that you are by a computer with your card and fingers at the ready. There is absolutely no doubt, these tickets are going to sell quicker than you can say "zig a zig ah."