This Famous TV Medium Will Give Readings To Us Normal People, Too — For Serious $$$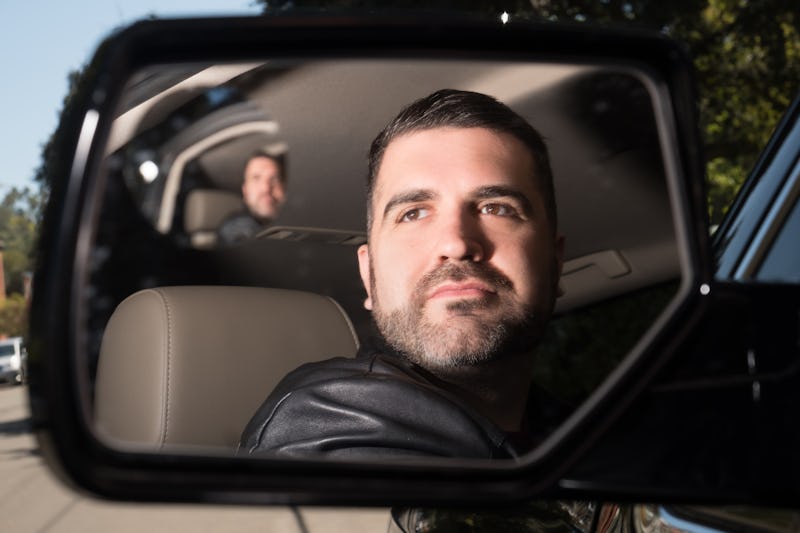 Courtesy of Lifetime Copyright 2018
Have you ever wanted to watch a show that's like Cash Cab meets Long Island Medium and comes from the producers of "Carpool Karaoke?" Well, you're in luck because Lifetime has created Seatbelt Psychic. It's a show where unsuspecting taxi takers get the ride of their lives when they discover that their driver says he can talk to the dead. And, while that makes for a very entertaining premise, it's not all that useful to the average viewer who isn't one of the lucky show participants. So, how much does an appointment with Seatbelt Psychic Thomas John cost if you want to get one of your own? Buckle up, because you're going to have to fork over a lot of cash if you want John's attention.
If watching Seatbelt Psychic has you craving a reading of your own, you can make that happen — and John actually has a lot of options on his site for different price ranges. But, obviously, the one-on-one readings run pretty high, and the wait is lengthy. According to his website's Shop page, John is booked for the next year, which means that even if you do choose to put down the $475 for a 30-minute phone reading or $800 for an hour, you're going to be waiting up to 12 months to hear from him.
Fret not, though! If you have a psychic emergency, John will perform a last-minute phone reading for the low, low price of $1,275 for 60 minutes and $750 for 30 minutes. Or, if you just need a quick 15 minutes with him, you can book a $375 emergency reading for a quarter of an hour.
Can't swing those prices? John offers low-budget options as well. (He's thought of everything.) For $9.99 you can be included in John's daily prayer list for a year. What exactly does that mean and can you prove that he's actually added you to said "daily prayer schedule"? No. But, hey, it's only 10 bucks, and according to his site, "many people report back seeing changes within only a few weeks!"
If you want to see John in person, he has a number of speaking events coming up with ticket prices ranging from around $50 up to $400. You can browse his upcoming events to find one near you. During some of these events, you can also email him to book a face-to-face reading — though the price of that is unclear. It would probably be in the $500 and up range, though, considering his phone readings can fetch that much and these are in-person.
If you are struck by what John says he can do, you better get your requests in soon, though. As with most TV mediums, their fame skyrockets after their shows premiere, and soon you may not be able to book with him at all. Long Island Medium's Teresa Caputo, for example, is super busy all the time, her wait list is lengthy, and her prices are high.
If you can't afford John's services, you can always just watch his show and see what other people have gotten out of his readings. According to a preview, his cab clients seem genuinely shocked and touched by what he has to say to them about their lost loved ones.
The show premieres July 11 on Lifetime, so you can tune in to watch John's fame skyrocket and see if his prices stay steady as he gains national exposure — or if they rise along with his star. Only time will tell... unless, of course, you're a psychic and you can already see how it all turns out.