Rachel Lindsay Does Get Paid For Being 'The Bachelorette'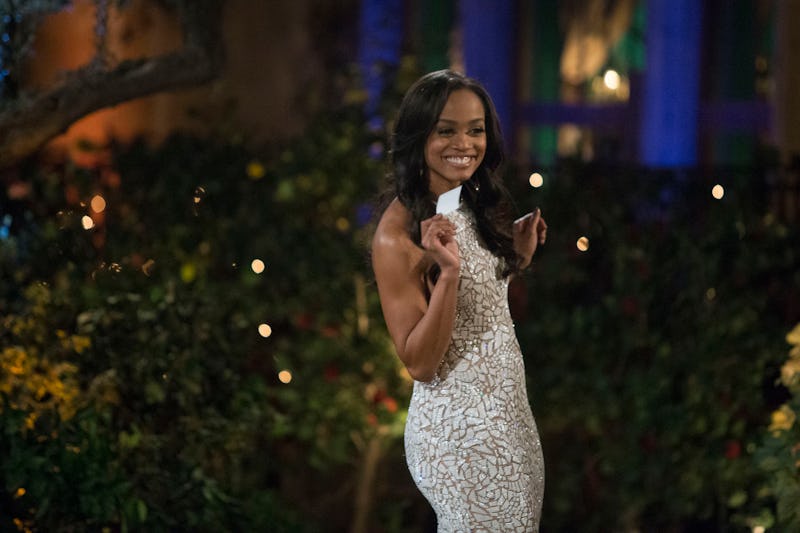 ABC/Paul Hebert
After waiting two months, the time is finally here. The premiere of Rachel Lindsay's Bachelorette season is upon us and I cannot wait to watch this historical TV moment that we've been waiting years for. I still think Marquel would have been an amazing Bachelor, but Rachel is absolutely perfect for the first black Bachelorette. Since The Bachelor's inception, fans have all wanted to know how much money the Bachelor/Bachelorette is making while filming the show. So, how much does Rachel get paid for The Bachelorette? There may have new evidence to figure out how much money they make thanks to former Bachelor Ben Higgins. (Bustle reached out to ABC for specifics on Rachel's payment, but has not yet heard back.)
Last year, Ben claimed to Buzzfeed that the show "just matches whatever you'd be making in the real world during the months that it tapes." So what does that mean for our Dallas-based lawyer, Rachel? I'm not sure what her exact salary is, but her LinkedIn confirms that she's an attorney at Cooper & Scully P.C. According to the company's website, Rachel's official title is associate. Now, According to Glassdoor, the average associate attorney in Dallas makes around $92,248 per year. Are you ready for some math? If Rachel makes the average, then we can estimate that her two-month filming schedule would get her around $14,000. But that doesn't sound like a ton of money, right? Especially because of the big numbers that have been thrown around in the past.
Despite what Ben said in his interview, Bachelor spoiler expert Reality Steve claimed in 2011 that the Bachelor/Bachelorette typically makes around $100,000. After Us Weekly reported that Bachelorette Ashley Hebert made $30,000, he wrote on his blog that the figure was "laughable" and that she would have to be "the worst negotiator in history" if she agreed to that pay out. So it seems that no one has ever been 100 percent sure what's going on behind-the-scenes when it comes to their payday.
There have been all kinds of rumors in the past of how much Bachelor/Bachelorettes get paid. According to WetPaint, Emily Maynard reportedly made $250,000 during her season of the show while Sean Lowe reportedly made somewhere between $75,000 and $90,000. There seems to be a discrepancy in pay, so hopefully Rachel is getting her fair share. As a lawyer, I would think she would be great at negotiating a fair chunk of money.
However, we also have to remember that the real payday comes after the show when the endorsement deals and appearance fees start kicking in. According to Jezebel, Reality TV stars can reportedly earn between $1,500 to $7,000 per picture on Instagram. Not to mention, more and more former Bachelor/Bachelorettes are going on Dancing With the Stars or getting their own TV show like Ben and Lauren.
I'm pretty convinced that no matter what Rachel is getting paid for the two months of work, she's going to be just fine.