Becca's Engagement Ring From 'The Bachelorette' Comes With A Lot Of Rules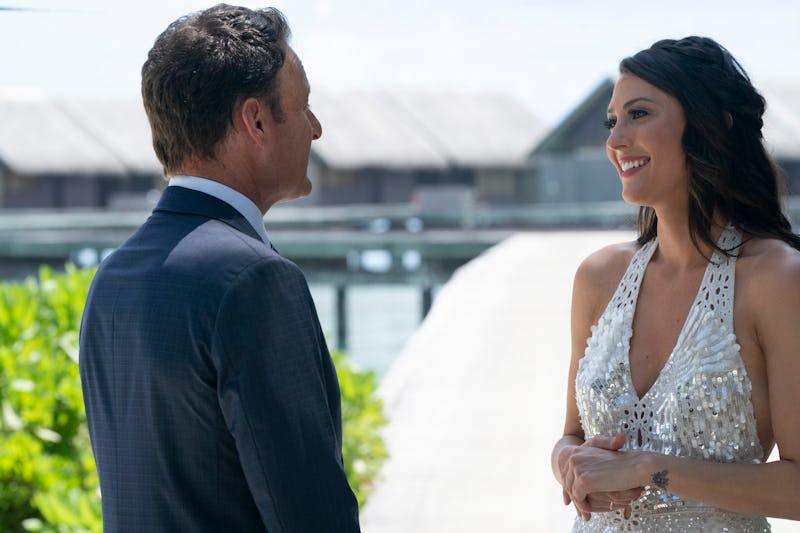 Paul Hebert/ABC
The Bachelorette leaves her show with a new, hopefully lifelong partner, but she also gets to take home one honking piece of jewelry. As soon as celebrity jeweler Neil Lane shows up to present a series of diamond rings to the remaining suitors, you know the final verdict is in. And you can bet that the engagement ring Garrett proposed to Becca with on The Bachelorette cost a pretty penny. But how much does Becca's Bachelorette engagement ring cost, really? Here's everything we know about just how much it's worth.
Update: According to a People report the morning after the finale, Becca's ring is 18-carat gold with 84 full-cut smaller diamonds in it, totaling 3.75 carats of diamonds in all. Lane told the outlet, "It's a whole different concept — it has three oval stones, which helps celebrate both of them as a couple and the third diamond represents their future together."
First, a little background on the ring. It's unclear if Lane donates the rings to The Bachelorette and The Bachelor in return for the publicity of being on the show or if ABC and Warner Bros., which produces the Bachelor Nation shows, pay for the rings from Lane. That said, there are a bunch of rules that surround these little baubles. The first is that the ring is only the couple's if they've been together for at least two years following filming. If the couple splits before two years have passed, that ring has to go back to the producers.
If the couple breaks up after two years, the couple can do what they'd like with the ring, but if they're going to sell it, ABC gets first crack at buying it back, according to Radar. But it's complicated, since not many people get to see the contracts contestants sign. But Chris Harrison told Entertainment Weekly in 2016 that he actually keeps the rings. No, not really. He explained that they eventually go back to the jeweler and not the network or production company. "There's some rule, after a certain number of years, you get to keep it anyway. But after months … it goes back," Bachelor Nation's beloved host added.
For example, Kaitlyn Bristowe and Shawn Booth have been together for three years following her show (which is 20 years in Bachelor time), so they reportedly get that ring for keeps even if they break up. But Becca "gave" Arie his ring back when they broke up just weeks after their engagement. That's just the way the diamond crumbles.
The cast on Bachelor Nation doesn't pay for the rings, which is fair — most of them have just quit their jobs or gone on leaves of absence to be on the show, so how can they afford a ring that costs as much as a car? Speaking of cost, according to E! Online, it's rumored that Ben Higgins gave the most expensive Bachelor engagement ring ever to Lauren Bushnell, with a price tag of about $100,000.
If a suitor wants to buy the ring themselves, ABC is cool with it, though not many take that path. Bachelor Aaron Buerge bought a $35,000 Harry Winston sparkler for then-fiancée Helene Eksterowicz, and she later auctioned it off on eBay after they broke up. The best part of buying your own ring is that you get to keep the cash after the inevitable split. Cynical, yet true, my friends.
As far as Becca's ring goes, we're not quite sure how much hers is just yet, but as E! Online reports, the average cost for a Bachelor/ette ring is anywhere from $50,000 to $100,000. The two-year clock starts ticking now, but hopefully she'll get to keep her ring this time around.