'Bach' Couple Kaitlyn & Shawn Shared The Cutest Pics Of Their Third Anniversary Celebrations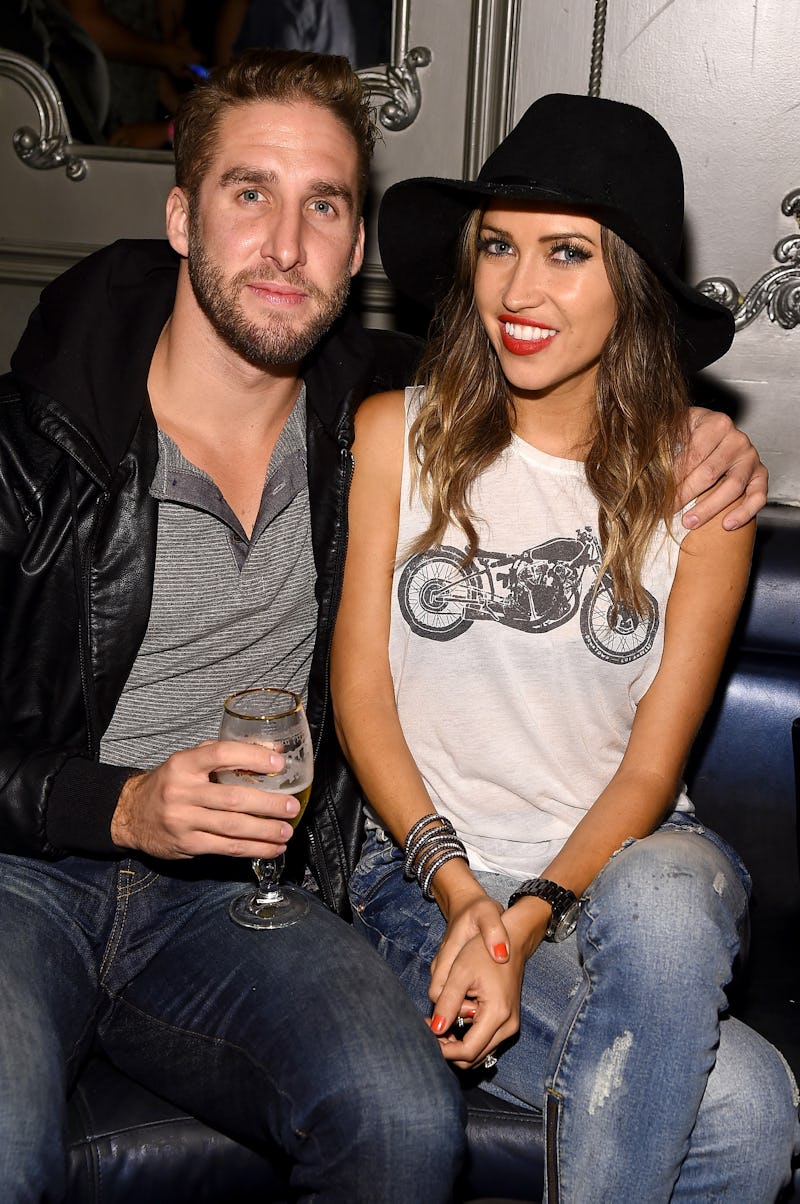 Gary Gershoff/Getty Images Entertainment/Getty Images
The Bachelor franchise gets a lot of flak for producing temporary relationships and broken engagements, but there are actually quite a few couples that are still going strong. The Bachelorette Season 11 couple Kaitlyn Bristowe and Shawn Booth celebrated their three-year anniversary on May 8. That's right: They met and fell in love filming a reality TV show and are still happily together three years later.
That is definitely something worth celebrating. The engaged couple spent the whole day together, which included golfing, going out to dinner, and posting celebratory posts on Instagram. And this was after they already got their anniversary started at the Kentucky Derby the day before.
In a post on May 7, Kaitlyn shared photos of herself and Shawn at the Kentucky Derby along with a sentimental caption. She wrote,
3 years ago we were on a show that has the most extravagant dates, allows people to travel the world, and makes you fall in love in perfect settings. But the truth is I fell in love even harder after all of that was gone. We have traveled, created so many memories and traditions, with whatever setting we are in. Here's another one to add to the list.
Although their season of The Bachelorette aired in 2015, she still refers to her man as "Shawn B" even though there are obviously no other Shawns vying for her heart these days. Kaitlyn concluded, "Derby with you was a perfect way to spend our anniversary. (After family time) I love you Shawn B. We are so derby chic. Ps how mad are we this pic cuts off our shoe game."
Shawn shared his own anniversary post on May 8. He took a more humorous route when he wrote, "Celebrating 3 years with this gorgeous woman. She told me to tell you her 'romper' is tagged .. and if you're wondering, my socks are from Reebok." In all honesty, a lot of Shawn's followers probably were wondering where she got her romper, so it makes sense that Kaitlyn told him to tag the brand.
Kaitlyn and Shawn also celebrated their anniversary with a round of golf. They both shared videos of each other golfing on their Instagram stories. Kaitlyn even polled her followers asking who won. Fifty percent of the voters said Shawn won and the other 50 percent said that Kaitlyn did. The former Bachelorette posted the results and joked "Half of you are right" without revealing the actual winner.
They didn't elaborate on why they choose golf, but it could be an ode to their overnight date on The Bachelorette when Kaitlyn dared Shawn to streak on the golf course, which he ended up doing. Maybe Shawn got naked for another round of golf to celebrate their anniversary? It wouldn't be a bad tradition to continue. After golf they refueled with some food and drinks at House of Cards in Nashville, Tennessee.
Of course, it's a big deal for any couple to celebrate a three-year anniversary, but Kaitlyn and Shawn's milestone is actually a big deal among all the couples from The Bachelorette. They have set the record for being engaged for the longest amount of time out of all the relationships that have resulted from The Bachelorette.
No other Bachelorette duo has been engaged for three years or more, but there have been a few that have come close with two years. Season 11 Bachelorette JoJo Fletcher got engaged to Jordan Rodgers in early 2016 and they are still going strong two years later. Season 9's Desiree Hartsock and Chris Siegfried got married on January 18, 2015 after being engaged for around two years.
As of this moment, the couple has not publicly acknowledged setting a wedding date, although fans did think that they might have have tied the knot when they did a wedding-themed photo shoot in Jamaica in April 2018.
Kaitlyn and Shawn hold the record for the longest engagement in Bachelorette history, but will they keep it going and extend their own record by holding out for another year as fiancés? Only time will tell.