Melania Trump Living In NYC Isn't Cheap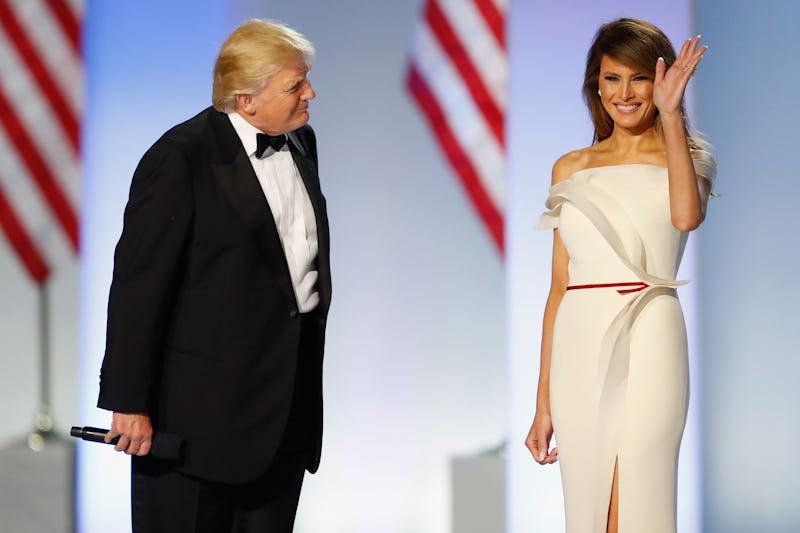 Aaron P. Bernstein/Getty Images News/Getty Images
Since the moment Donald Trump assumed the awesome power and responsibility of the presidency, a seemingly endless flow of issues and controversies have erupted all across the United States, thrusting the new administration's actions under a microscope. Not even the president's family arrangement is out-of-bounds, by virtue of a decidedly non-traditional role for First Lady Melania Trump. So, you might be wondering: how much does Melania living in New York cost the American taxpayer?
Usually, a president's spouse lives with them at the White House, but for the time being, at least, Melania is staying in midtown Manhattan. She's been living in Trump Tower since the inauguration with her young son, Barron, and will reportedly continue to do so at least until Barron finishes out the school year.
If you've been actively following progressive and anti-Trump corners of social media lately, there's a good chance that you've seen at least one startling claim about the price tag of her ongoing residence at Trump Tower. The claim is that the extra security costs associated with protecting Melania and Barron at Trump Tower actually outpace the entire budget of the National Endowment for the Arts, which the president has reportedly considered ending.
According to analysis from PolitiFact's Linda Qiu, however, there are a lot of assumptions there. New York's CBS2 reported that the city spends more on Trump Tower security when the president is actually there, at about $500,000 per day. That's an absolutely eye-popping figure, yes, but according to the mayor's office, it will likely be less for just Melania and Barron. It would have to cost taxpayers $410,000 per day, every day, to outpace the NEA's budget. That's not a safe assumption at this point, considering reports suggest Melania and Barron may move into the White House in the summer. According to The Hill, however, Melania may continue to "split time" between the two cities.
What can conclusively be said, however, is that American taxpayers are going to be footing a much higher bill on presidential family security than they would if the whole family were occupying the same residence.
Taking the estimate that costs for Melania and Barron's security will be below $500,000 per day at face value, but assuming it's still a significant amount ― $300,000, let's guess, although the exact figure is not clear ― that could cost upwards of $36 million from now until around the time most school years end. Assuming Melania and Barron changed plans and stayed there every day for the rest of the year, a $300,000 per day cost would total up to more than $100 million.
If, contrary to the claims of the mayor's office, it still cost $500,000 per day, the price would likely end up around $60 million through the end of the school season. And if the two stayed in Trump Tower the entire year with those costs, you'd be looking at a 2017 price tag of more than $182 million. That high-end estimate would actually outpace the NEA budget, which stands at about $149 million per year. But again, reports suggest they won't be living in Trump Tower for the whole year.
In other words, while the exact math is impossible to precisely nail down, this much is obvious: Melania and Barron's months in Trump Tower are going to run up a pretty hefty bill.