You Could Buy The 'Sabrina The Teenage Witch' House With The Cash Trump Spends On Lawyers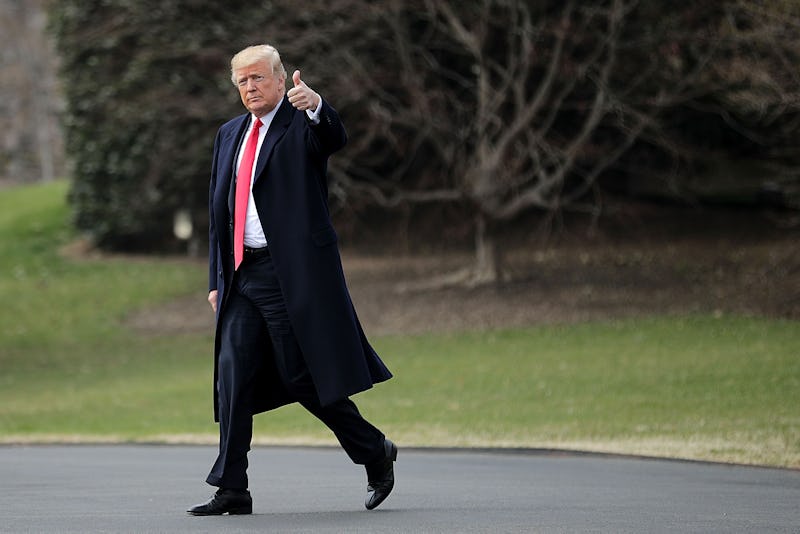 Chip Somodevilla/Getty Images News/Getty Images
Nearly 20 percent of the money that President Trump's reelection campaign has spent in 2018 has gone directly to legal fees, according to a report by The Washington Post. According to records filed Sunday by the Federal Election Commission, this year alone, a little over $1 in every $5 of the campaign's money has gone to litigation.
The Trump campaign has been actively fundraising since he filed for his 2020 bid directly following his 2016 election. Since he took office, the campaign has spent big on legal fees. According to the records, so far in 2018, about $834,000 in legal fees has been split between the Trump Corporation (a real estate company run by Trump's sons) and the law firms defending the campaign. The money is for lawsuits on issues ranging from the investigation into the alleged Russian collusion of the 2016 election to payments related to Trump's alleged affair with adult film star Stormy Daniels. Trump has continued to deny the affair.
To put that into perspective, $834,000 is how much Spellman Manor from Sabrina The Teenage Witch was selling for in real life in 2014. Since that amount is just how much the legal fees were in one quarter, you essentially could buy the house four times in one year.
The breakdown of the FEC report reveals that the Trump campaign has spent the majority of that money on the investigation into the campaign's alleged Russian collusion, which has been an ongoing point of interest since the election. But a large share of these expenditures, The Washington Post reported, went to the investigation surrounding the 2016 payment from Trump's personal lawyer Michael Cohen to Daniels.
Daniels maintains that she had an affair with Trump in 2006, and also claims that she received $130,000 along with an NDA securing her silence before the 2016 elections. She is now cooperating in an ongoing FBI investigation into Cohen, NBC News reported.
The investigation kicked into high gear last week as the FBI raided a hotel room and office in order to seize related documents. Trump has described this investigation as a "witch hunt" in both a series of tweets and in a press conference following the raid. His tweet about the FBI's ongoing interest in the case read:
It's a disgraceful situation. It's a total witch hunt and I've been saying it for a long time … It's an attack on our country in a true sense. It's an attack on what we all stand for.
This means that Trump has now spent nearly $4 million in legal fees since he was inaugurated in January 2017. The Washington Post reported that in the last quarter of 2017 — October to December — $1.1 million was spent to pay lawyers that represent Trump, his campaign, and his associates.
Outside of what the campaign has spent in legal fees, in 2018, the Trump campaign also continues to spend among Trump-related businesses, with the FEC records showing $24,000 being paid to the Trump Corporation, another $68,000 at the Trump International Hotel in Washington, and $58,000 on rent at various Trump properties.
Another $1.7 million went to "digital and advertising services" by the consulting firm owned by Trump campaign manager, Brad Parscale.
Lara Trump, the president's daughter-in-law and senior advisor to Donald J. Trump for President, Inc. was quoted in a statement released by the campaign in January saying that the campaign's fundraising efforts are virtually unmatched. She wrote:
Never before has a President's campaign committee raised so much in his first year in office, and never has a President enjoyed so much support from small donors who continue to rally around him.
The Trump campaign has not commented about how much of that funding goes to litigation. Bustle has reached out to the Trump reelection campaign for comment.