This Is How Many Millions Trump's Travels Reportedly Cost America In A Single Year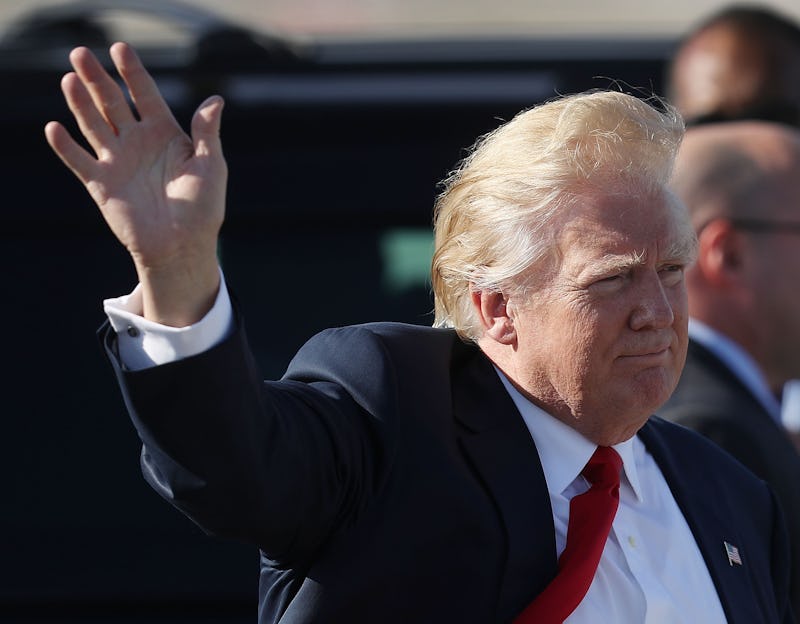 Joe Raedle/Getty Images News/Getty Images
According to Judicial Watch, a self-described "conservative, non-partisan educational foundation," President Donald Trump's travels cost about $13.5 million in his first year as president of the United States. To be precise, the figure, according to the website, was a whopping $13,533,937.28.
The think tank conducted its study by tracking the various trips Trump made to different parts of the country, including his Bedminster golf club in New Jersey as well as trips to Alabama, Missouri, and Arizona. The Judicial Watch got its hand on travel records by requesting the Department of Air Force for information through the Freedom of Information Act (FOIA). Its president, Tom Fitton, said of the cost:
The president is accountable to the taxpayers – they spend our hard-earned dollars and that's why Judicial Watch keeps track of certain travel costs. Trump's regular trips to his homes are adding up to a hefty sum.
To give you an idea of how expensive the travels seem to be, take the example of Trump's trip to his New Jersey golf club in Bedminster in June and July. The flight time, according to the Judicial Watch, was two hours and eight minutes and cost a total of $44,783.30. In August 2017, Trump and first lady Melania Trump took "various trips" from New York to Bedminster. The total flight time, five hours and nine minutes, cost almost $95,000.
In trips to other states, Trump's traveling expenses shot through the ceiling. For instance, Judicial Watch noted, "Trump flew to Yuma, AZ, to meet with Marines and then attended a campaign rally in Phoenix on August 22. He flew 10.6 hours at $142,380 per hour for a total of $1,509,228." In his trip to meet Alabama Sen. Luther Strange, Trump's travel costs came up to $968,184, according to the Judicial Watch.
This isn't the first time that Trump's traveling expenses are raising eyebrows. In 2017, The Washington Post did the math on Trump's frequent visits to his Mar-a-Lago resort in Florida. According to the report, only one of the trips he makes to Mar-a-Lago cost almost $1 million. In response to these reports, a White House spokeswoman said that Trump was "not vacationing when he goes to Mar-a-Lago. The president works nonstop every day of the week, no matter where he is."
These remarkable figures may seem even more egregious when you remember what Trump had said about former president Barack Obama's traveling expenses. For instance, in 2011, Trump tweeted about Obama being a "habitual vacationer." In his own words, Trump said, "The habitual vacationer, @BarackObama, is now in Hawaii." He added, "This vacation is costing taxpayers $4 milion [sic] +++ while there is 20% unemployment."
The issue of Trump visiting Mar-a-Lago so frequently was brought up during press conferences with former White House press secretary Sean Spicer. In March 2017, Spicer was asked by a Yahoo! reporter, "In his first eight weeks in office, President Trump has made at least 10 trips to the golf course. He regularly used to criticize President Obama for spending time on the course. How is his game any different?"
Spicer defended Trump by saying that the trips were "part of being president" as they "help U.S. interests."
The Judicial Watch also tracked former president Obama's travel costs. After combining both terms of presidency, the Judicial Watch said that travel expenditure for Obama amounted to a total of $114,691,322.17.
It seems like Trump's travel costs would not have been such an issue if he didn't personally remark so harshly on the former president's travels. On social media, for some the issue appears to be dual. Such a massive amount is a blow to American taxpayer money but it also seems to highlight one more thing: Trump's own hypocrisy.