Spicer Actually Defended Trump Playing Golf So Much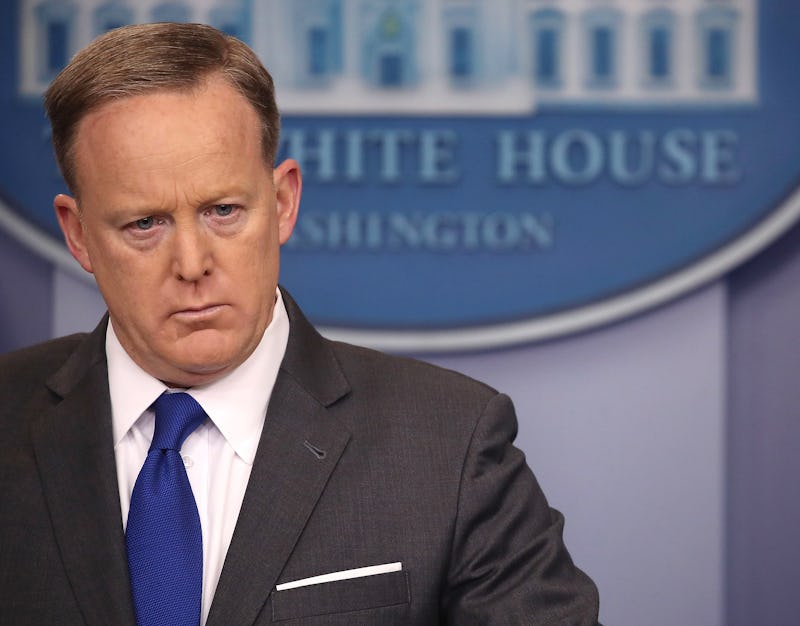 Mark Wilson/Getty Images News/Getty Images
Donald Trump's frequent visits to Mar-a-Lago are an essential "part of being president," according to Press Secretary Sean Spicer in a White House press briefing held on Monday. When asked if Trump plans to cut down on his weekend trips to the resort, which could help with the federal budget, Spicer told journalists that Trump's extravagant golfing trips are "part of being president." To put things into perspective, Quartz reported that, after this weekend, Trump will have spent $16.5 million so far on his trips to the resort.
Trump's golf trips were brought up when Yahoo's Hunter Walker informed Spicer, "In his first eight weeks in office, President Trump has made at least 10 trips to the golf course. He regularly used to criticize President Obama for spending time on the course. How is his game any different?"
It's particularly noteworthy that Walker's question highlighted the contradictory nature of Trump's own frequent golf trips and the constant criticism he issued against Barack Obama before and after he became a presidential candidate. One of his campaign promises, the Washington Post reports, included giving Americans a leader who "doesn't have time to go play golf."
American taxpayers have paid roughly $3.3 million to cover Trump's Mar-a-Lago visits. Responding to Hunter's question, Spicer claimed that nature of Trump's visits are different than those taken by Obama.
He said Trump uses the games to "help U.S. interests" by meeting global leaders. It's good to remember that Obama also played golf with key world figures.
If Trump had been conducting such incredibly critical meetings that furthered and strengthened American interests, the press asked if they could be briefed on those meetings that Spicer vaguely mentioned. In response to the question, Spicer went on to say that Trump is "entitled to a bit of privacy at some point."
The circular commentary is breathtaking. According to Spicer, firstly, Trump uses the golf visits "as an opportunity" to help American interests. "How you use the game of golf is something that he's talked about," Spicer told the press. Secondly, according to Spicer, just because Trump makes these visits to the golf course does not necessarily mean he is playing golf. "He's actually conducted meetings there," Spicer said. Can the press get more details about said crucial meetings? That's where we're all wrong. "We bring the protective pool to be there, but the president's also entitled to a bit of privacy as well," he said.
Trump's golf trips would not have been an issue if he had not spearheaded a campaign constantly complaining about another president for playing golf, and then done the exact same thing, but more often, while keeping the press and ordinary Americans (many of whom voted for him) out of the loop.