Here's How Much Rain You Can Expect From Hurricane Harvey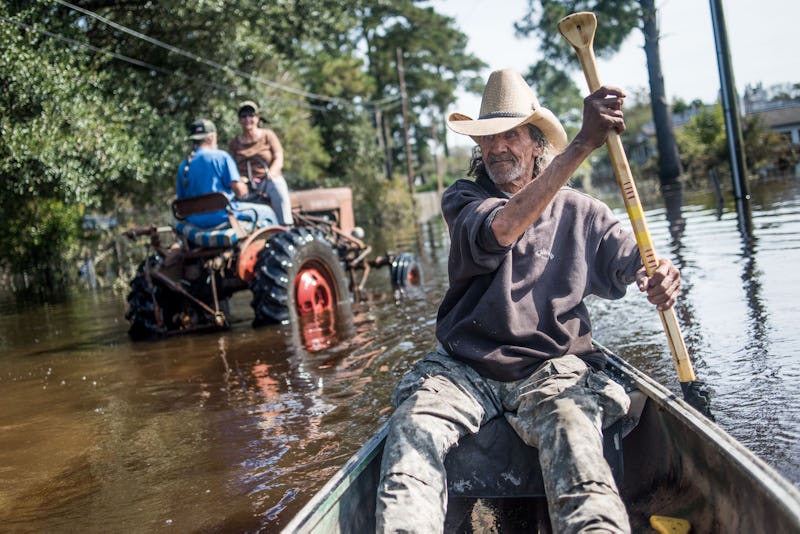 Sean Rayford/Getty Images News/Getty Images
On Friday night, the United States was hit with the strongest hurricane it's seen since Wilma in 2005. Though it's downgraded to a Category 1 hurricane since making landfall, Hurricane Harvey is expected to cause massive flooding, which can be just as dangerous as high-speed winds. The Category 1 classification refers just to its wind-speed—roughly 60 miles per hour—meaning that even a weaker hurricane could dump just as much water on the Texas coast.
Rainfall has already hit more than 10 inches in Southeastern Texas, all the way to 14 inches in Austwell. The rain along with the still-heavy winds has caused a storm surge that leads to flooding beyond just the level of rain. The ocean water level for some parts of the Texas coast has been pushed up at least 2 feet higher than the normal tide, with close to 7 feet in Corpus Christi.
The National Weather Service warned on Saturday at 10:35 AM of "catastrophic life-threatening flooding" coming with the hurricane. 20-30 inches of rain are expected in the eastern part of the state and some areas are expecting to get 40 inches. The rain is expected to cover much of the enormous state, with up to 20 inches possible in areas as far west of Austin, and a few potential inches of rain hitting farther west of that (which is crazy because that's a desert as far from the eastern shore as New York is from Boston).
Numerous bayous in East Texas are flooding especially high as the water overwhelms their banks. According to the Houston Chronicle, Buffalo Bayou in Houston has risen 99 feet, meaning it could likely rise above the 102 feet top of its banks and flood the surrounding area. Keegans Bayou in Harris County is at an even higher level than it was during Hurricane Ike back in 2008, meaning it could soon overwhelm the surrounding neighborhoods with water.
Dr. "Hurricane Hal" Needham, a storm expert, speculates on his blog about what might happen if the storm stalls over Galveston Bay, flooding the ocean more than the bay can handle. "If Galveston Bay is raised by several feet for many days, and a wide area of Texas real estate receives 15-20 or more inches of rain, where is that rain going to go?" Needham, writes. "Runoff into Galveston Bay and Galveston Harbor will be severely impeded and this will create a catastrophic compound flood event."
Storms like Harvey are inherently unpredictable, and we will not know for sure how much flooding will happen until it does. Already, hundreds of thousands of Texans are without power. The storm could cause much more damage before it subsides.
Jon Hecht contributed to this report.