Here's The Deal With 'I'm A Celeb's Gender Pay Gap & It's Actually Pretty Awesome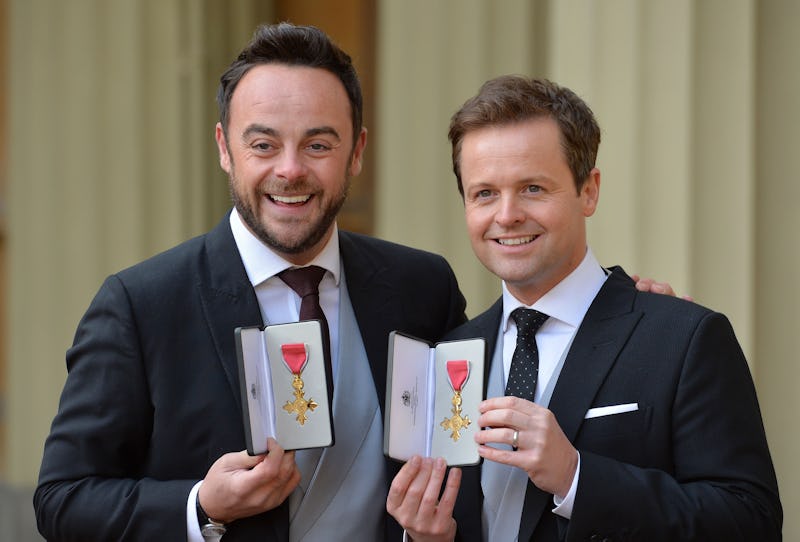 WPA Pool/Getty Images Entertainment/Getty Images
You know what, I think it's fair to say that Dec is absolutely smashing it this year. He already proved his ability to present sans Ant McPartlin on Britain's Got Talent this past spring, but I think it's fair to say that I'm A Celebrity was the show the nation was apprehensive about. Obviously credit goes to Holly Willoughby for filling in for McPartlin so impeccably, but Dec has certainly proven that he is capable of presenting without his other half. But I'm intrigued — how much is Dec paid for I'm A Celebrity, and is it any different without McPartlin by his side?
Well it looks like it's stayed the same, and (thankfully) it seems he and Holly Willoughby are also being paid the same salary for their hosting duties on I'm a Celeb. According to OK! magazine, McPartlin and Donnelly received a comfortable £2.5 million salary for their time presenting the show last year, and "it's thought that [Donnelly] will be receiving the same for this year's episodes."
If you go by this reported figure, it matches the speculation surrounding Willoughby's salary which was also suggested to be around the £2.5 million mark. I reached out to representatives for the show and for Donnelly, and have been told by both that this is not an issue they would comment on. Which again, is totally justifiable.
And not that £2.4 million is a small amount of money, but according to The Sun, Donnelly is reportedly worth £62 million. Wow. It's no surprise though, since the presenter has been on British screens for the best part of three decades now. I mean, I can remember Saturday mornings being the highlight of my week thanks to SMTV Live, and that was mainly down to Donnelly's antics.
But I'm certainly not the only one reminiscing, as it seems with the strangely sad absence of McPartlin, fans are appreciating Donnelly as his own person rather than just half of a duo. I can honestly say that I even though I thought I'd hate to see the two apart, it's actually not as hard as I thought it would be.
The presenter has continued to relish in his comedic flair without McPartlin by regularly trying to break Holly down when they're live, has promoted some pretty fantastic hashtags from #DecsNips to #BiffyClyroNotEmbarrassedTheyJammedWithNickKnowles, and coining countless catchphrases I'm totally going to smuggle into everyday life. Losers can't be choosers, after all.
I'm probably being a little biased, as I will unashamedly admit that Donnelly has always been my fave, but it's nice to see that they don't wholeheartedly rely on one another to get the job done. Plus, it's only been two weeks and Donnelly has already become a perfect meme, so there's that too.
It's just such a relief to see Donnelly be doing so well. It's nearly been two weeks, and it honestly just feels like any other series of I'm A Celeb. I think the nation can definitely breathe a sigh of relief.